Since I came to Russia during my stay in St. Petersburg, I want to see a real ballet! That's why I came to "Mikhailovsky Theatre".
The most famous Mariinsky Theatre (Grand theater) is often referred to as the "small theater" but once you get there, you'll find that it's a truly spectacular theater, and it's worth it!
This time, I watched "Shiratori Lake" composed by Tchaikovsky, a major local Russian composer. I would like to tell you about the contents, decorations in the hall, and ticket purchase in detail.
※This article was written before the virus scandal. This will be updated.
Theatre Access and Clothing
Mikhailovsky Theatre in St. Petersburg is here. The bloody Savior Church and the Russian Art Museum are also very close to the tourist center and easy to access!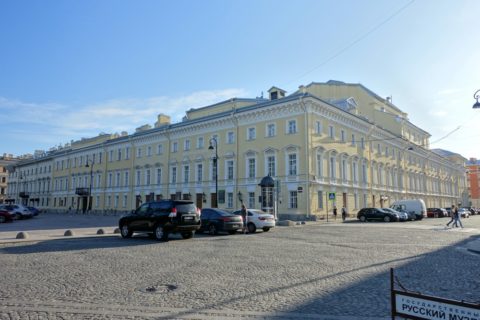 Mikhailovsky Theatre is a building with pale yellow exterior walls. It was founded in 1833, in the middle of a very common western tenement, with no giant facade like the Mariinsky Theatre, so it's hard to imagine an opera house here from the outside.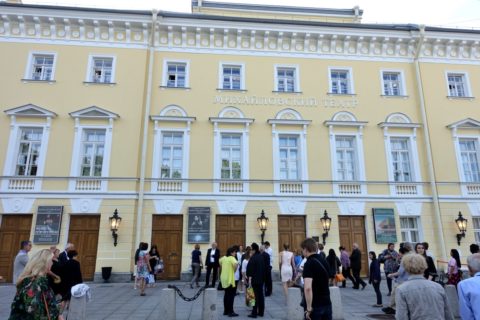 The entrance is on the Mikhailovsky Square side.
When I checked the guests' clothes, it was obvious that elderly men were wearing jackets, but young people were all dressed in dressy casual clothes. He didn't wear jeans, but if he wears a neat shirt with a collar, there should be no problem.
Purchase tickets from the official website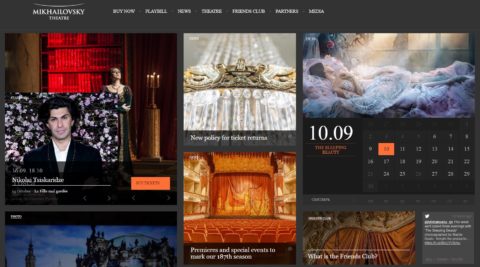 As for the ticket for this performance, I purchased it from the official website. It supports English switching, so it's very easy to buy! Click PLAYBILL on the top menu, and select any performance from the calendar.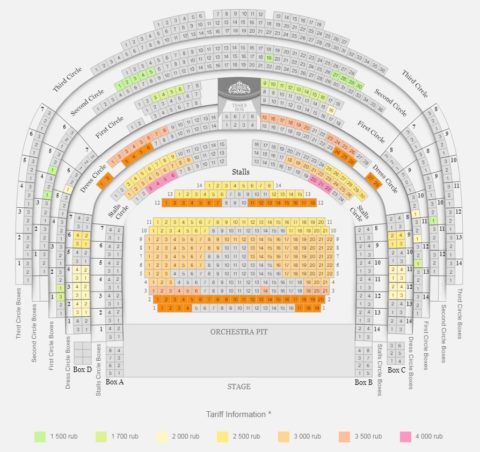 You can select seats from the seat map, so you don't have to worry! The ticket price is from 5,000 RUB to 1,500 RUB in this program (ballet). The 1st category is much cheaper than the Western opera houses, but on the contrary, it's not that cheap even if it's a bad seat, so I recommend you to watch it at a good seat!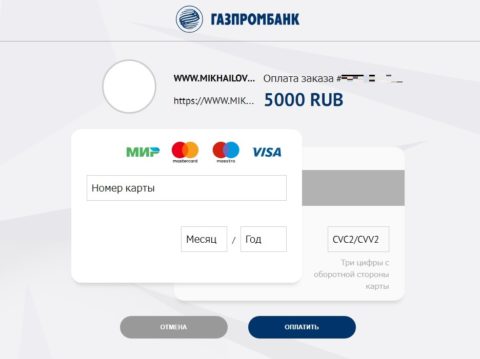 Just create an account and pay with your credit card! E-tickets will be issued, so you don't need to exchange for real tickets.
cramped lobby and intricate stairs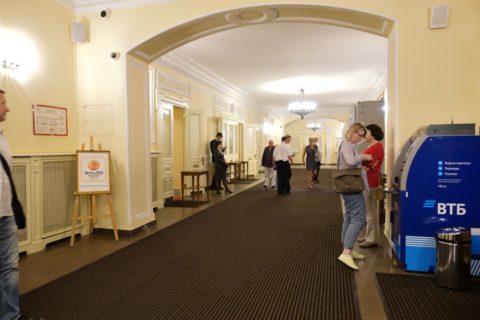 Now, when you go in through the metal detector and baggage check, there is a small lobby with low ceilings at the beginning and a corridor leading to the auditorium. There was an ATM near the entrance where you can exchange money, which is rare in the Opera House.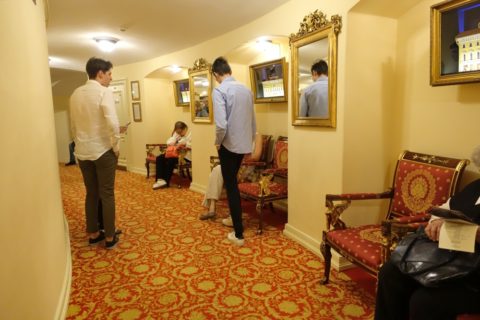 The lobby on the first floor is so small that you can hardly call it a foyer. But the mirrors on the wall, the paintings, and the red carpet on the floor are luxurious and good!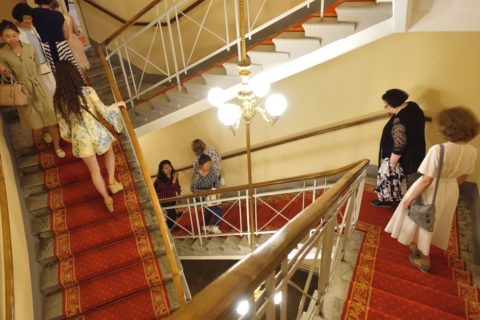 The foyer is divided into several layers, but the stairs connecting each floor are also very complicated! I have no idea where to enter and leave. I've never seen such a complicated staircase like a maze. …。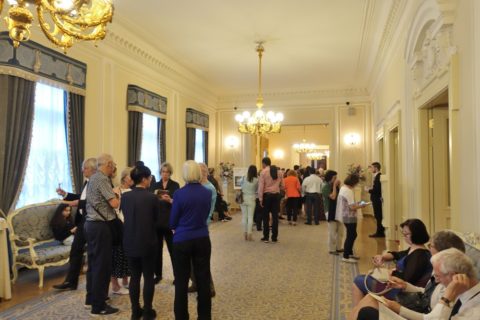 There is a slightly wide space on the second floor and there is a bar at the back. This seems to be the social space of this hall.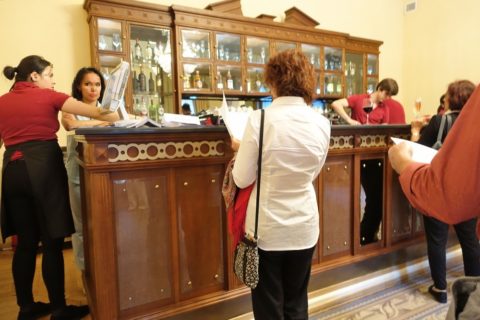 If you check out the bar during the intermission, you'll find that the menu includes snacks such as sandwiches as well as drinks. There were several kinds of cakes.
There are two bar counters, one for meals and drinks and the other for drinks. When I went there 3 minutes after the break started, there was already a long line, so it's better to come before the performance if you want to eat!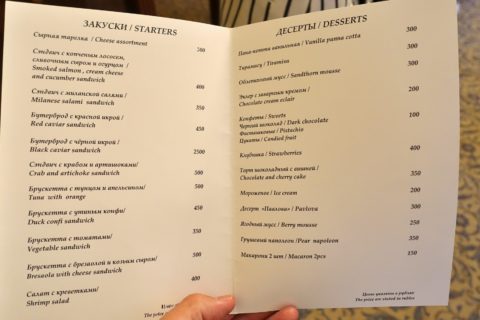 There was a menu, so I borrowed it and found that there were about 10 kinds of sandwiches and the price was 350 ~ 500 RUB. Some of them have black caviar with 2,500 RUB, but who would order it here …?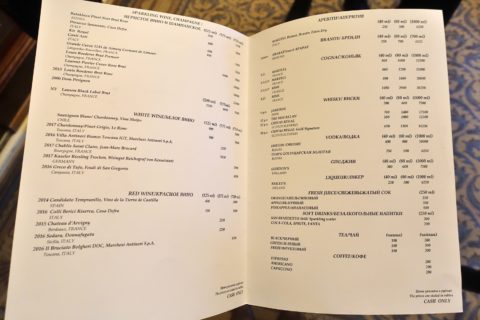 This is a drink menu, but the alcohol is very substantial with several wines, champagne, hard liquor and liqueur! It is easy to understand because you can choose multiple capacities and all of them are written in English.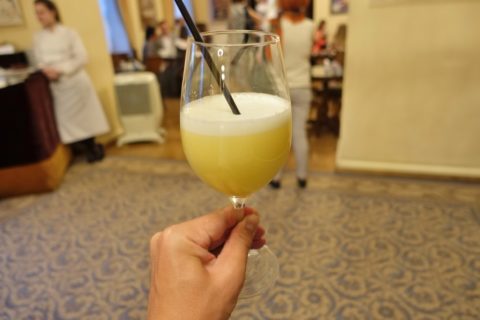 As for soft drinks, there were 3 kinds of fresh juices besides Tea and Coffee, so I tried ordering pineapple juice, but it didn't taste so good even though it took 5 minutes to finish, and the price was 500 RUB, which is very expensive! I don't recommend this. …。
a beautiful horseshoe auditorium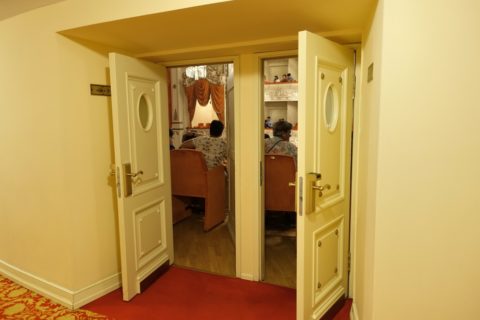 Now, let's go to the audience! I reserved a flat floor seat this time, so I will enter from the narrow hallway on the first floor which has no social hall.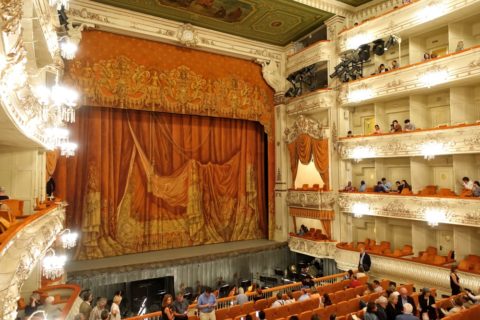 When you enter through the door, you will see the scarlet curtains and seats, and gold decorations and sculptures in the shape of angels all over the place. It is a very luxurious space!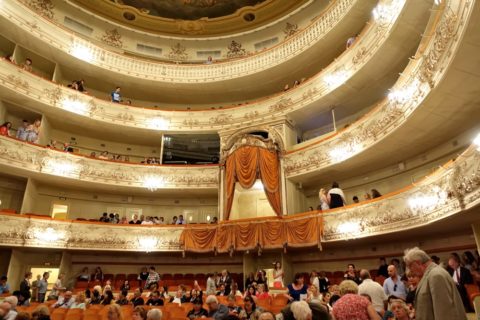 This Mikhailovsky Theatre was called "small theater" in the past, so I thought it would be a smaller space, but it is a full-scale building with a typical horseshoe-shaped 4 layer balcony! In the center of the balcony there are VIP seats surrounded by vermilion curtains.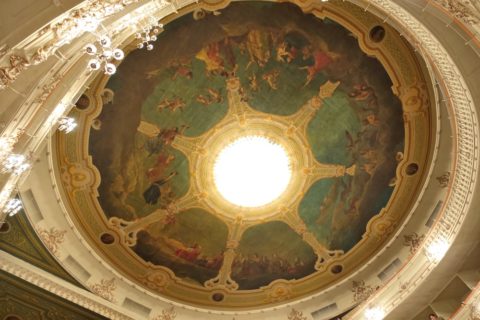 The religious painting on the ceiling has a flat pattern with few irregularities and is very Russian. There is no chandelier, and the center of the painting is illuminated.
View of Hiradoma Seats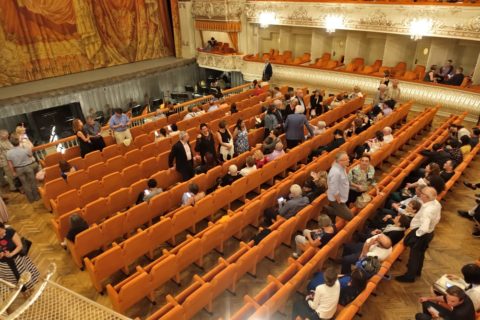 The audience seats in the Hiradoma were arranged in 22 rows without a central passage. Maybe it's an old type, but the front and back seat pitch and width are very narrow.
However, the 12 row which I designated this time is the only passageway in the flat dirt floor, so the feet are spacious! Therefore, only this 12 column is designated as 1st category around here and the price is high.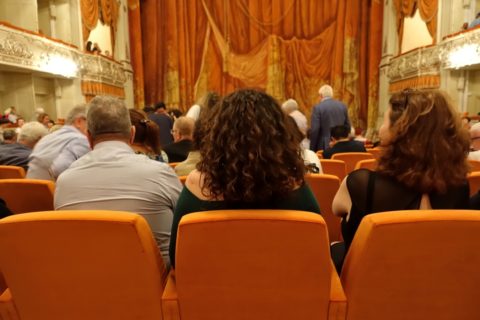 As there is no one in front, the view is good! However, the Hiradoma seats in this theater are the front and back seats, so I'm a little worried about the head of the people in the front seat. If you think so, it might be better to choose a seat in the front if you want to reserve a seat on a flat dirt floor.
… to watch "Swan Lake" at the home of ballet?
Now, this program is Swan Lake "Swan Lake". It's the famous Tchaikovsky ballet. There are a lot of paddos from beginning to end, so it is somewhat boring as a program, but I am glad that there are many famous and easy to listen music.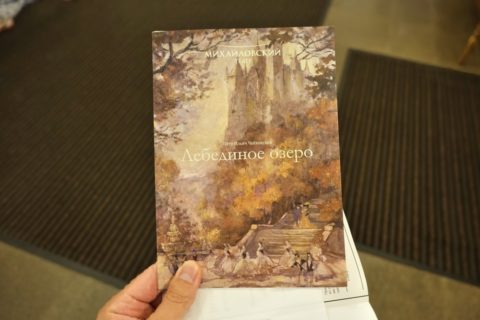 It is played by "Mikhailovsky Ballet". It used to be called "Leningrad State Ballet" but it became the current name in 2007. There are many performances held in Japan, so many people must know about it.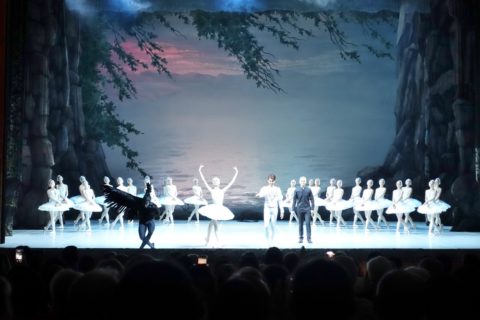 I had high expectations for the contents of the Russian films I was going to watch at their home ground, but to be honest, I felt nothing special except for the soloist.
On the whole, I feel like I'm lacking in sharpness or expression. There might have been quite a lot of apprentice dancers.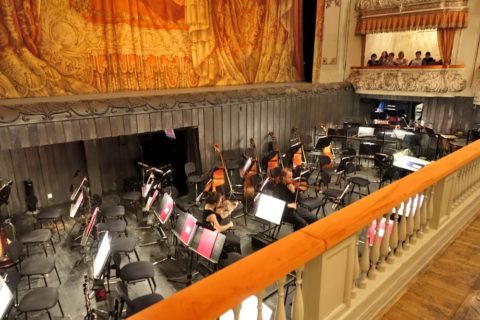 The music is not so good, I can hear only gold pipes, and the sound of strings doesn't come out. I think this is partly due to the convenience of the venue, but the reverberation itself flies so I think the cause is the acoustic balance.
Both dance and music were different from what I expected.
Is it worth watching if it's a famous work?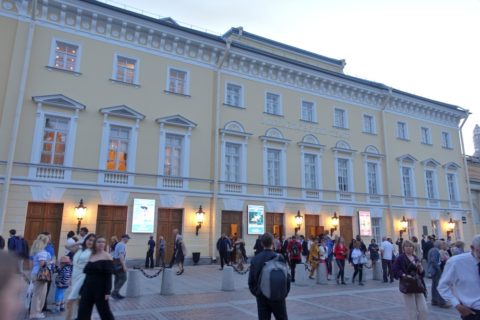 I watched the ballet at "Mikhailovsky Theatre" in St. Petersburg, the home of ballet, and the overall satisfaction rating was about 60 points. As I had high expectations, I cannot deny that it was a little disappointing, but I am glad that I could enjoy the 1st category seats at a reasonable price of 5000 RUB (8,500 yen).
There are many performances of famous works such as Cinderella, Don Quixote and Giselle, so I recommend it to those who want to see a ballet first!
♪Click here for a List of articles on "Opera House & Concert Hall around the world"