Singapore is a multiethnic country with many temples belonging to various religions such as Christianity, Islam and Hinduism. Today, I will introduce you to an Islamic mosque "Sultan Mosque".
Speaking of Mosques, I have been to "Masjid Negara" in Kuala Lumpur, Malaysia. It was a beautiful mosque spread all over with marble. How does this mosque in Singapore compare? I'd like to report.
※This article was written before the virus scandal. This will be updated.
The nearest MRT station is "Bugis"
The Sultan Mosque is located in the Arab quarter of Singapore. It's just off the famous Arab Street.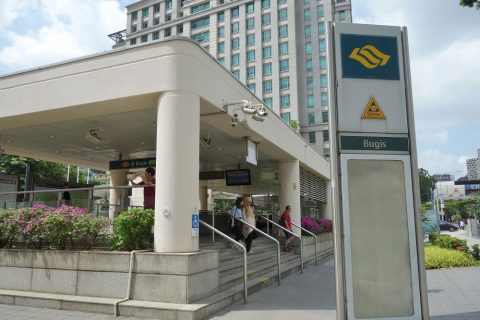 The closest station to the MRT is Bugis (Bugis). The station doorway is an ordinary urban landscape.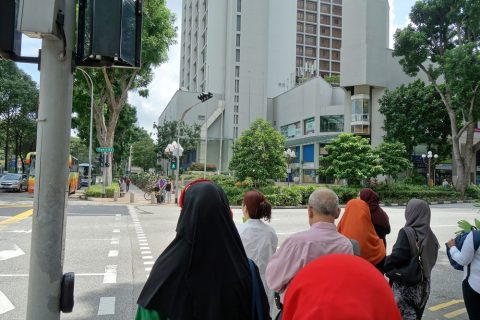 But when I walk around the station, I see many women wearing hijabs. As was the case with Little India, the area around the station has been thoroughly converted into a hometown.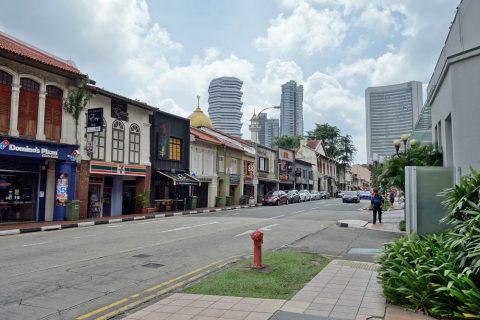 A step from the main road into the back street, you will immediately enter the deep world. It's not unlike the buildings in Chinatown, but some old buildings remain here.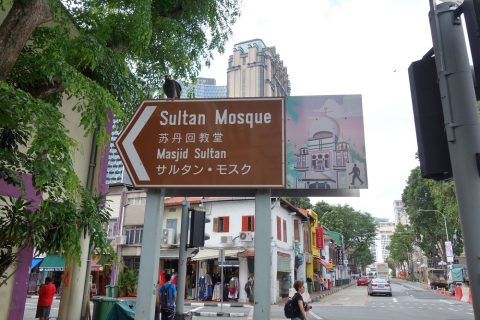 From the Bugis exit, you can walk to the Sultan Mosque in less than five minutes. On the way, there is a signboard with Japanese written on it, so you don't have to go wrong.
Visiting hours of the mosque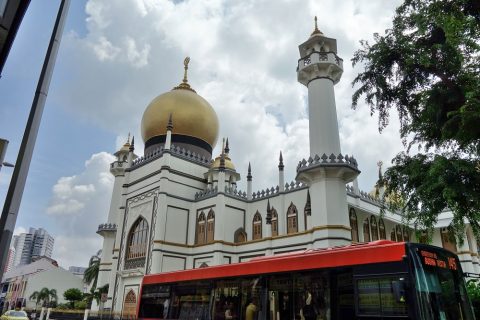 The appearance of the Sultan Mosque has become visible. There are no tall buildings around, so the golden "Onion" can be a landmark from a distance.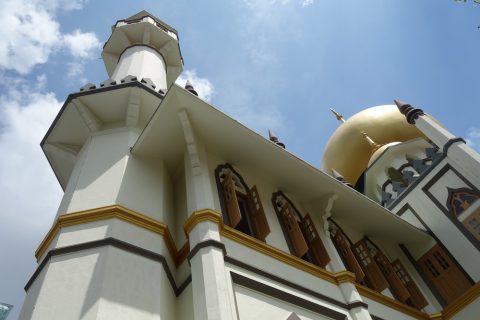 This mosque was built in 1928, but I feel the exterior walls are new. The building itself is not so big but small.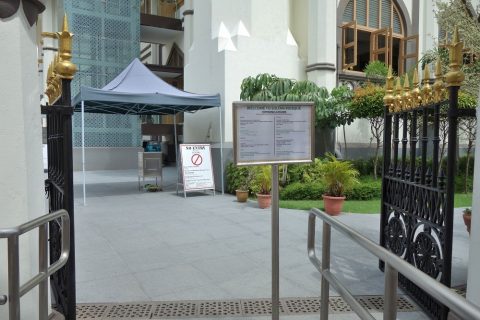 Admission is free. Unlike the Suri Mariaman temple, there is no charge for photos. Visiting hours are 9:00 ~ 12:00 and 14:00 ~ 16:00, and only 14:30 ~ 16:00 on Fridays due to worship. Surprisingly, there is not much time available for the tour, so you should make sure of the time when you visit.
Should I take off my socks, too?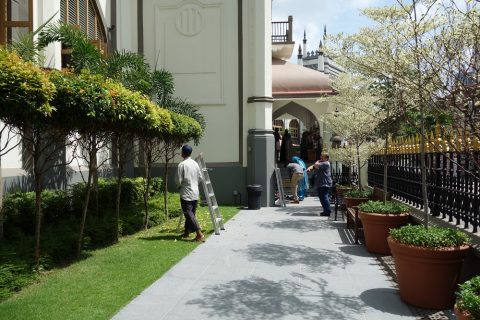 The Sultan Mosque is surrounded by buildings so it is a bit difficult to find the main entrance, but there is an entrance for tourists on the side not facing the roadway (southeast side).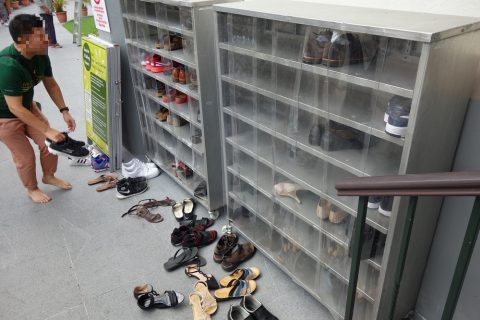 There is a shoe box at the entrance. You need to take off your shoes even in this mosque. Maybe it's for dust prevention, but there is consideration to put a seat.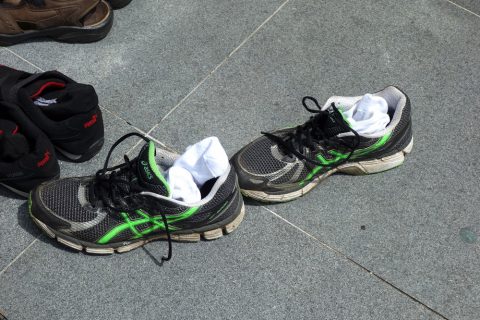 At first, I was going to enter with my socks on, but I saw many people taking off their socks like this, so I decided to take them off. When I actually went inside, most of the people were barefoot, but some people didn't seem to be warned with their socks on, so I don't know which one is correct …。
Islamic clothes are also available for men.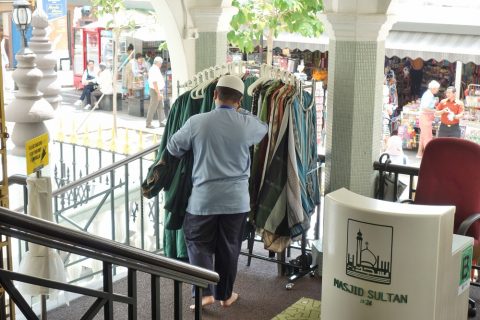 Islamic mosques are not allowed to wear revealing clothes, but almost all of them rent Islamic clothes for free. I don't know how often they wash, but there was a person in charge here and they were kept clean.
Women's clothes covering the front are all green. The mosques in Malaysia were all pink, so I don't think it's because of religious reasons.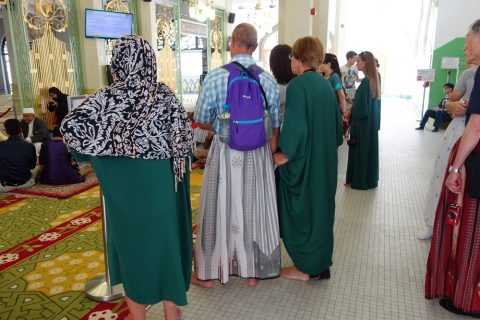 Men who wear shorts are also subject to Islamic clothing. Unlike women's skirts, men's skirts have patterns! It looks a little strange and it's cool.
View of the first floor lobby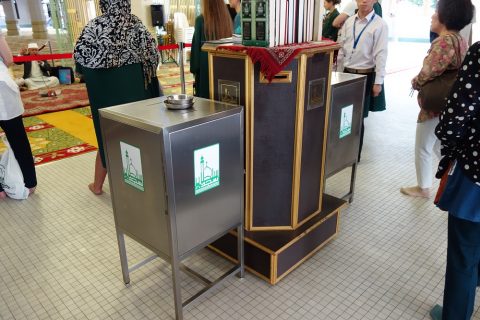 When you enter the entrance of Sultan Mosque, there is an area like a lobby. There is a hall to pray at the back, and there is a corridor surrounding the hall.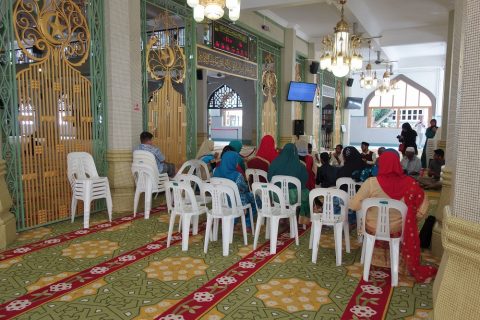 The lobby was a little rich with chandelier lights and carpet. An electric bulletin board showing the date and time is placed at the top of the front. However, it was only around here that tourists could enter, so I had an impression that the area was very narrow.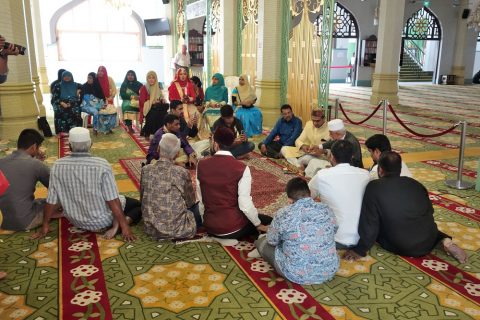 By the way, there was a meeting in the lobby at that time. A man sits on the ground and surrounds a circle, and a woman sits on a chair next to him and watches.
I don't know what they're talking about, but on the plate they held up to the tourists in the lobby, it said, "certificate of marriage". Has someone special decided to get married? It was a meeting with a cheerful atmosphere, so I think there is no doubt about it. That's a surprise.
peek into the hall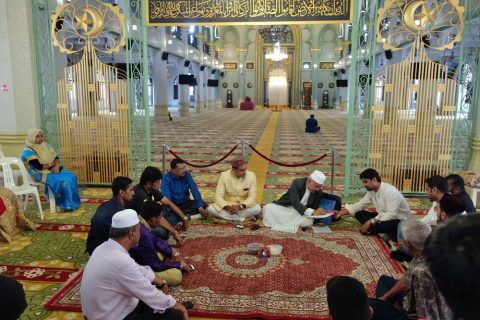 Now, beyond this lobby is a large hall for prayer, but tourists don't enter the hall, they just look in from the front. At that time, a meeting was being held, so I couldn't see it from the front, so I had to see it from the side entrance.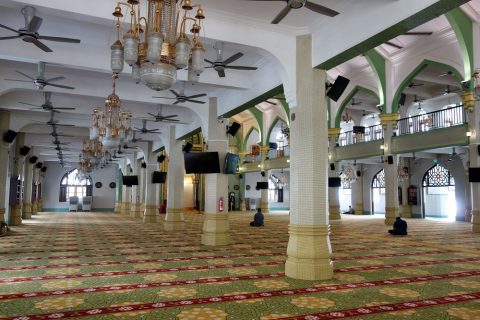 The hall is very spacious! It can hold up to 5000 people. There are gold decorations here and there, but it is a calm space rather than gorgeous. At this time, two people were praying.
Also, this hall on the first floor is for men only, and the second floor is for women, but tourists cannot enter.
Is the Sultan Mosque a place to enjoy?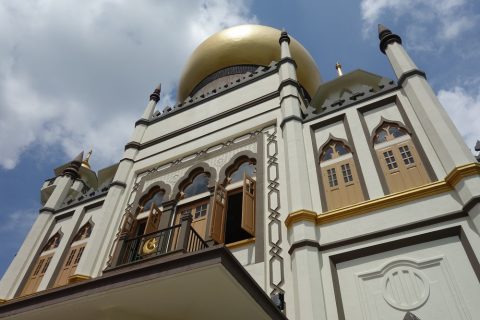 I tried visiting the Islamic mosque "Sultan Mosque" in Singapore, but the space for sightseeing is quite limited, which doesn't seem to be enough for a tourist attraction …。 In order to experience a bigger and gorgeous mosque, I might have to go to the Islamic country.
♪Click here for a List of articles on "Singapore"