A short walk from the touristy Sultan Mosque on Singapore's Arab Street, there is another Islamic mosque. The name was "Masjid Hajjah Fatimah" and there were not many people, so I hesitated to go inside, but when I entered, I found a calm space with a unique atmosphere.
※This article was written before the virus scandal. This will be updated.
Location of Masjid Hajjah Fatimah
Masjid Hajjah Fatimah is right next to the "Sultan Mosque" we covered yesterday. It's about a five-minute walk.
As it is located a little far from the area of the Arab street, there are no shops around and it does not feel like a tourist spot at all. It's also far from the MRT station and you can get there from Bugis, but the next station, Lavender, is the closest.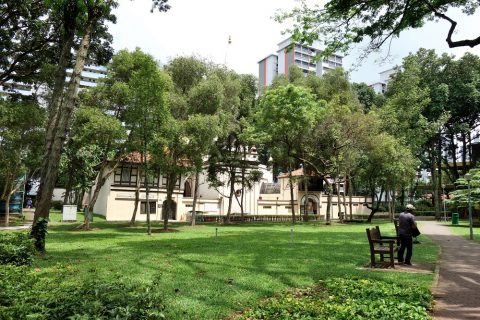 It's located along a highway called Beach Road, but it might be difficult to find it from the road because the building is hidden by trees. There is a courtyard and a bench in front of the mosque.
Masjid Hajjah Fatimah overview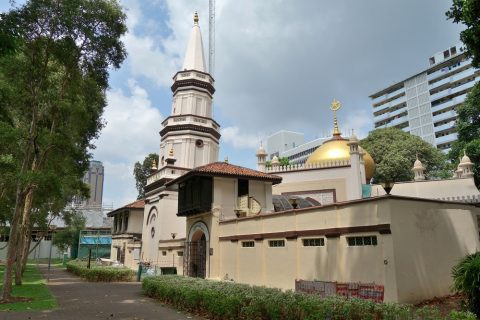 Masjid Hajjah Fatimah is open from 9: 00 ~ 21: 00. It is basically open all year round. Looking at the exterior, it is a simple building for a mosque. It has an onion roof, but it feels even less glamorous than the Sultan Mosque.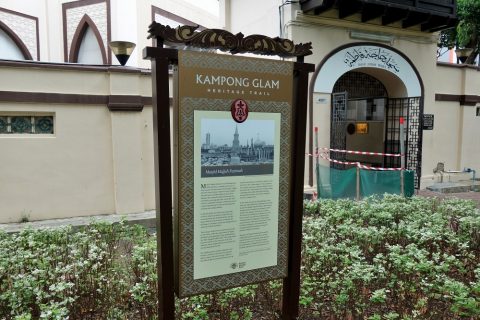 Next to the entrance is an overview of Masjid Hajjah Fatimah. The mosque was built between 1845 and 1846 by an English architect, and the owner was a woman businessman from Malacca "Hajjah Fatimah" who became the name of the mosque. She had lived in the building for some time, but suffered from repeated disasters.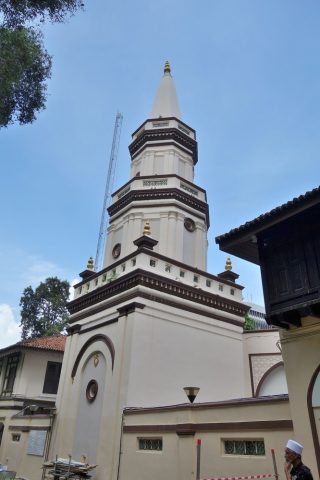 The tallest tower in the mosque tells the story of a British architect. This place looks like a church of Western architecture. Masjid Hajjah Fatimah is a unique mosque that combines elements of Islam and the West.
Can't I rent Islamic clothes?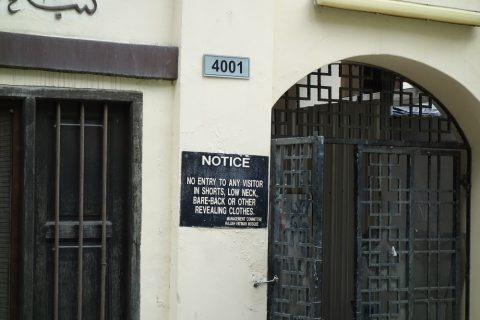 Then I would like to go inside, but the dress code is displayed next to the entrance. As with other Islamic mosques, you cannot enter with shorts, a tank top or sleeveless.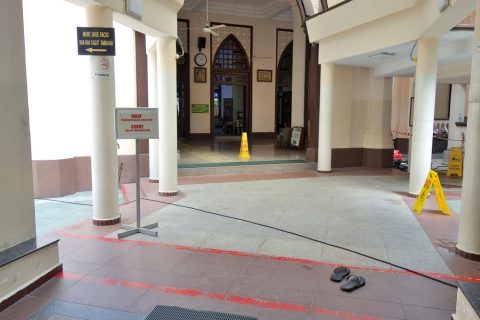 When I went inside, there was no one at …。 and it was a scene. There is a notice to take off your shoes from here. At first, the janitor mistakenly thought he was going to take off his shoes in front of the inner chapel, and proceeded to the front with his shoes on, and happened to come nearby? I was warned by someone.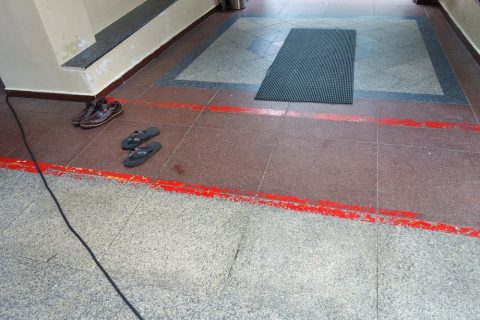 Take off your shoes at this red line. It would be easy to understand if there were steps like the Japanese entrance, but when I think about it, I think that a red line is drawn for an unscrupulous person like me. …。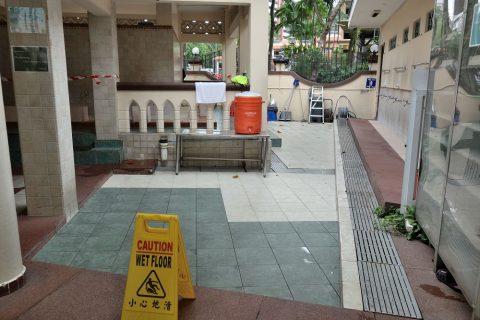 Unlike the Sultan Mosque, which is crowded with tourists, rental clothing is not always available. If you ask someone inside the mosque, they might rent it, but it might be difficult because the person in charge is not always around the entrance.
When visiting Masjid Hajjah Fatimah, it is recommended to wear a dress code that has been cleared in advance.
appearance of the lobby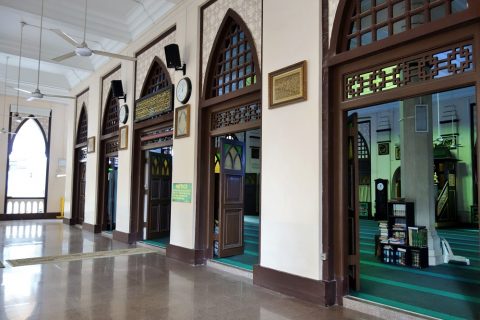 When you go through the entrance, there is a lobby in front of the chapel. It's a plain place, but it has a unique atmosphere.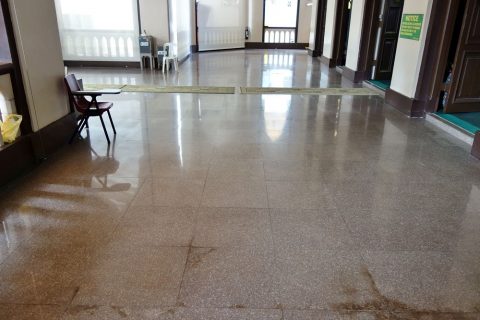 The floor is also shiny! This point is very different from Hindu temples.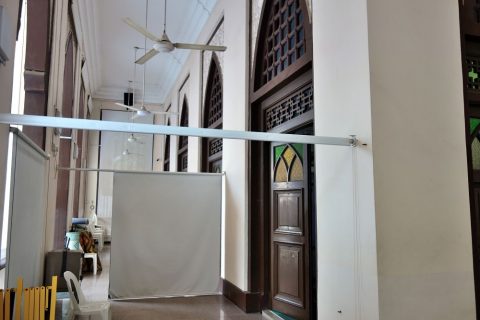 The side of the chapel is covered with curtains. Unfortunately, it has become a storeroom.
a green-based chapel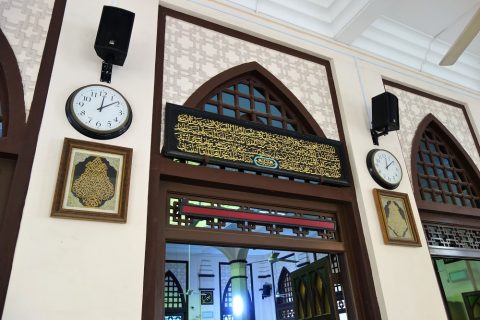 I thought the gold bulky thing on the entrance of the chapel was a decoration, but when I looked carefully it was letters! As might be expected, Google Translate doesn't work either, …。
Then, let's look into the chapel from here. There is no rope at the entrance of the chapel, but only Muslims are allowed to enter the chapel. There is a notice of such contents next to the entrance.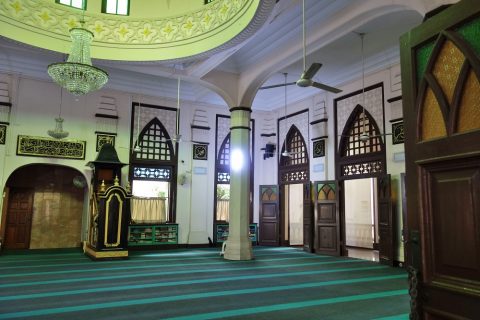 The inside uses green as the base color, and the carpet has ultramarine stripes. It's a small chapel, but it can accommodate about 200 people.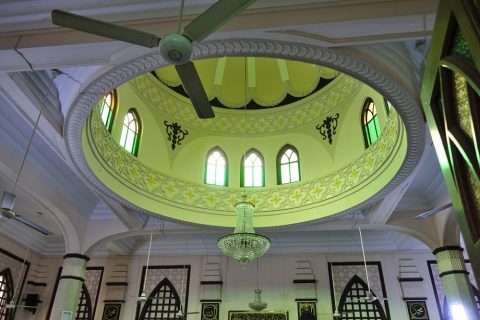 When you look up at the ceiling, you can see the dome. This is exactly where the sphere of the onion is, but the stained glass makes the entire dome glow yellow-green. The whole chapel is covered in a yellow-green color, which seems to be a strange feeling.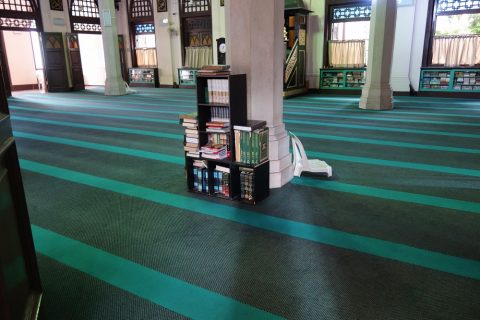 It's a very small chapel, but it's nice that it has a unique atmosphere. Makes you feel calm.
a quiet mosque with few people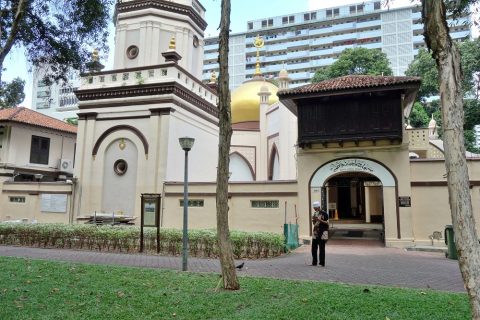 I visited Masjid Hajjah Fatimah, but it was so unpopular that it took a bit of courage to enter alone at first. It is open to the public, but it doesn't mean that they are making an effort to become a tourist destination.
Thanks to you, I was able to feel quiet by myself. When it comes to sightseeing, people tend to look for gorgeous decorations, but a chapel is originally like this. Why don't you visit there when you want to feel a little quiet?
♪Click here for a List of articles on "Singapore"