I definitely want to buy it when I come to Dubai! I thought, "magic lamp". This time, I looked for an ornament of a magic lamp that comes out in the Arabian world that I have been longing for since I was a child, and I researched its kind and price.
Surprisingly, the best place to buy them is at that place nearby, …?
Be sold at Goldsouk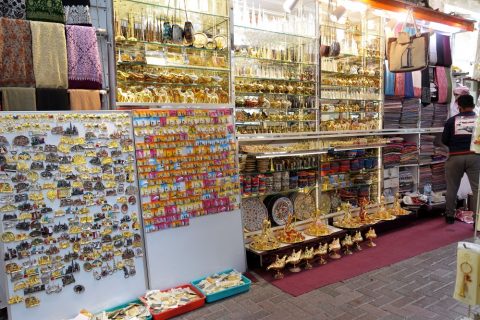 On the main street of the arcade in Goldsouk, Dubai, you will see side streets lined with small retail stores. (About Goldsouk, see yesterday's article. I walked through Old Dubai!)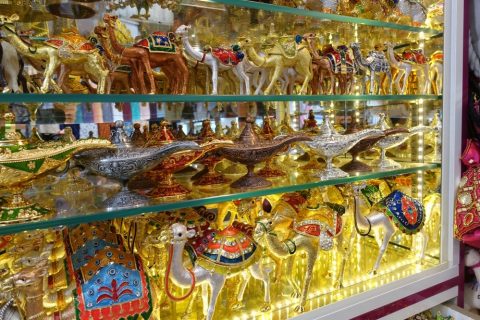 If you take a look at one of those retailers, you'll find a magic lamp! Other than that, there are many golden souvenirs such as camel ornament and Arabian tea set!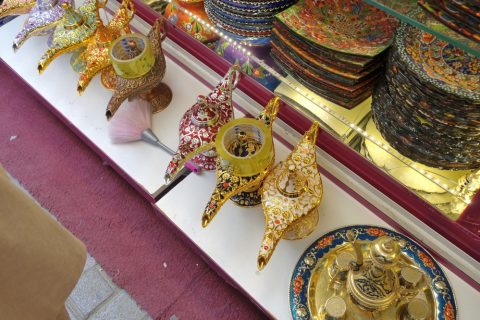 Since all the stores have their products outside that are wiped clean, I thought it would be annoying if they were covered with soot and dust, but when I picked it up, it looked like it was brand new and the quality control was just fine.
Also, almost all stores have the same products.
4 sizes, price …?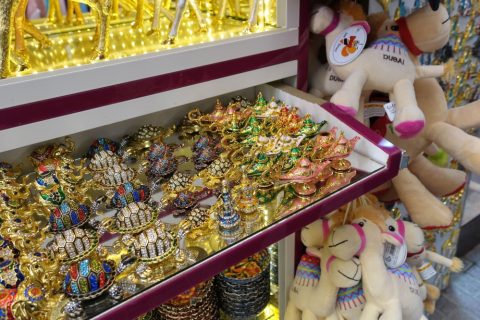 There are four different sizes of magic lamps. They range in length from as little as 10 cm to as big as 30 cm, with various colors and patterns.
As for the price, there is no price tag because it is souk. We have to negotiate the price. For reference, I've been looking for their "asking price" in a few stores, which are roughly as follows:.
Approximately 10 cm size … 30 DH
Approximately 15 cm size … 60 DH
Approximately 20 cm size … 120 DH
Approximately 30 cm size … 60 USD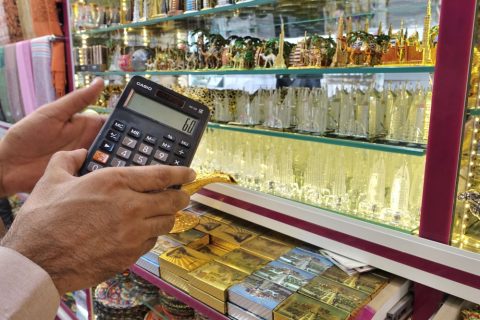 These are "asking price" so you should be able to get them for less if you negotiate a discount. It's a good rule of thumb to buy at 6 to 70% of what you're told, so you can get a magic lamp at a surprisingly reasonable price.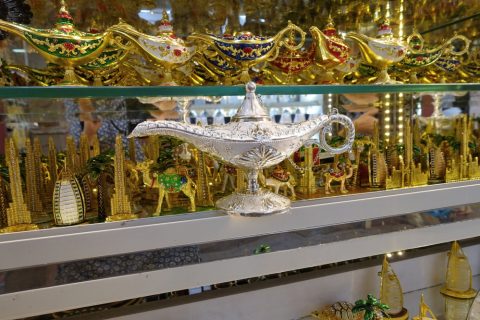 All the colors are about the same price, but some of them have different prices depending on the material and pattern, and this silver 30 cm type was the most expensive. I heard that it is a luxury item made in Italy (Really?), but the suggested price is 320 DH!
If I do my best, it will be about 200 DH, but the details are a little rough …? When purchasing, it is better to check the quality in detail.
You can buy it at the airport.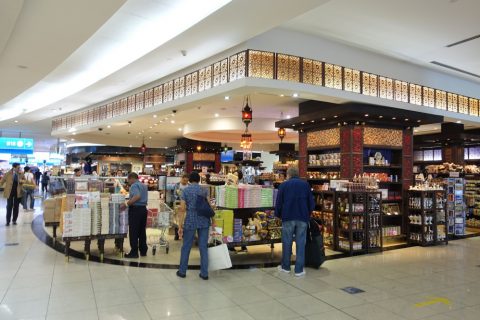 Also, on my way back to Japan, I stopped at a duty-free shop in the restricted area of the airport, and magical lamps were also sold there!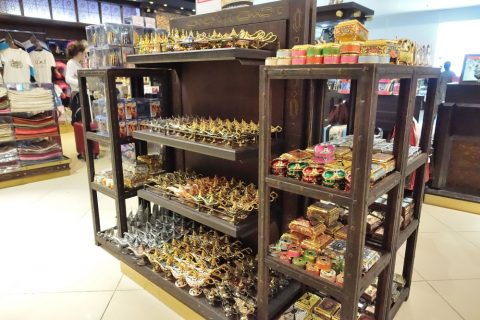 The selection is not bad. However, compared to the souk, the colors and designs are limited, and there are only 5 ~ 6 colors for each size. Also, there are only 3 sizes from small ones, and I couldn't find the biggest 30 cm type.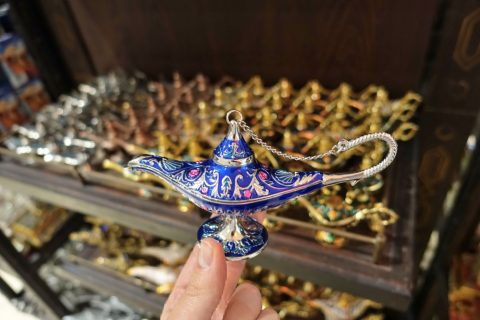 The price is 65 DH for the 20 cm size and 35 DH for the 15 cm size. About half the asking price of the souk! There is no need for troublesome price negotiation, and the quality is assured as it is an airport! There are a few kinds, but it might be worth using.
Cheaper Shakespeare Mosque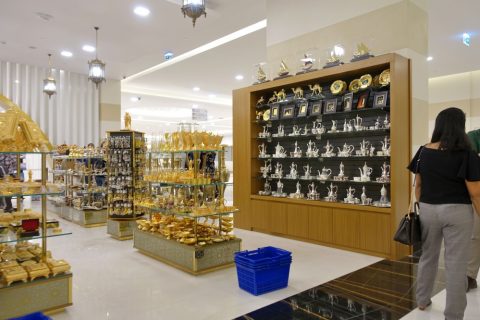 The Shake Zayed Mosque in Abu Dhabi was the second site to conduct a price survey. There was also a magic lamp in the souvenir corner near this exit.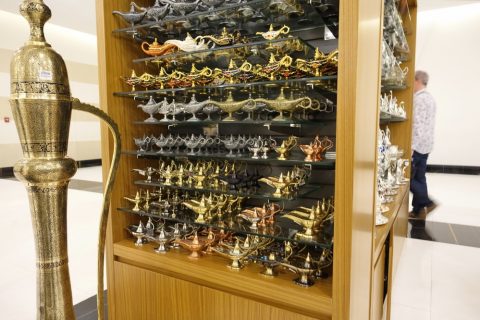 The lineup is also small, but the price is much cheaper than the airport, 20 cm size = 60 DH. This was the cheapest among the UAE we surveyed this time.
When you negotiate a discount in souk, if you offer the price of this kind of shop, maybe you can get a better price?
I bought it! How is the texture?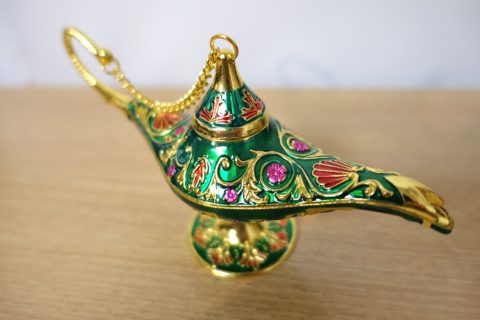 After all, here is the magic lamp I bought! I bought it at the duty-free shop in the airport in 15 cm type. The price is 35 DH.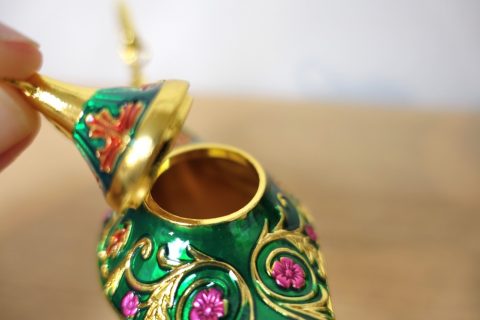 It is not cheap at around 1000 yen, but the texture is not bad and I like the pattern. The way of painting is a little messy, but from a distance you can't tell …!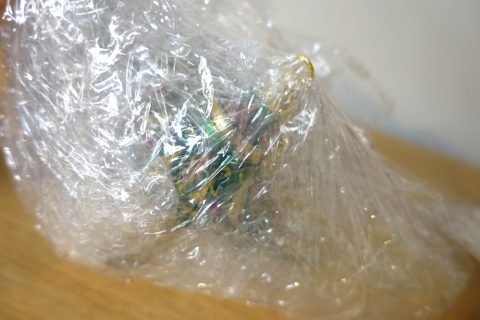 Also, if you buy it at the airport, you can wrap it up in plastic wrap, so it can be used as a shock absorber, so you don't have to worry about taking it home!
Also available on Amazon: …
You can buy these magical lamps in Dubai, but when I looked into Amazon later, I found many similar lamps. … Furthermore, some lamps are cheaper than those sold at the airport, since 20 cm sizes start at around 1,500 yen!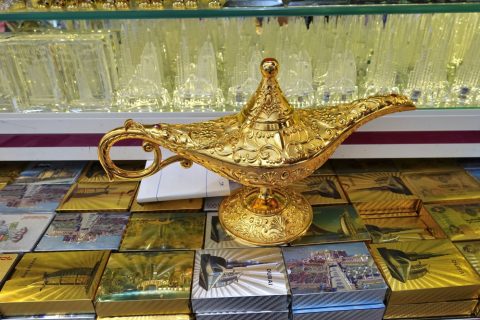 After all, the net is the best …, well, this is the age. The best way to negotiate a discount at Sook is to show the Amazon screen on your smartphone. …?
♪Click here for a List of articles on "Dubai"