I visited there when I was watching the competition at Moscow Conservatory, but there was a Ukrainian restaurant specializing in Корчма Тарас Бульба (Korchma Taras Bulba).
This is a tourist restaurant with translation menus from 36 countries, but once you go there, you will be surprised at the reasonable price and the taste! It is a restaurant recommended in Moscow, safe with its multi-national menu!
Ukrainian restaurant chain
The Ukrainian restaurant Korchma Taras Bulba has several restaurants in Moscow. We visited this store in the center of the store. It is right next to the Kremlin, so I have no complaints about the location.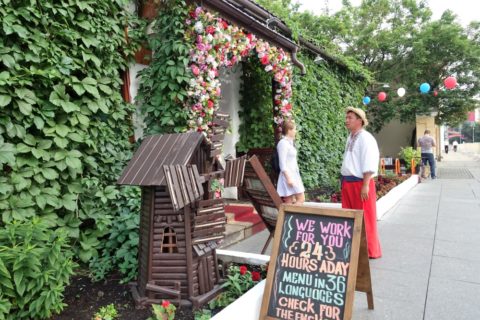 It was a small one-story store along the sidewalk of the highway, but I didn't know at first because the eaves were covered with plants (lol)!
There is a sign in front of the shop that says "MENU in 36 Languages" and it is definitely a restaurant specialized for tourists.
interior that resembles a hut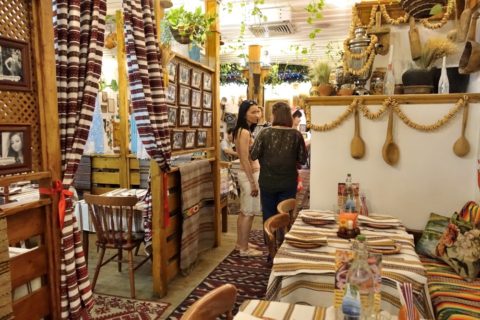 When you enter the restaurant, the staff asks you your preferred language, and you are guided to your seat with a menu corresponding to that language. The interior of the store has a very elaborate interior, but it is so messy that my eyes become dizzy …
Since this restaurant is a Ukrainian restaurant, the interior is inspired by an izakaya Bar (in Japan) in the country. Well, it's true that wooden furniture, hand-woven seat covers and tablecloth create a homey and warm atmosphere.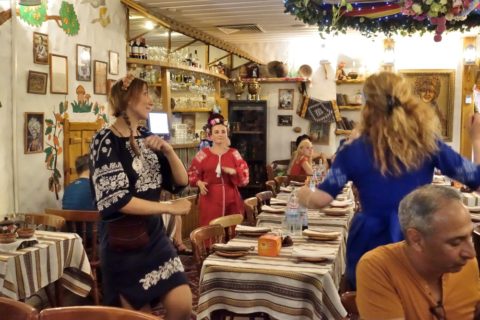 What surprised me was the sudden dance show! A moment after I entered the shop, all of a sudden, with the sound of gold, the staff gathered together and a dance show was held to the music.
At that time, 18:00 was perfect, so I think it was a performance held every hour on the hour, but maybe because of the location, the direction for tourists seems to be very strong.
Japanese menu of course! The items are not "Appetizer" or "Main", but they are divided by the type of dish, so it is very easy to understand! (Although the Japanese is somewhat dubious, …)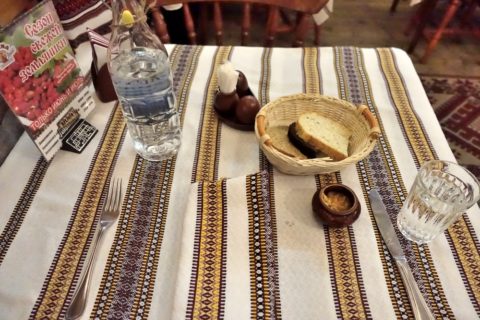 As for drinks, there are many soft drinks using cranberries and raspberries, but when I asked for a stale water, they told me to drink water that was placed on the table beforehand.
A set of homemade mustard and bread was served as "appetizer". It is quite mild mustard, and it goes well with bread when eaten with it!
The cutlet is delicious! authentic Ukrainian cuisine
By the way, I ordered 3 items this time. "Kiev style chicken cutlet", "Deep-fried Buckwheat Noodles", "Grilled Cheese". I ended up eating a little bit of fried food, but I thought it was OK because of the buckwheat seed …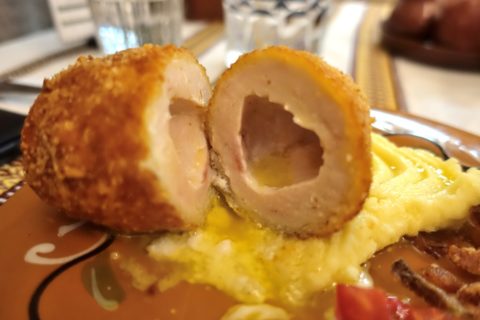 The cutlets are egg shaped, and when you cut them, a heart-shaped cavity appears inside! A lot of meat juice came out from here.
It has a cheese flavor and the tenderness of the meat is not bad. The outside is crispy and the inside is plump. It is very delicious as a cutlet!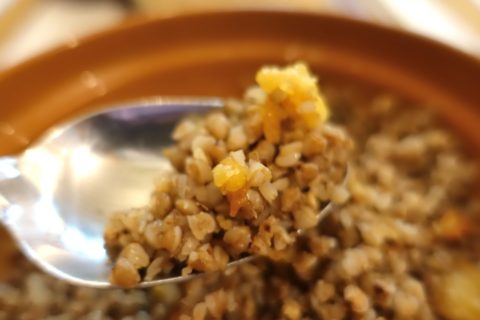 Although the buckwheat seed has a simple taste, it has a savory flavor and is good! It looks light, but I'm getting quite full.
Baked cheese is like regular fried cheese. It would be nice if the cheese was a little thicker, but it might go well with beer.
No complaints! reasonably priced Ukrainian restaurant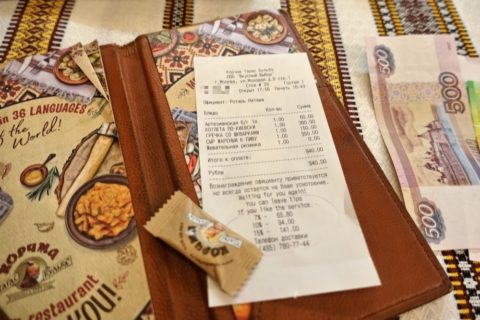 The accounting this time is 960 RUB. Even though I didn't order a drink, I was surprised to cut 1,000 RUB at a restaurant in the middle of Moscow for dinner! It is a reasonable price that does not make you feel the customer price at all. I am very sorry!
But you need to be careful because you can only pay in cash.
All the staff were kind and polite, the taste was good and the price was reasonable! There was a Japanese menu in the elaborate interior, and I was able to have a meal without any complaints!
It was available around 18:00, but there were quite a few seats available before 19: 00, so please come early for dinner!
Корчма Тарас Бульба(Моховая ул., д.8)
Address:Mokhovaya St, 8, стр. 1, Moscow
Opening House:24 hours
For more information about Moscow, click here → "Moscow"