Today we're going to talk about "Kamala RESTAURANT", an Indian restaurant in Little India, Singapore. I visited this restaurant based on word of mouth information that South Indian food is easy to eat, but once I went there, it was really authentic that I ate with my hands without using a spoon or fork! It was a little hard to eat, but it was my first experience.
※This article was written before the virus scandal. This will be updated.
Kamala RESTAURANT location and ordering
This Indian restaurant is located in "Little India" in Singapore. It's just outside the MRT Little India station exit.
There is an entrance at the back of the building, so it's a little hard to find, but the green letters on a white background are a sign. There is also a "HALAL" mark on the front of the store.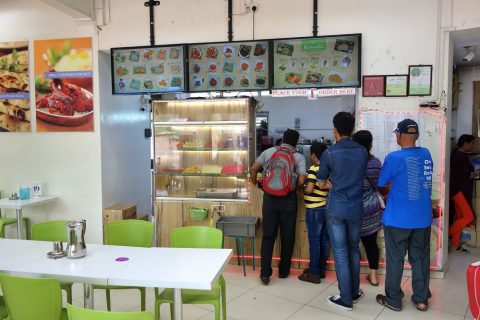 In this shop, you order at the counter first, pay and then sit down.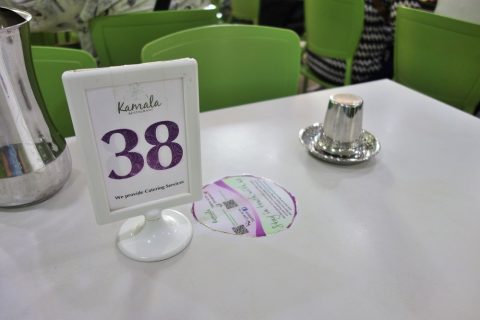 All you have to do is put your number card on your seat and wait for the food to arrive.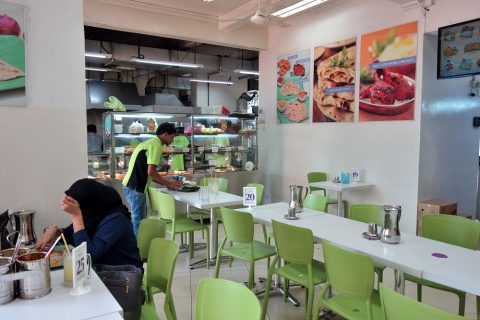 The interior is mainly white and light green, and it has the atmosphere of a fast food restaurant. It was divided into 2 floors, and there were about 20 seats near the entrance with the cashier counter, and there were about 2 times as many seats at the back of the store.
When I look at the menu, I'm surprised at how many dishes there are. They have a variety of main dishes like "Nan" and "Dosa" as well as curry.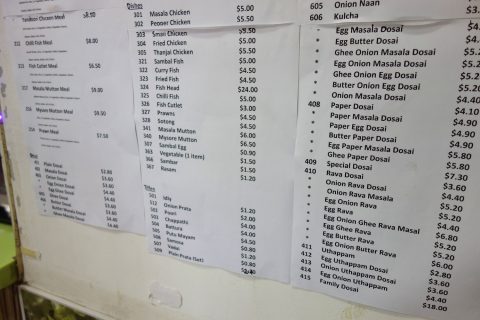 The menu list displayed next to the checkout counter is also amazing! I can feel the variety just by looking at the 3-digit menu number. In addition to a la carte, there are several set menus such as "Masala Mutton Meal", and the price is around $9.
This time I will order "curry fish meal", "Plain Dosa", and "sweet lassi" as a drink. When I ordered, I told the clerk's sister the number on the menu, but she said she had to tell me the name of the dish before she could understand it, which means the machine at the …。 cash register doesn't take care of it.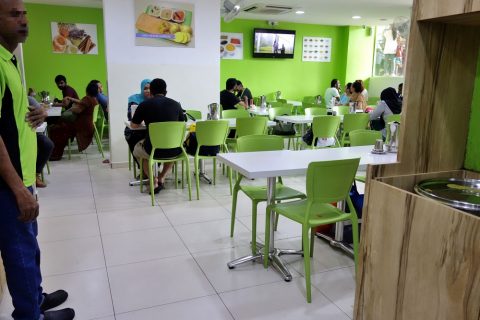 I chose the seat in the back of the store. I thought it was empty after 13 o'clock and after the lunch peak, but after that it was gradually crowded and finally full! As it is in front of the station, there seems to be a lot of customers.
"Water" on the table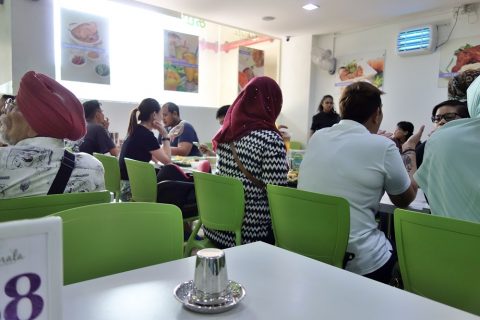 Most of the customers in the restaurant are Asian. However, there are few overseas Chinese, and for some reason Muslims stand out. I understand that this shop deals with "Halal", so that is one of the reasons.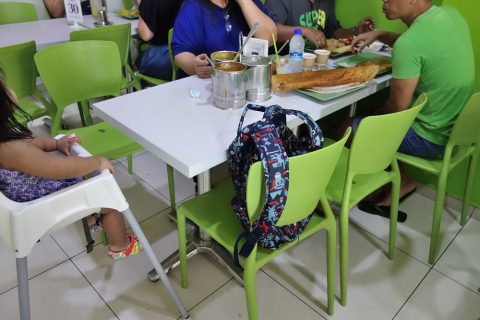 Of course, most of them are Hindus. Looking at them, everyone is eating with their hands. I may be able to get a spoon and a fork if I ask a clerk, but I will try to eat them with my hands.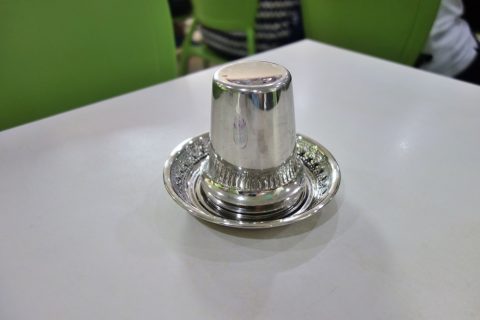 There is a stainless steel cup on the table and a pitcher beside it. I think this is to wash my hands during meals, but for a moment I thought "drinking water" and almost drank it! I think drinking it is dangerous for hygiene reasons. …。
When you eat with your hands, it's good to rinse your hands with a glass of water, but we didn't prepare a towel, so I recommend you to prepare a handkerchief or a wet tissue beforehand.
a bucket of place-dosa and curry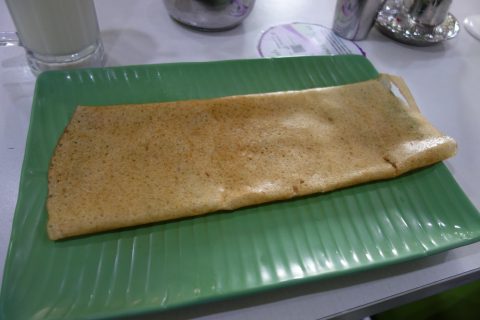 After 3 minutes, "Prendosa" was brought to the table. When I looked at the table next to it, I was a little worried because there was a huge dosa that was sticking out of the tray, but the one that came to me was small so I was relieved. But it's about the same size as the large naan served at Indian restaurants in Japan.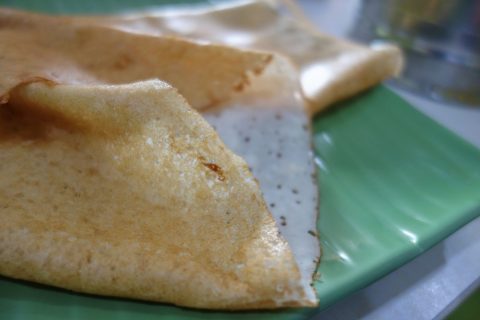 Dosa is a thin dough like a crepe. There is no seasoning at all, and it only tastes like flour as it is "plain".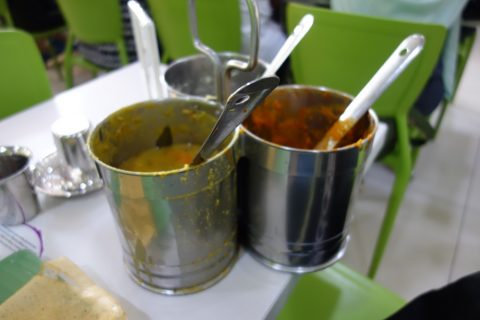 But right after that, the clerk left something like a bucket on the table.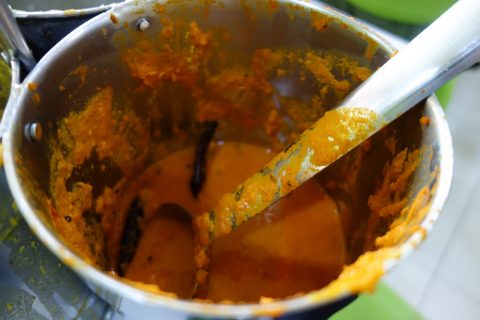 It contains curry. It seems like Dosa should eat it with this. I served it little by little on Dosa's plate and tried it.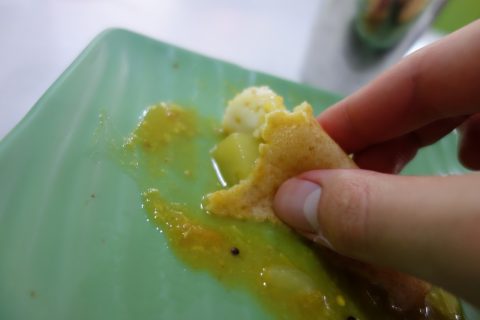 All 3 types of curry taste not so good …。 Not bad, but the spiciness and sweetness are incomplete. All 3 buckets are running out, so I think it's been a long time since I made it, and since it's cold, it doesn't smell, so I didn't eat much …。
Handmade curry rice flavor …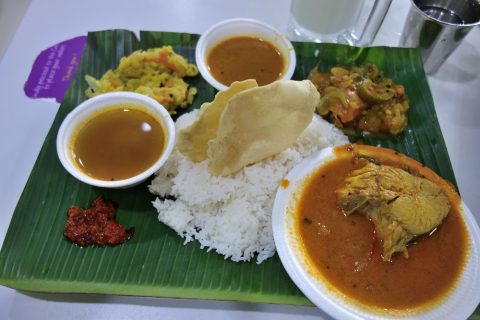 10 minutes later, the "curry fish meal" arrived. There are mainly rice, 2 kinds of curry without any ingredients, a side of vegetables, and sliced fish soaked in curry. Something like a tip stuck in rice is salty.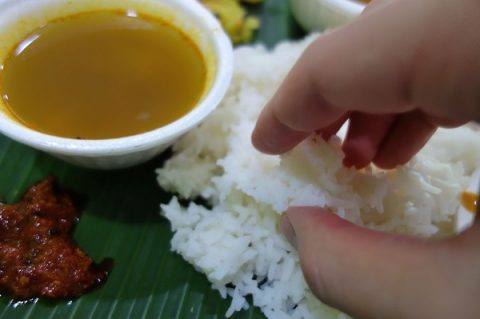 I usually eat curry with roux on rice, but I can't do that because I don't have a spoon. So I try to eat rice by picking it up and dipping it in roux. The rice is non-sticky and smooth, so it crumbles when I hold it in my hand, and I have a hard time bringing it to my mouth.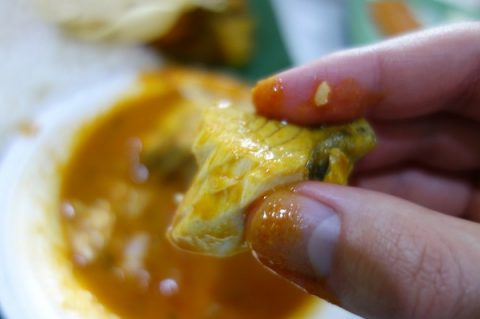 This white fish is so tender! The curry itself is normal, but I don't think the fish itself is bad.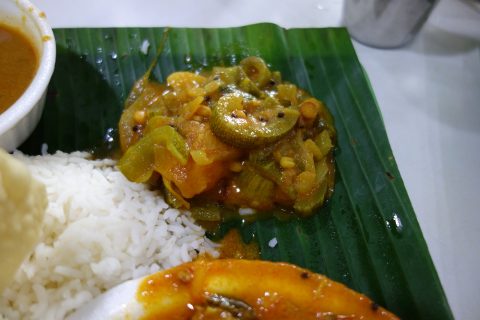 There are two kinds of vegetables on the side. On the right side, there are zucchini, onions, corn, and other ingredients in it, and it has a salty-sweet taste. I ate this normally. There are no ingredients in curry, so this and fish are the only side dishes.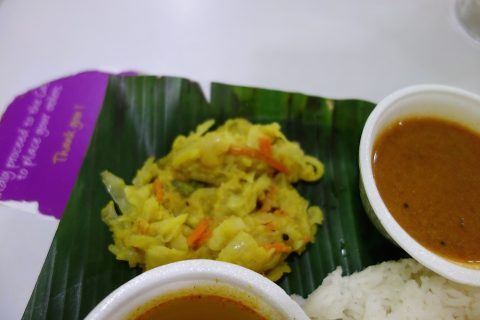 However, the vegetables on the left side, this is a really strange spice, which is disgusting! Half mouth gib …。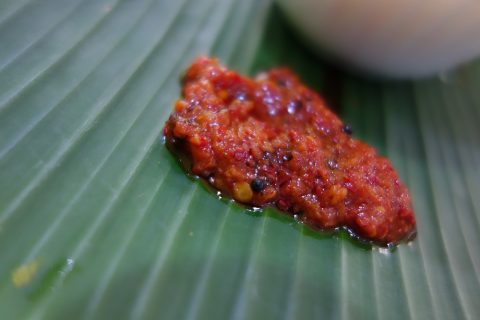 Other than that, something like red condiment is just spicy and tasteless, and this is also not delicious.
Color and odor left on fingers …
It was my first time to eat curry by hand, but I'll get the hang of it when I get used to it. Curry itself is not so hot, so roux is not too hot to touch.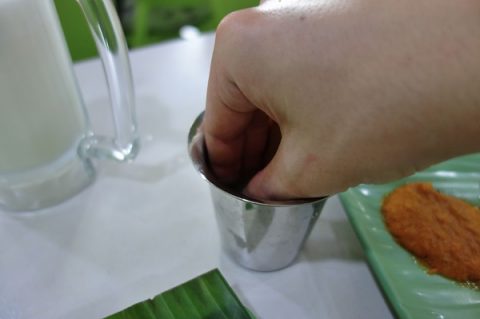 I rinse my hands with water in a cup while I'm eating, but it's hard to clean because the cup is small. I often end up knocking the cup down again.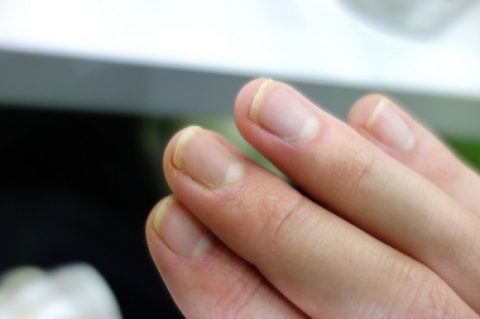 Moreover, even if you rinse it with water, the spices of the curry will not come off easily, and the yellow color and curry smell will remain between the nails forever. …。 Even if you wipe it with a wet tissue, it will not come off completely, so I went back to the hotel and washed it thoroughly with soap to finally remove it.
It might be good to experience a foreign culture.
The total is $13.5. The big Dosa is haunting me and I'm quite full. Also, I ate on an empty stomach, so there is no way I can relax my stomach …。 and lick Indian spices. By the way, I expected the special flavor because it was authentic Indian food, but it was not so good, so it was a bit disappointing.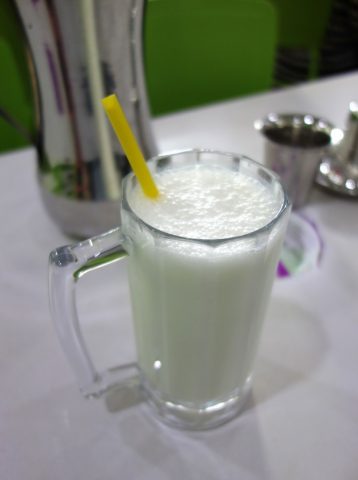 The only thing that was delicious was "sweet lassi" that I ordered together. It is lighter than when I drank in London, but the fruity sweetness stands out and is good! I recommend this.
That's why I experienced "eat ~ with one's hands" Indian curry in front of Little India Station. The taste was not great, but I could experience Indian culture easily. The amala Restaurant is open 7:00 ~ 21:30 (Until 22: 00 on weekends), don't forget to order lassi and get a wet tissue when you visit!
♪Click here for a List of articles on "Singapore"