I went to Haneda by JAL from Bangkok Suvarnabhumi International Airport, and after enjoying the Cathay Pacific Airways Lounge, I spent the time until the departure at the original JAL designated lounge "Sakura Lounge".
In recent years, JAL has closed many of its lounges overseas as part of its efforts to improve management efficiency. The Sakura Lounge in Bangkok is one of only four countries in the world. I would like to see what those precious overseas lounges of JAL are like.
※This article was written before the virus scandal. This will be updated.
The place is a little hard to find …
About the location of Sakura Lounge in Suvarnabhumi Airport, it was a little hard to find and I got lost.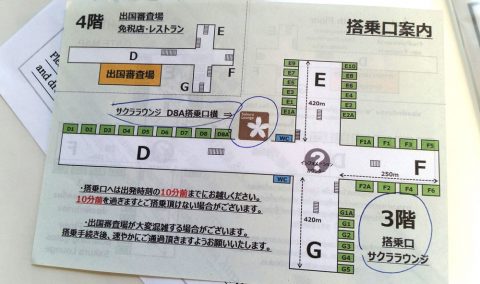 The information I got when I checked in said "Side of D8A boarding gate" but when I actually went to the boarding gate, I couldn't find the entrance that looked like a lounge. …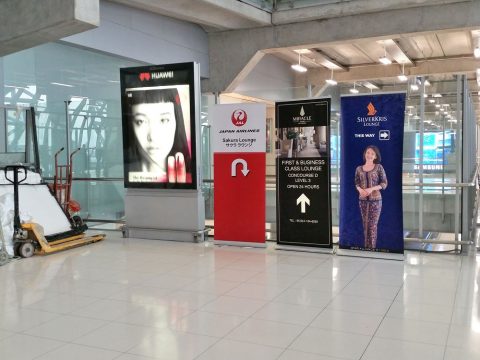 There is a guide to Sakura Lounge nearby, but it is difficult to get there because people walk in various directions wherever they go, such as going downstairs or turning around.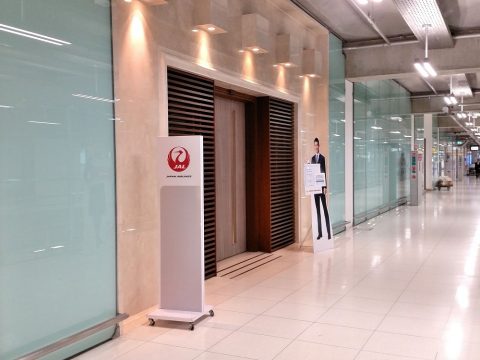 In the end, there was a connection to each wing on the third floor. There are many other lounges around, but it is the simplest and most inconspicuous among them, so I might have passed it without realizing it …?
Sakura Lounge for Japanese Customers Only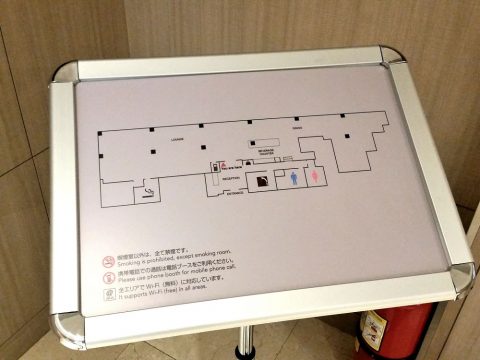 Like the Cathay Pacific Airways Lounge I used the other day, this Sakura Lounge is a continuous structure that continues to the left and right. It seems to be equipped with a smoking area and a shower room besides a toilet and locker.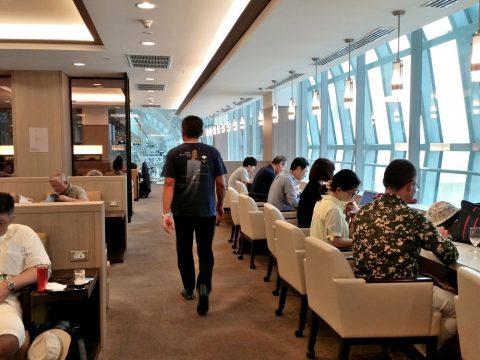 When I went inside, it was very crowded! This time around 9 o'clock, after JL 708 departed for Haneda Airport, it was crowded with many Japanese (Or rather, there are only Japanese …).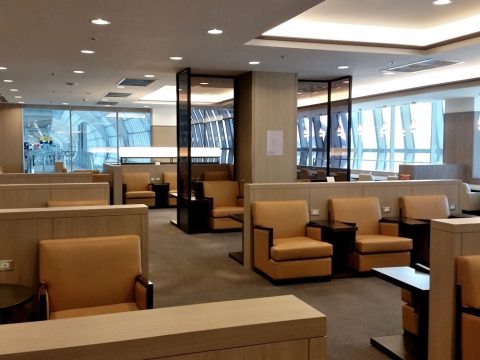 As proof of that, when the boarding time of my flight JL032 comes, I can't stand it! When I was out, I took pictures a little carefully.
Renovated Sakura Lounge
Come to think of it, I saw the news that Sakura Lounge in Bangkok Suvarnabhumi Airport was renovated and reopened in March 2017. Now that you mention it, it is indeed a brand-new interior.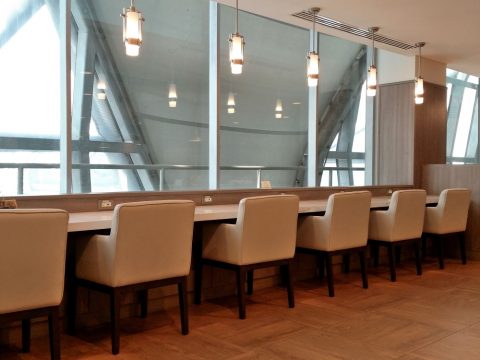 The previously available seats for 4 people were reduced to mainly for 1 ~ 2 people, and the lounge became easy to use as space was secured and the power supply was arranged. Is it the same concept as the renovation of domestic lounges in recent years?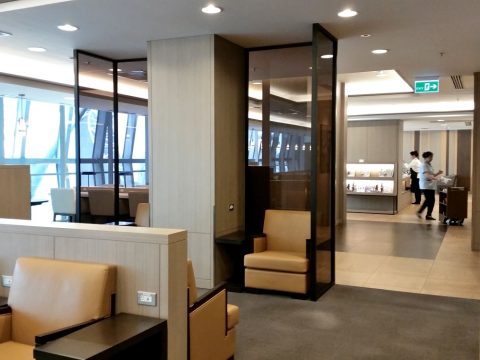 The lounge area features a private sofa with a side table. The brown partitions that separate areas are similar to the renovated lounges in Naha and Fukuoka. (Reference: Naha Airport Sakura Lounge/Fukuoka Airport Sakura Lounge)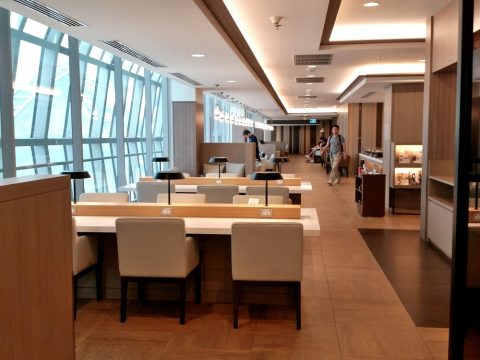 But the partitions are limited. It plays a role in creating a continuous wide space to the back. The total number of seats was 169, and there was a little space in the back of the lounge even during the rush hour before departure.
"Nihontei" How about a collaboration buffet?
A buffet area located in the center of the lounge. In the renovated lounge, a menu collaborated with "Nihontei" a Japanese restaurant in Bangkok city is prepared.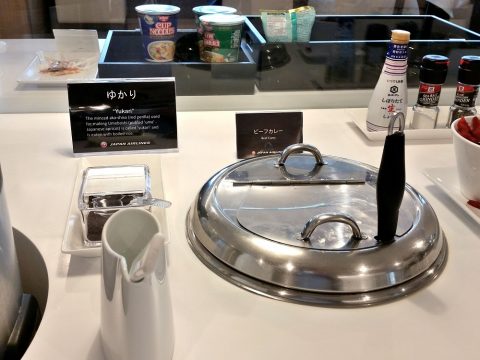 The famous JAL original curry is also made in collaboration with Nihontei. I couldn't eat it because it was early in the morning, but it had a lighter taste compared to the Japanese lounge.
There are more than 10 types of containers for food, and at first glance, it looks like a buffet menu with a wide variety of dishes, but there are only tsukemono "Szechuan pickles" and small bowls, and I can't find anything that can be a main dish.
There are very few Western dishes. There is no noodle bar like the Cathay Lounge, so I thought it would be a bit unsatisfying to eat only in this lounge …
Check the brand of wine!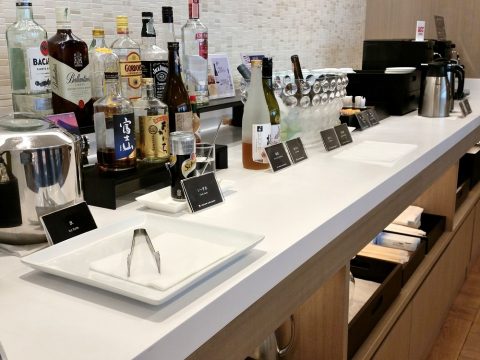 Next, let's look at the drink corner. Hard liquor is a familiar brand such as "Ballantine Finest" but there is shochu "Iichiko golden sweet potato".
Japanese sake is "Kuzuryu" from Fukui Prefecture. You can get this brand for 900 yen for 720 ml. Next to it is white wine "2015 Twin Islands Sauvignon Blanc". They are from New Zealand and the market price of the bottle is around 1,800 yen.
1800 yen for a bottle of wine is quite expensive for a lounge of JAL (laughs). You might be able to get it cheaper by another route.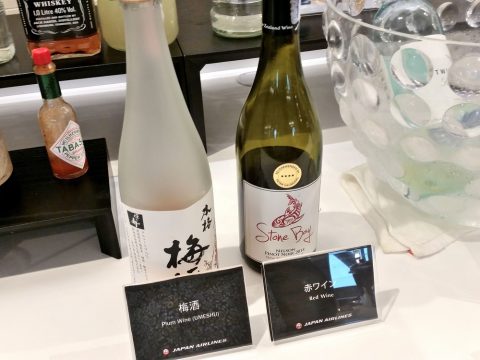 By the way, the red wine is a brand called "Stone Bay Nelson Pinot Noir 2014" and this is a bottle whose market price is around 1,500 yen. In addition, it seems like Sakura Lounge has plum wine.
For better or worse, JAL Sakura Lounge …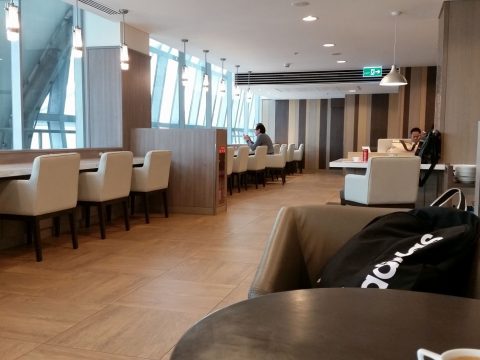 Sakura Lounge at Bangkok Suvarnabhumi International Airport. It is one of the few lounges that JAL operates overseas, but the content was the same as other JAL lounges. When you come back from the Cathay Pacific Airways Lounge, you can't help but notice the difference.
It might be good for those who say "I'm relieved that there are many Japanese.", but for those who have one-world status, I recommend you to relax at the Cathay Lounge without coming here until your departure! → Enjoy an elegant time at the Cathay Lounge! Bangkok Suvarnabhumi Airport
♪I also recommend this link→Collection of AIRPORT LOUNGE Reviews Worldwide! Wine, buffet, Shower, etc.