This is JAL business class in-flight meal report from Hanoi Noi Bai International Airport to Narita Airport. Probably because it was a short-distance flight, it was a simple breakfast that was hard to believe it was business class, but when I ate the fruits in it, I had a stomachache immediately and ran into the toilet!
This time, I would like to explain about the in-flight meal between Hanoi and Narita and the service contents of JAL business class.
From Hanoi to Narita Sky- Suite 787
The flight this time is for Narita, departing Hanoi at 0:25. B787-8 Sky-Suite piece of equipment for a short flight.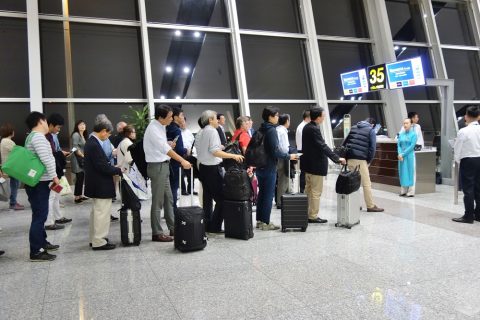 Even so, the number of priority passengers is always too many! When I counted the number of people who had priority boarding on the day, there were 15 people for Diamond & Premier (emerald) and 35 people for others (Crystal or more).
The capacity of this flight is 161 people (at full capacity), so 1 out of 10 people is the highest class member. I also reached the premiere this year, but the advanced members are not rare.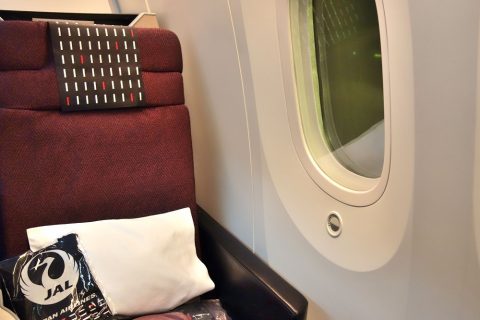 I chose the window seat 3A as usual. The window side of Sky-Suite is almost completely private, so it's perfect for late-night flights! This sheet is described in detail in the article on the way → the cost performance is excellent! JAL Sky-Suite Low Cost Business Class (Narita – Hanoi boarding record)
breakfast request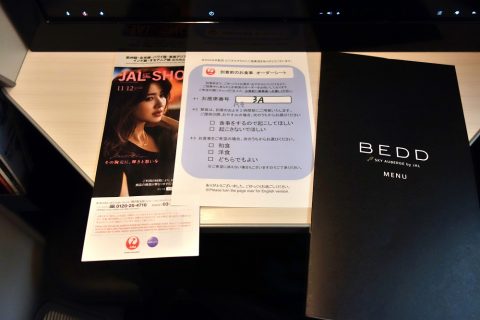 By the way, this flight is a late night flight, so you are asked whether you want to have breakfast or not. I usually don't eat breakfast at all, but this time I have a report on the taste, so I decided to have it.
It says "two hours before arrival", but I wanted to sleep until the last minute, so I told CA who came to greet me, "One hour before arrival, please.".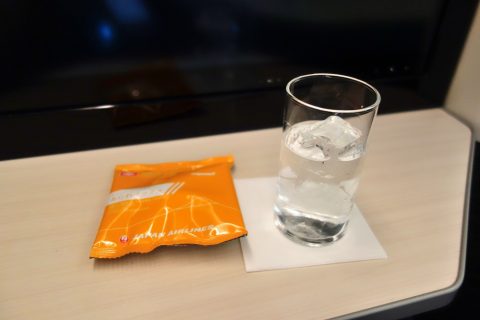 After the take-off, the first drink service was provided, but what was served with the drink was unexpected "Arare Mix"! Isn't this the same as economy class?
I wouldn't say it's warm, but I would like to have at least the spirit to prepare a higher grade dried food. …
I can't sleep for 2 hours …
It takes about four and a half hours to Narita. It took about an hour after takeoff to turn off the lights, even though there was almost no time to sleep. If breakfast is 2 hours before landing, the lights-out time is only 1 hour and a half.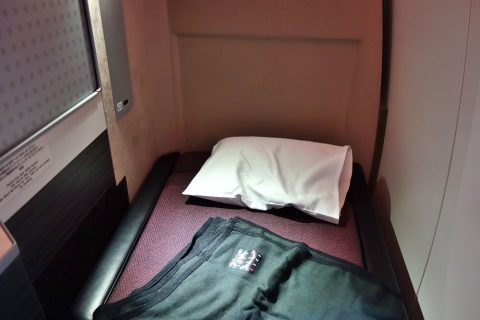 But this time around, it's Sky-Suite I. It's a very good environment to sleep in, but as expected, I couldn't sleep in an hour and a half or 2 hours, so I just ended up dozing off …
What's more, CA woke me up 1:20 before I arrived! At this moment, how regrettable the 20 minute flying is!
"Western breakfast" Menus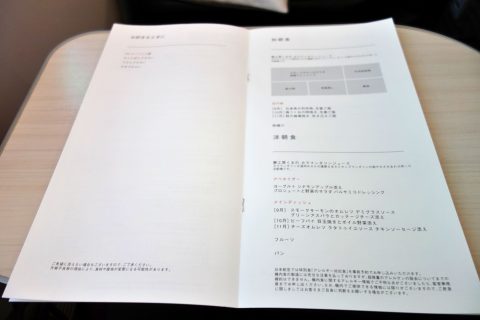 There are 2 types of breakfast menu, "Japanese breakfast" and "Western breakfast". There is no a la carte menu, other than cup noodles. The drink menu includes champagne, wine and soft drinks regardless of day or night.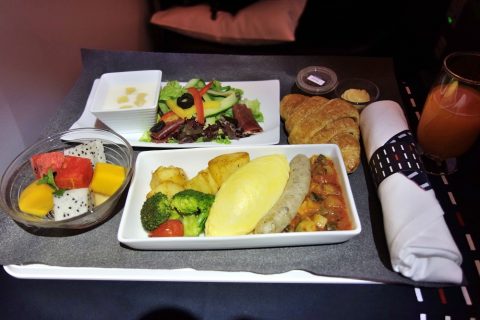 Here is the Western breakfast I ordered. Like economy class, all the dishes were served on one plate, but it seems that there are 3 courses such as appetizer, main, bread and fruit.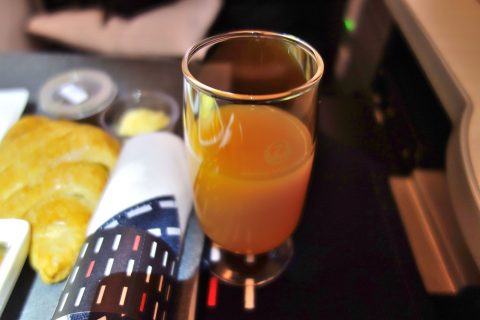 Also, there is "Yumekobo Bear Karamandarin Juice" which is a common menu of Japanese and Western dishes, and this is very delicious! I could feel the rich sweetness of the orange, and it was a delicious juice with a refreshing aftertaste!
None of the breakfast tastes good …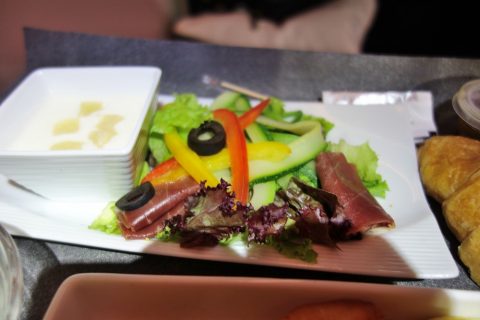 The appetizer is "Yogurt Cinnamon with Apple, Prosciutto and Vegetable Salad". There are about 3 prosciutto (Italian prosciutto), which are salty but not very flavorful.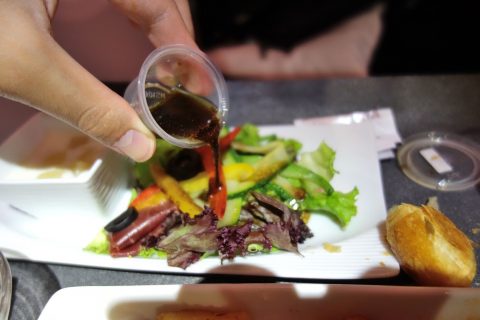 The balsamic dressing has a bland taste, but it is very oily, so I thought it might not be suitable for breakfast, so I did not put it on … bread, and this was a little negative.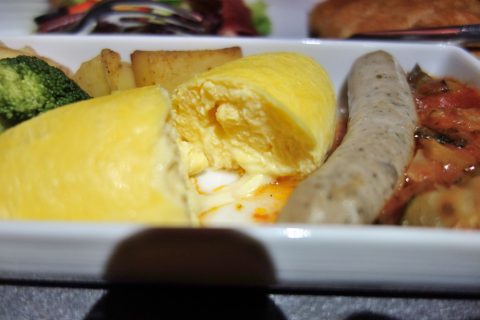 And the main one is "Cheese omelet with ratatouille sauce chicken sausage". The omelet doesn't taste bad, but the eggs are pretty hard.
I used to have a trot omelet in economy class, but I couldn't eat this.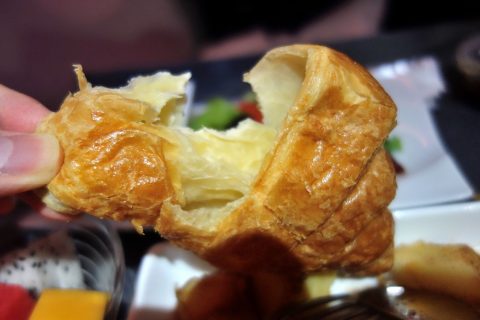 As for bread, there is only one cold croissant. I wonder if I can't expect JAL to deliver bread in a basket with a fragrant smell …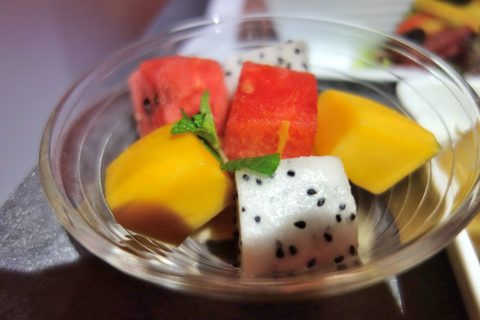 Fruit platter for dessert. Mangos, watermelons, melons, and white pebbles are dragon fruits. The mango doesn't have a bad smell, and when I saw the dragon fruit in it, I thought it was a flight from a tropical country.
I had a stomachache immediately …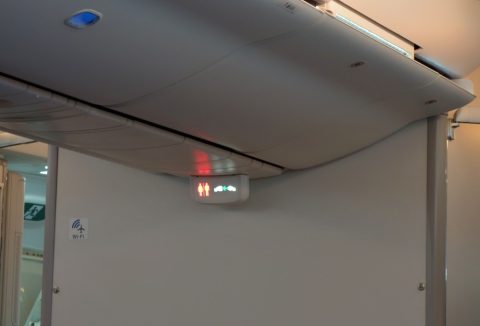 But! 20 minutes after I ate this fruit, I suddenly had a stomachache! The seatbelt sign had been on long before the landing, so I was about to give up with … until the landing, but it accidentally turned off just before the landing, so I rushed to the toilet in that instant!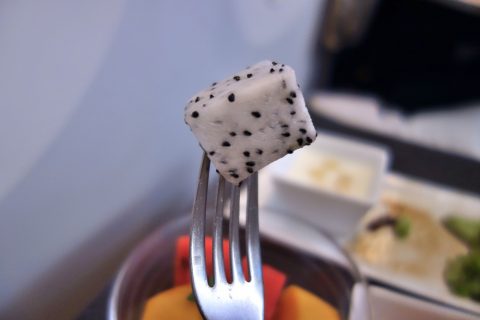 Perhaps the cause is this dragon fruit. This tropical fruit is full of nutrition, but some people say it's easy to get hungry. In the past, when I ate dragon fruit on a Malaysian airline's in-flight meal, there was nothing, so I thought it was cool this time as well, but it was sweet …
The state of living things varies greatly depending on the country of production and the state of preservation, so it may be correct to refrain from living things when traveling abroad.
Is this business class …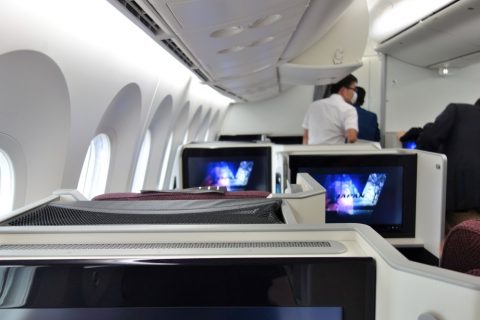 So, I took JAL business class from Hanoi to Narita, and it was just as I expected for better or worse. The Sky-Suite seats are good, but I have to say that the service is at the second level and the satisfaction is quite low.
Even if it was my own problem that I had an upset stomach, I couldn't possibly be satisfied with that in-flight meal. I think it's the best part of business class if there is a performance of + α. This time I got on with a discount fare of JAL package, but I can't imagine paying a regular fare for this.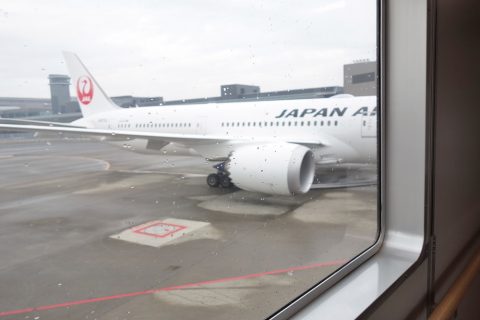 That's all for JAL business class (Hanoi – Narita)! Please also check the article on the way home → The cost performance is excellent! JAL Sky-Suite Low Cost Business Class (Narita – Hanoi boarding record)
♪Click here for a List of articles on "First Class & Business Class Airlines worldwide (Seat, In-flight Meal, etc.)"