I would like to report the JAL business class in-flight meal I used from Narita to Helsinki.
Originally, I was going to write "boarding record" but there are already a lot of great blogs out there, like the Sky Suite seat report, so I'll stick with the in-flight meal report.
※This article was written before the virus scandal. This will be updated.
Amuse Bouche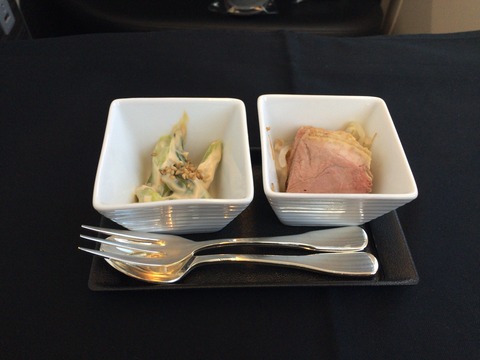 Left: Asparagus and kidney beans dressed with foie gras
Right: Roasted duck flavored with Saikyo miso
I didn't expect a great thing from amuse bouche, but I would like to have a little more or "colour", or something that I can expect from the dishes that will be served in the future. The taste is normal, but the roast duck with its fibers is appetizing.
hors d'oeuvre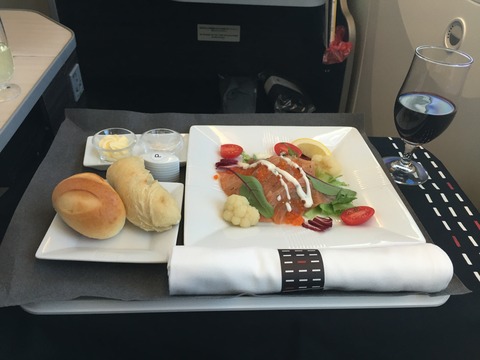 Marinated salmon with yogurt sauce
Maison Kaiser Special Bread
Salmon had a certain taste, but I felt that it had little flavor overall. "salmon roe" is just a decoration, and I personally think it would be nice if there were more of that "saltiness". On the other hand, this is the Maison Kaiser bread I was looking forward to. The white one tastes good because it gets sweeter every time I chew it, but both breads were cold. Is it more delicious when it's cold?
Main dish
Japanese beef sirloin steak
Assorted mushrooms with ravigote sauce
I didn't think the ravigote sauce was delicious, maybe because it didn't suit me. I feel that the saltiness is in a different direction. The quality of the meat is not good, and the texture left in the mouth is not very comfortable.
Dessert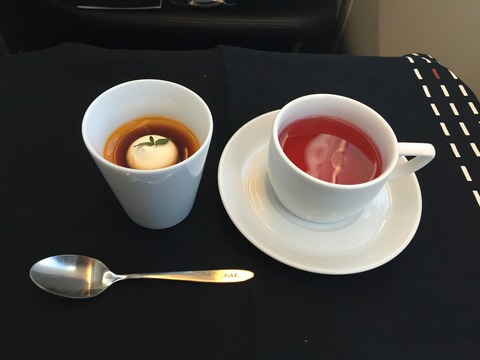 Pumpkin Squash Pudding Kcoom Chande
This is a delicious pudding with a strong pumpkin taste, but I can hardly smell the pumpkin. I had it with herbal tea.
Cheese Selection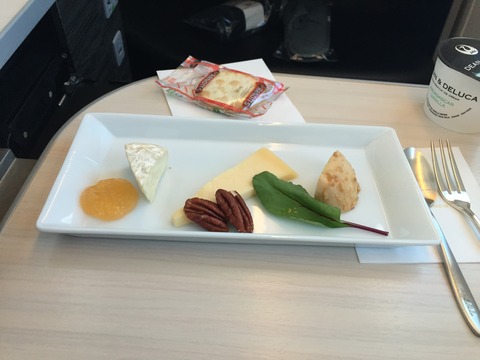 Assorted cheeses
It was disappointing that there were only 3 types despite the fact that "Various". I would be happy if I could taste and compare at least 5 ~ 6 kinds of flavors.
Fumiko's Japanese Food
Dai: Japanese roast beef wrapped in black shimeji mushroom, Kujo green onion, semi-dried tomato and chrysanthemum with grated daikon radish
This is delicious! The thick roast beef is tender and tastes good with shimeji mushrooms.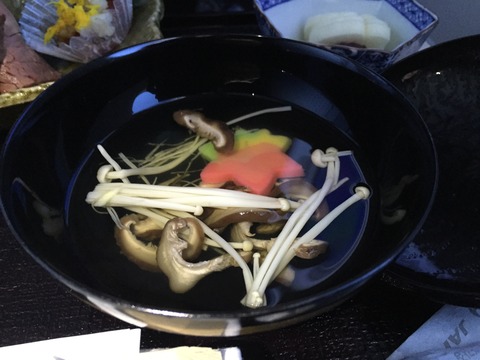 JAL business class in-flight meals
This is also delicious. The saltiness of the soup was exquisite.
Fumiko's Western Cuisine
Main Dish: Scallop Salad with Mustard Flavored Cream, White Maitake Mushroom Vlute
This vlute tasted especially good. There are a lot of scallops in it, and it is a satisfying dish.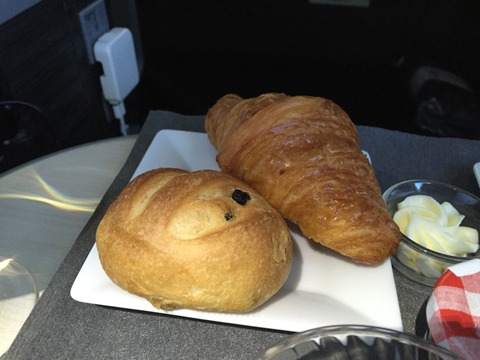 Maison Kaiser Special Bread: Petit Viennowers Rezan and Petit Croissant
This was cold, too. Is the warming machine broken this time?
light meals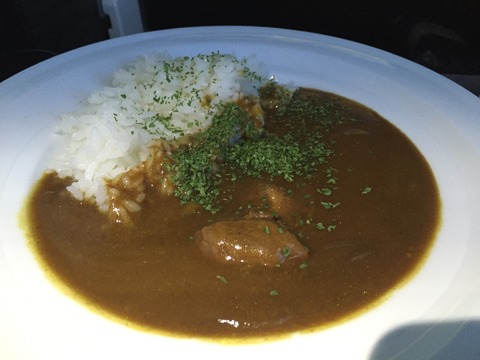 Kitchen Hida "JAL's Special Beef Black Curry"
Is it about the same as curry in the lounge? It is a little disappointing that there are few ingredients.
refreshment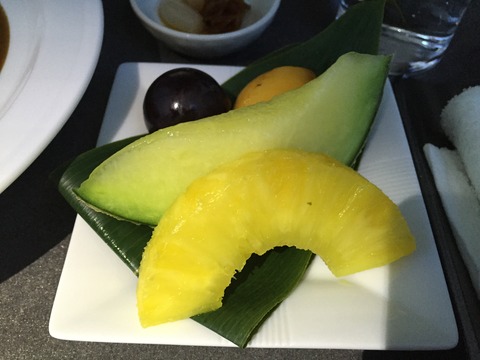 fresh fruit
It's sweet and delicious. Melon is sweet and soft in 2 bites, but it is good as an in-flight meal.
overall review
The first meal was under the supervision of Chef Yamada Chikara, so I was expecting it, but the satisfaction was low. Instead, the menu supervised by Fumiko Kono is all delicious and I would like to have it again. The appetizer is Fumiko's Western food, the main dish is Fumiko's Japanese food, and the last dish is curry followed by dessert, which is my second recommended dish.
failure of the order system
Other people's blogs have covered it a lot, but when I got on board, I couldn't order meals from the controller at hand.
In my case, when I arrived in Helsinki in less than 5 hours, when I looked at the menu of the controller, I was astonished that the menu and refreshments of "Fumiko" were displayed, and more than half of a la carte was "Finished" and only curry, ramen and udon were left. Then I called CA and told him "I want to eat.", and he said that it was because of a system failure and there were a lot of menus left.
In the first place, I think this system was started with the aim of reducing the chance for CA to walk around in the cabin to make a quiet room as much as possible, but I personally think that it would be better to review it now, considering the operation which is more unfamiliar to us and the difficulty of ordering details such as "A small portion of rice, please." or the time and effort of calling CA again for that purpose.
How was it? Personally, it was unsatisfactory. The theory that "Japanese food is delicious in Japan." may be true. I would like to enjoy Japanese food in the next business class from Japan.
♪Click here for a List of articles on "First Class & Business Class Airlines worldwide (Seat, In-flight Meal, etc.)"