Speaking of "Narita to Itami" of JAL, it is addressed to international flight equipment B777-300 er, and it is famous that you can experience first class and business class seats only with the fare of class J. I'm going to use first class to London next time, but I just had to go to Osaka, so I thought I'd try this route.
I used to ride on an old first class seat called "Sky Sleeper Solo", but since it became JAL Suite, I had no experience, so it's a good opportunity.
※This article was written before the virus scandal. This will be updated.
The ticket is a special ticket with good cost performance.
JAL's airfare from Narita to Itami is somehow set very high compared to Haneda.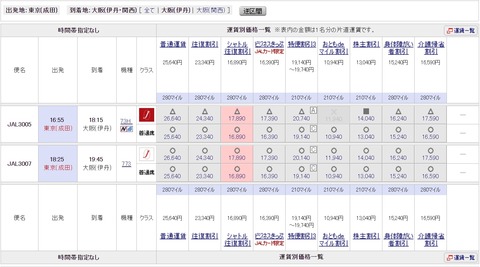 There is a reversal phenomenon that "special delivery discount" which is easy to use is higher than "business ticket". If I pay 19,000 yen, I can use the first class flight to Haneda.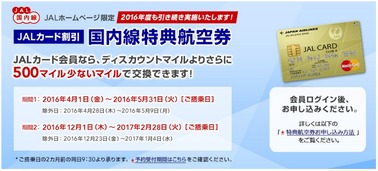 So, what I used was a special ticket. Since April is a discount mile period, you can use it with less miles than usual, and the round trip cost 9500 miles. Of course, you make a reservation for "regular seat" and pay 1,000 yen at the airport on the day of the reservation to upgrade to Class J.
Unlike Haneda flights, Class J is never fully booked right away, so you don't have to pay 2000 miles each way to reserve Class J in advance. With this, I was able to realize the cost-benefit of over 3 yen per mile, which is equivalent to the international business class!
The lounge is still crowded.
The number of passengers using Narita Airport should have decreased significantly due to the transfer of international flights to Haneda one after another, but the Sakura Lounge, which is used when transferring to domestic flights, was still crowded. The lounge is crowded in the evening even though the number of passengers at Narita is decreasing as London and Paris flights have moved to Haneda. I can't seem to find a seat …。
There were no "Between Narita and Naha" flights available before, and the only people waiting in this lounge were those who were going to one of the "Sapporo, Osaka, Nagoya, Fukuoka", so it's still crowded. I guess it's like a big city.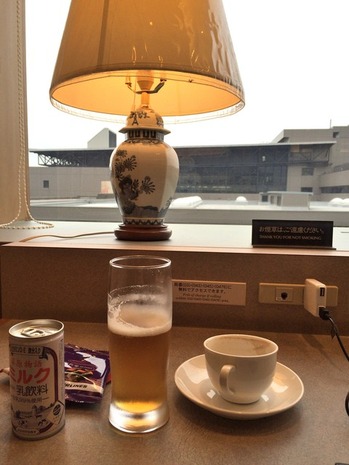 Meals are only small sandwiches … When I used it a few years ago, there were several kinds of muffins and pastries, but it seems to be getting worse. The domestic flight lounge of ANA, which can also be used as the Alive Lounge, is equipped with soup and light meals, so JAL followed suit a little.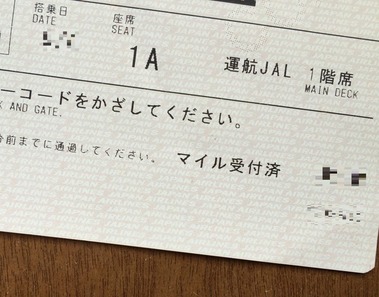 In addition, the first class seat of JAL Suite is reserved for the transfer to the international first class passengers, so it cannot be assigned from the beginning.
Even if you are a member of the Global Club, at the check-in counter, you tell them your request as "Request" and they initially assign you a Sky Suite seat for business class. In my case, I was called in the lounge and I was able to get the seat number of 1A (Change to 2A later) safely.
JAL Suite with "Special" space
It's finally boarding! Since several years have passed since the establishment of JAL Suite, the seat seemed to have been used for a long time, but as expected, it was simply "wide"! It's so wide that I can't hold it well, so I feel uneasy.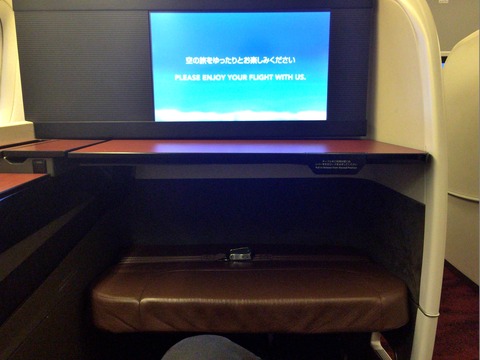 I don't feel much openness probably because of the high partition of each seat, but I don't feel any sign of people even though all 8 seats in JAL Suite are full.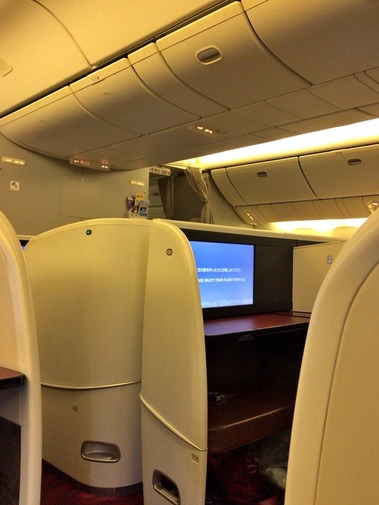 However, maybe because the entrance to each private room is large, I often have a good eye contact with CA, who is busy moving around the aisles. In the sense of "private room feeling" a window seat in the business class Sky Suite would be more appropriate.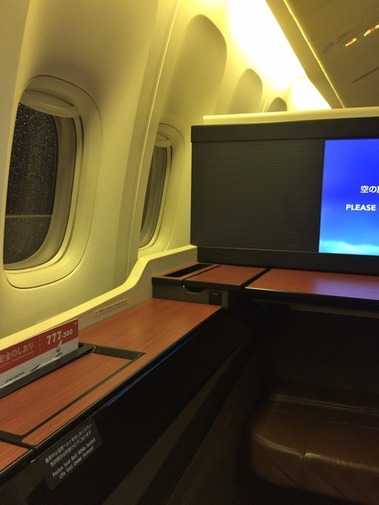 The front of the large B777-300er was quiet as might be expected, with little of the unique noise heard during taxing, and the seats were friendly to classical musicians. However, I was bothered by the rattling sound of the "furniture" around the seat due to the vibration. That's a good sign of how little noise there is.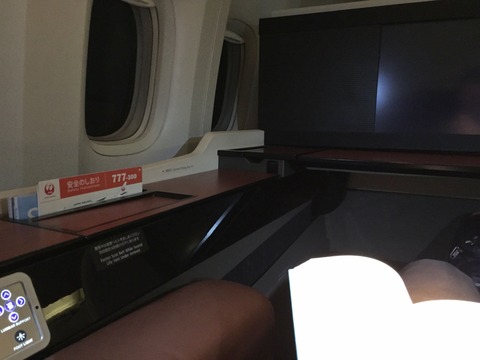 The response of CA was different from the usual class J, and it was polite "Too much." like hospitality to "special guest". They came to ask for drinks individually, and they went around each passenger and apologized politely for the flight delay. So this is a seat for special passengers.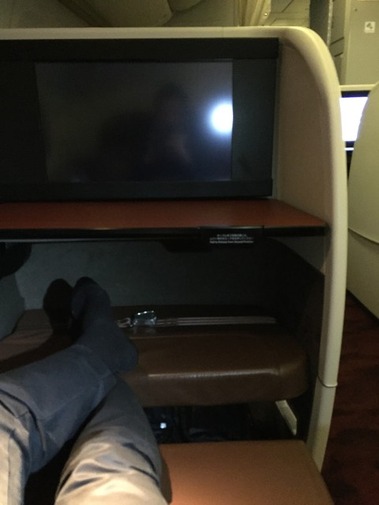 In a sense, I can't really feel that I can go to Osaka like this without having to scramble for armrests with my neighbor.
Heavy delay due to congestion waiting for takeoff
The special time passed quickly, but it took almost an hour to take off from the departure due to the congestion at Narita Airport. The disaster of leaving Narita Airport at 18:30 and not being able to catch the 21 o'clock closing of "551 Horai" at Itami Airport terminal … which is disheartening to have eaten dinner …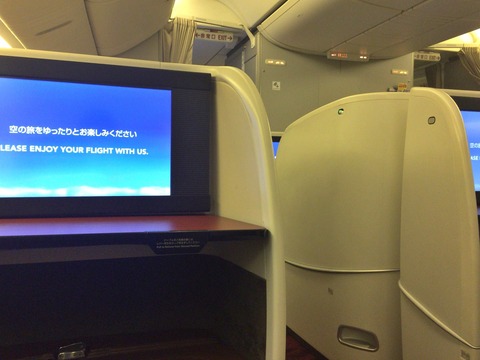 Of course, on a comfortable seat of JAL Suite, time passes so quickly that I don't feel any stress, but I realized that the problem of runway congestion at Narita Airport is not the level of rumor. The development of "Runway 3" which is under consideration may be urgent from the viewpoint of airport demand.
When I say my overall impression of the "Narita to Itami" flight, it was great that I could get to the airport by avoiding the crowds in the center of the city, and that there was no stress on the seat next to me on the plane, so I was able to feel special even when I was just traveling to Osaka.
However, it goes without saying that it is not suitable for people who buy time with money, and even I could not deny the feeling that "Oh, my God." when I arrived in Osaka this time, so I would not be able to use this line unless I am prepared to kill half a day just by moving. In any case, I would like to look forward to the JAL Suite flight to London which I will be taking in the future.
♪Click here for a List of articles on "First Class & Business Class Airlines worldwide (Seat, In-flight Meal, etc.)"