First class on JAL domestic flights, as you know, has been in service for 8 years since December 2007. First class fare on JAL's 4 routes from Tokyo (Haneda) to Osaka (Itami), Fukuoka, Sapporo and Naha is 8000 yen regardless of the distance, and there is no difference in the service contents.
However, the Itami Line, which has a flight time of 45 minutes, and the Naha Line, which boasts a flight time of 2 and a half hours, have more time to receive the service and the importance of seat comfort varies, so I think many people, including myself, have doubts about the fact that this is the same price.
There is no in-flight service on the Itami Line, which is the shortest route among them. Once turbulence occurs, the 25 minute service time is almost gone, so I can't be tempted to pay the same fare as the Naha or Fukuoka lines.
an unpopular "Haneda to Itami" line
On such Itami Line, even if there are more than 20 losers on the stand-by list for Class J, there are many cases where first class seats are vacant and the staff sometimes recommend UP (It's not involuntary upgrade, it's paid!).
Furthermore, since the announcement of the winning ticket for the stand-by position is made just before boarding the airplane, the lounge service and the preferential service for checked baggage have already ended. Therefore, when you upgrade to first class, you can only receive the seat and the in-flight meal. If the service is not cost-effective enough, it is natural for even business travelers to avoid it because they have a stable income.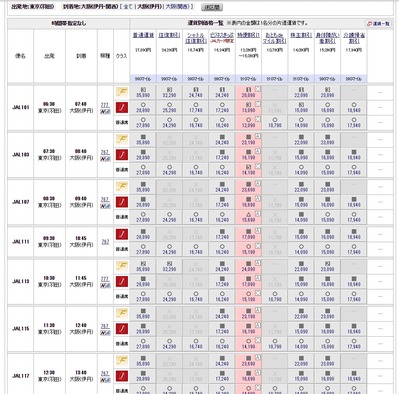 By the way, when I look at the issue status of the "Haneda to Itami" line on the website, there is a high probability that the number of seats remaining in the first class is decreasing, but this is often the case that the reservation is made by using the coupon distributed to the highest status members, and it seems that the use for a fee is small.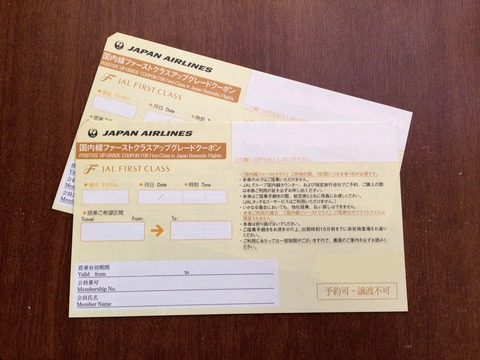 I also received 4 last year. Originally, I wanted to use it on Naha line, but it didn't happen often and I used it with "Itami" and "Sapporo".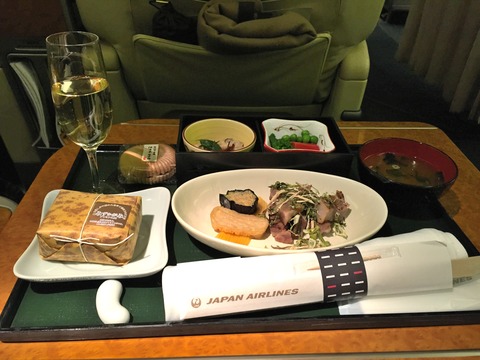 The "Haneda to Sapporo" line has about 2 times as much time for in-flight services as the "Itami Line" line, but even so, by the time you have a meal while talking with an acquaintance and have a glass of wine after a meal, the service is already finished with the announcement of "Five minutes to belt sign." so I realized how difficult it is to receive the "class equivalent" service on the Itami line.
In-flight meals are not available on "Haneda to Itami" short distance routes.
JAL seems to be focusing on domestic first-class in-flight meals these days, with monthly menus featuring local ingredients and dishes supervised by famous chefs. That's great, but I don't have time to really taste it on the "Haneda to Itami" line.
When I used first class in "Itami Line" before, the food arrived at my place 3 minutes after the captain said "The belt sign will be turned on in 10 minutes."! I was given only seven minutes to eat. The first class was full on this day and I was sitting in the 3rd row, so it can't be helped that it takes time for the in-flight meal served from the 1st row to arrive, but with this, it becomes a "Work" just to pour into the stomach.
We should consider setting the fare according to the distance traveled
As for the price, I think we should make a difference depending on the distance. Based on Sapporo and Fukuoka (8,000 yen), around 6,000 Yen for Itami Line and 10,000 Yen for Naha Line would be reasonable. If you do so, you can give up even if you can't get a satisfactory service on Itami Line. On the other hand, it is not too much to say that Naha Line is a service similar to international business class, so I think you should do so.
On the Itami Line, we offer an in-flight meal service that does not use "tableware"
Domestic first-class in-flight meals are "light meal" but they often have a substantial menu with miso soup and other soups, appetizers, main dishes and desserts, so I think it would be too much to have them as "Food" in less than 10 minutes of Itami Line. In that case, as far as the "Itami Line" is concerned, if we change to the "empty valve" that is provided in the in-flight meal on the Korean Line, we can shorten the time required for serving dishes and make it easier to serve. I think that we can provide the meals to passengers as soon as the seat belt sign is turned off.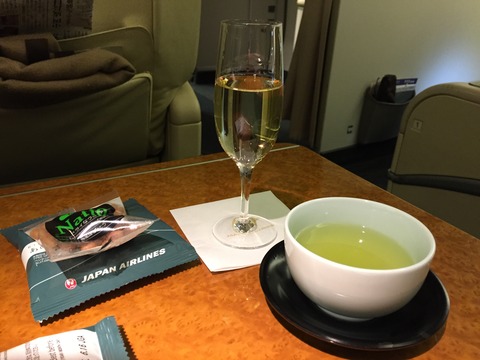 On top of that, if you set the expiration date of the air valve to "On the day" and make it possible to take it home, even if the in-flight service is not available due to the turbulence of the air current, you can give it as "gift", and I think it's a good thing that it can handle leftovers and save the trouble of handling leftovers.
It may be difficult to bring back food because there may be various problems, but actually on international flights, leftover sweet buns offered as "light meal" are brought back despite the fact that there is a sign of "Please eat it on the plane.", and I think they are being ignored, so I think "What are you doing?".
Expect better service for the price!
In any case, I would like you to improve the current "Haneda to Itami" first class service. It's only an 1 hour trip, but I hope it will be a "satisfaction" flight.
For the best cost performance, first class on Okinawa line, check here → JAL domestic first class (Haneda to Naha) boarding report!
♪Click here for a List of articles on "First Class & Business Class Airlines worldwide (Seat, In-flight Meal, etc.)"