This time, I will report on the JAL business class (Helsinki to Narita) in-flight meal I boarded in October 2015.
As I told you in my article on the way back, the western food of (Narita → Helsinki) was disappointing, so I was depressed before boarding, but actually the content of the return trip was good for relieving my anxiety at once.
※This article was written before the virus scandal. This will be updated.
Menu & Champagne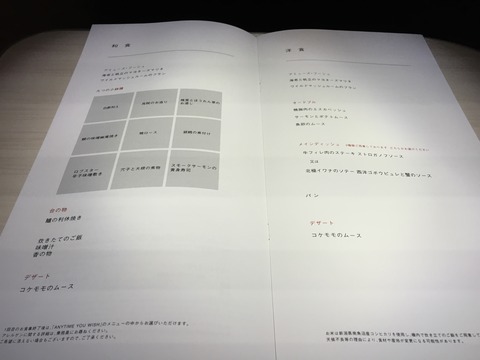 I chose the same Western food as the one on the way, and fish for the main dish. The specifications of the menu are the same as on the way, but it is "simplified version" without photos of collaborating chefs and explanations of coffee.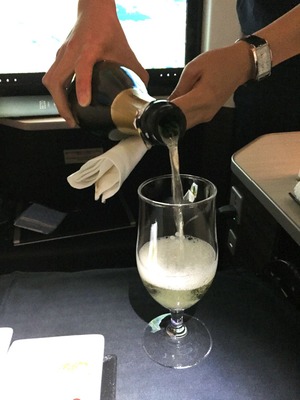 I'll have champagne first. Actually, this champagne (Delamotte Brut) is limited to flights to and from Narita "downgrade", but I would like to write about the contents of it in a separate article.
However, it is a mid-range champagne priced at around 5000 yen, so it is definitely the best drink you can drink on a business class plane. Because of "BRUT", it has a refreshing taste with a moderate sweetness.
Amuse-Bouche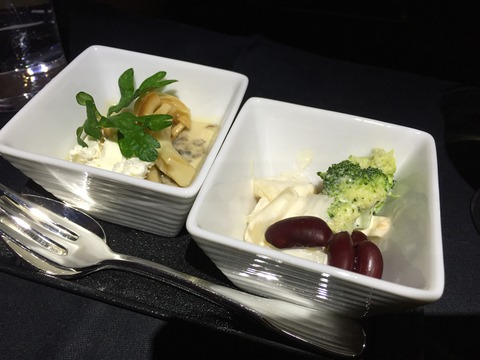 Shrimp and scallops marinated in mayonnaise and wild mushroom flan
It is completely different from the fiber remaining asparagus that came out on the way, and the slight texture of the seafood, mayonnaise flavor, and rich furan whet your appetite and make you enjoy champagne. I think I finally came across an amuse that made me look forward to the next dish "entertain".
Hors d'oeuvre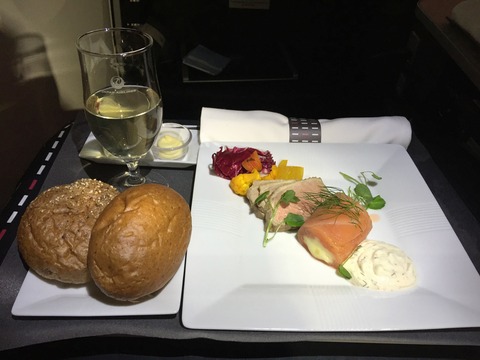 Duck breast escabeche, salmon and potato mousse, fish egg mousse, bread
I wonder if they use Nordic ingredients. Like the premium lounge at Helsinki airport where I stopped just before, the salmon was very delicious. Unlike on the way, warm bread was served.
It is smooth but has a slightly sticky texture and voluminous texture. Soft duck meat and mousse go well together.
Main Dish
Scandinavian iwana saute with burdock puree and crab sauce
The two flavors of puree and crab sauce are very elegant and go well with rice. Although it was Western food, I had char with plenty of sauce on rice with chopsticks. After a long disappointing meal in Warsaw, it was a real tear.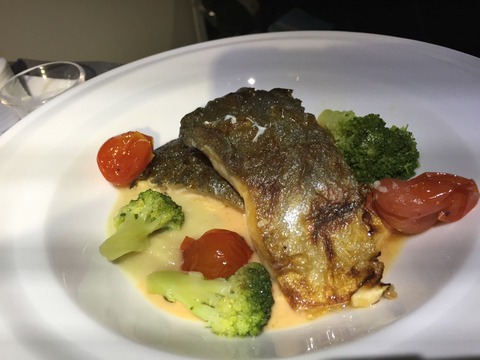 The way the rice is cooked depends on your taste, but for me, it's "Normal" level. I think it would be better if the rice grains stood up a little more, but it was still delicious.
Dessert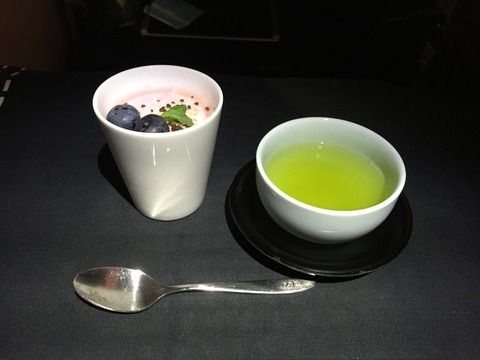 This tastes a little heavy and tea is essential. Bilberry is a kind of berry which is common in Northern Europe, and it is used for jam and juice in this region. Is it raspberry with strong sour taste? I think that it is a flavor that people like and dislike.
ANYTIME YOU WISH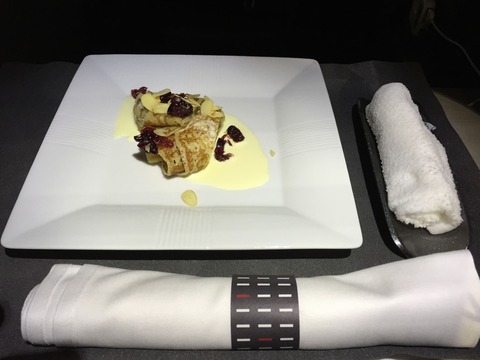 Crème with anglaise
It is a complete dessert considering it is listed as a main dish of Western food.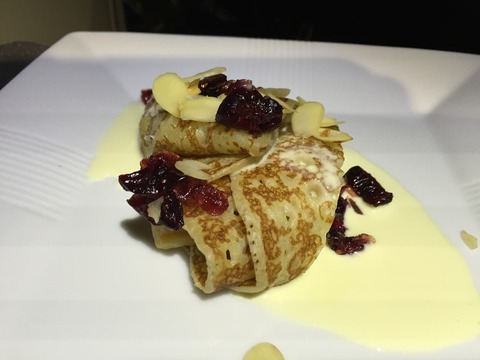 It was delicious, but I personally thought it would be nice if the scent of apple cinnamon drifted a little more.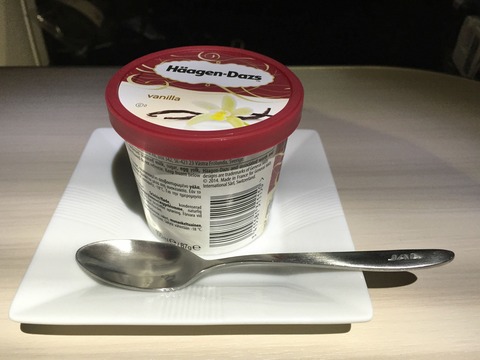 Finish with the same Haagen-Dazs ice cream as economy class.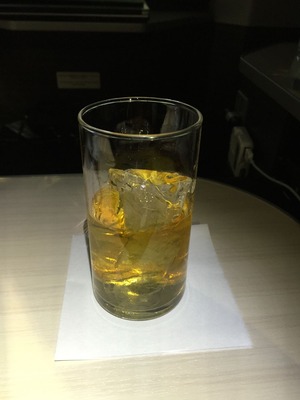 The drink brands, including alcohol, are the same on the outward and return routes.
Whiskeys are…
"Yamazaki (non-age)"
"Hakushu (non-age)"
"Chivas Regal 12 years"
"Jack Daniel's"
4 brands. Personally, I recommend 2 of "single malt", but I would like to drink a 12 year one if possible …, so I'm looking forward to it.
How was it? The Helsinki limited edition "Scandinavian char saute" was especially delicious. As I was disappointed on the way, I was even more impressed.
♪Click here for a List of articles on "First Class & Business Class Airlines worldwide (Seat, In-flight Meal, etc.)"