I used JAL class J on the flight to Tokushima the other day, but it was changed to an international flight at the last minute and I was able to experience a business class seat. Although it was business class, it was not Sky Suite, and it was "Skyrecliner" which was 1 generation ago, but it was much more comfortable and comfortable compared to normal class J.
※This article was written before the virus scandal. This will be updated.
Change of aircraft from Haneda to Tokushima JL459
JL 459 to Tokushima leaves Haneda Airport at 13:35. It was originally a small aircraft called B 737-800 with a capacity of 165 passengers, but it was changed to a small aircraft called B767-300 er with a capacity of over 200 passengers at the last minute.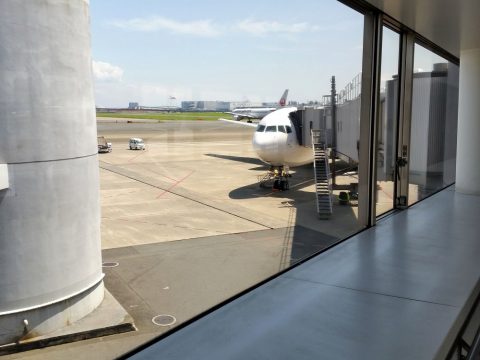 This time I boarded Class J, so I thought there was no big difference between 737 and 767, but I was surprised to hear from a person pushing a wheelchair while walking on the boarding bridge that "This is a rare international flight today."! For international flight equipment, class J is assigned a seat in business class, so this is lucky!
Speaking of 767 international flights, I was a little excited as it was recently converted to SS and included a full-flat seat "Sky Suite II".
Business Class Sheet "Skyrecliner"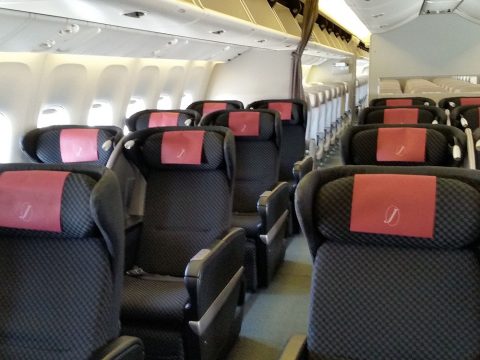 Unfortunately, it wasn't Sky Suite II, but the older "Skyrecliner" … international 767 was supposed to be a SkySuite for everything, but the older specs still remained.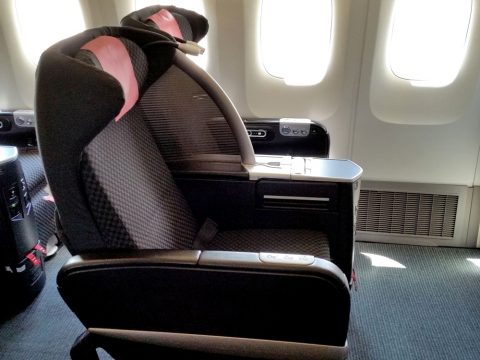 But this is a business class seat that flew to Southeast Asia until just a few years ago. There is no doubt that the seat is much more spacious than the regular class J seat and is higher in quality. It was a very good flight because I couldn't really aim for a seat.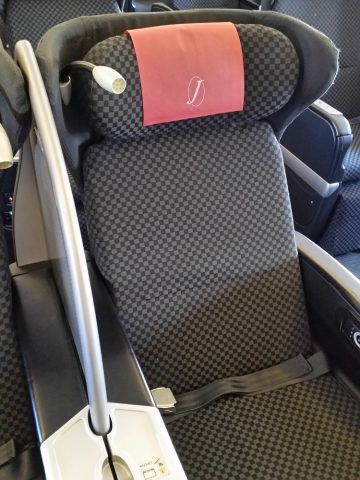 The most distinctive feature of this seat is its large partition, which is comparable to an international first class seat. This minimizes interference with neighboring seats.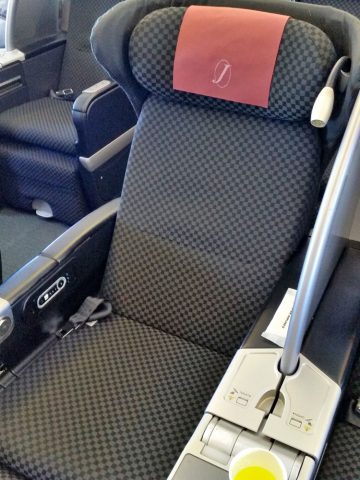 However, the reclining angle is quite shallow, so it may be hard to spend a late night flight on the Southeast Asia line … At present, the equipment for this seat has already withdrawn from Southeast Asia, and it is good because it is only near Taipei, but a decade ago, this was the standard.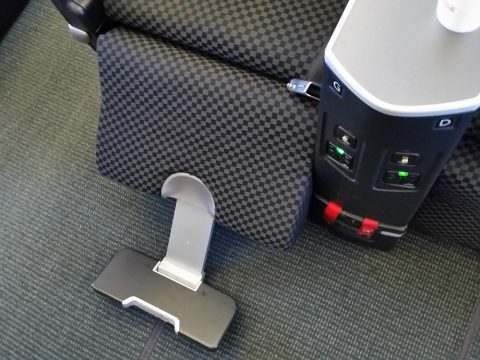 But if you just sit normally, this is great! This footrest is especially big. The normal domestic class J seats don't have this footrest, only the mid-sized leg rest. In that case, you can't relax at all just by pressing on your calves, so this is a useful facility.
Equipment around the seat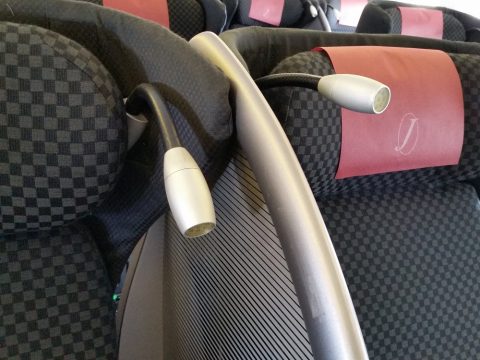 Next, let's look at the facilities around the seats. First, a reading light to illuminate your hand. You can also adjust the amount of light.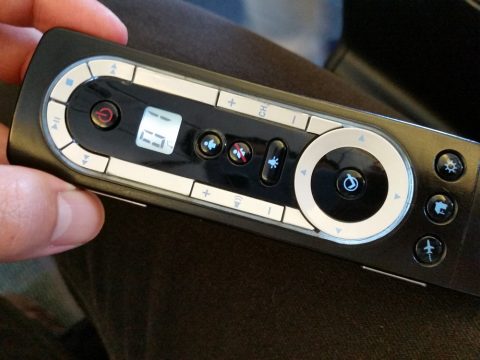 Controller. It is quite old, but the basic design is as good as the current one.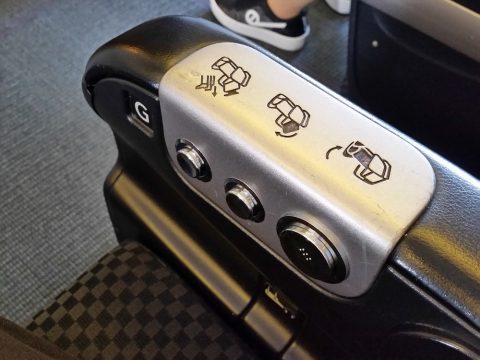 The buttons on the reclining leg rest and footrest. Maybe it's because the spring inside is stretched, but both of them don't respond just by pressing the button and are semi-manual.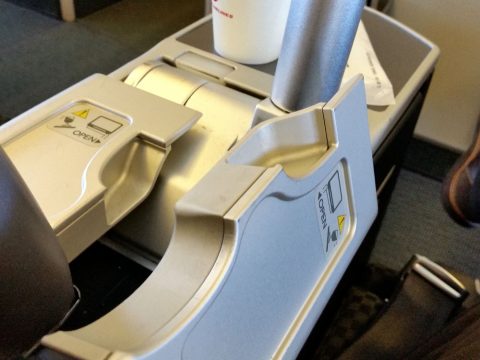 Take the monitor out of the armrest. Perhaps due to my old age, the "lid" of this armrest was quite loose. Also, maybe because the heat of the monitor is transmitted as it is, the armrest is very hot.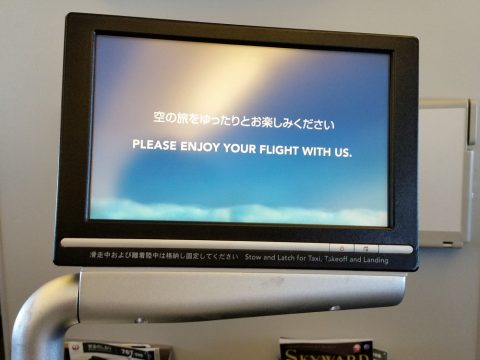 The monitor is 10.6 inches, touch-sensitive. This time it is a domestic flight, so there is no movie service.
slightly special table specifications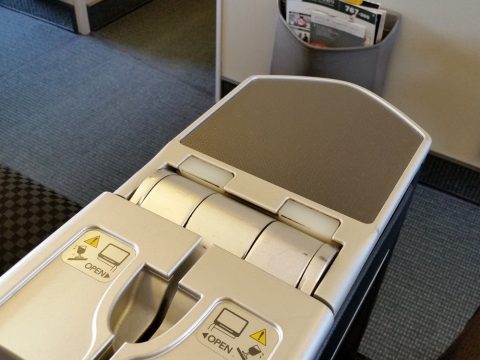 Next, I would like to look around the table, but first I will look at the cocktail table in the center. I would like to have the shared space with the neighboring seats eliminated as much as possible, but this was used for seats two generations ahead "SHELL FLAT NEO".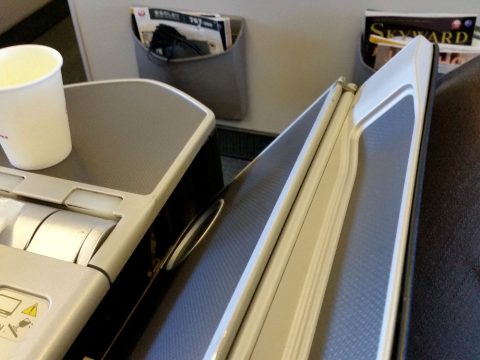 The main table is pulled out from the side of the seat. It's not heavy, but I feel it's hard to take it out until I get used to it.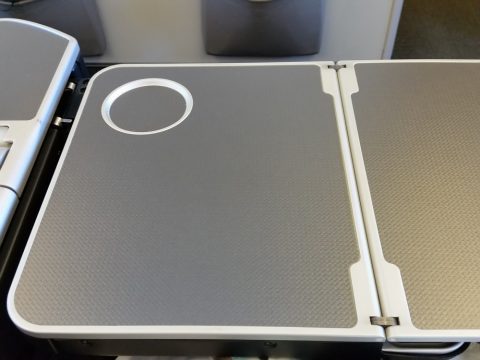 The table is standard size and is folded in two. The bottom of the table floats away from the armrests, making it slightly less stable (Better than ANA?).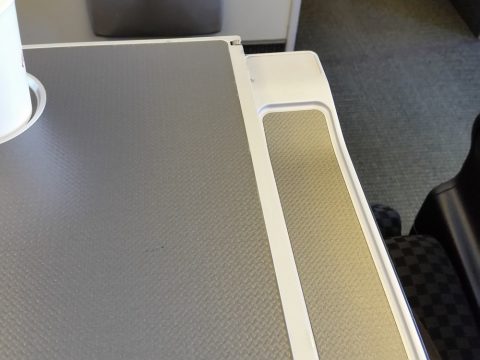 But what surprised me most was this part when it was folded in half. According to JAL's website, this is designed with the concept of "pen holder" in mind for businessmen, but I've never seen such a specification before. Indeed, if you put it on the table, it will roll and fall, so it may be useful depending on how you use it.
comfort of the first seat of B767
This time we assigned the first row seat of class J. I couldn't specify it in advance, so I asked them to change it at the counter on the day. This time I'm going with a person in a wheelchair, so it's easier and more convenient to get on and off.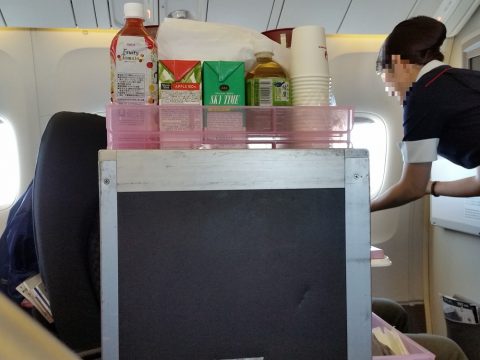 The service of the drink was quick, and I think there are many thoughtfulness of CA. I thought it was a good seat for a special service like this time.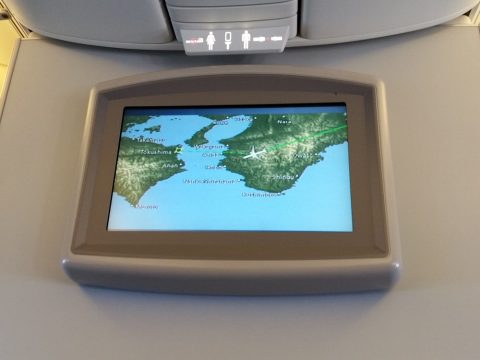 However, B767 is super cool … I am concerned about the bass sound of the car even though it is the quietest front seat. The Malaysia Airlines a330 that I boarded the other day had only a wind noise and almost no bass noise, so the difference in the airplane performance was obvious.
Even with the latest B787 I rode last year, the screeching noise was always annoying, and I would like to be honestly happy that JAL will introduce a350 in the future.
Sleeping is tough … Business class for short distances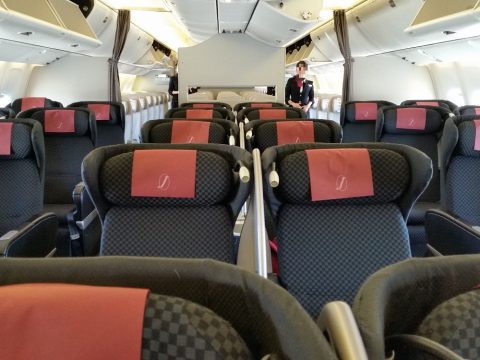 So I reported a "Skyrecliner" seat with Class J international equipment. This may be the first and last time we'll be taking this considering the retirement of the next 767. To be frank with you, it's hard to sleep in this seat, but if you sit and work, there's no problem, and compared to the infamous "Skyluxe seat" I think you can spend a much more comfortable time.
Even so, I don't want to pay the high fare of international business class. As its current destinations, Taipei and Seoul, are only a short distance away from each other, demand for the Sky Suite will probably remain low, and I only hope that the B767 will be retired soon and replaced by the B787 Sky Suite.
♪Click here for a List of articles on "First Class & Business Class Airlines worldwide (Seat, In-flight Meal, etc.)"