Iriomote Island is surrounded by beautiful sea, and there is a lot of untouched nature in the inland, and I think one of the attractions of Iriomote Island is that you can experience such an unexplored region. However, it takes a lot of time and heavy equipment to go deep into the mountains. When I looked for something that I could easily feel the secluded region, I found out about a trekking tour to visit two waterfalls and decided to join it.
Round trip Urauchi River cruise for 1,800 yen
This time, a company called Urauchi River Kanko organized a "Maludu, Kanbilet Falls" tour. If you look at the website, there are many other tour products that are unique to Iriomote Island, such as subtropical forest trekking and canoeing.
The tour that will take you around the 2 waterfalls will take you on a boat to the "Urauchi River" that flows to the northwest of Iriomote Island, and then you can take a walk through the trekking course. Although it is a tour, it is not accompanied by a guide, but you can just freely take a walk on a regular flight of 6 times a day.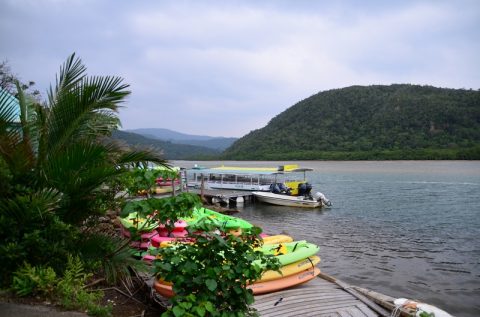 The cruise ship dock is a 10 minute drive from Uehara Port. There is a free parking lot with a capacity of 30 cars, so there is no problem to drive in a rental car.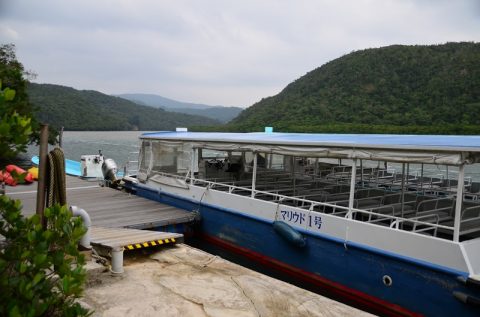 It takes about 30 minutes from here to the upstream of the trekking course. The cruise ship labeled "Maryudo 1" was small but had seats for about 80 people. You don't need to make a reservation, go to the bus stop 10 minutes before the departure time of each flight listed on the website, and pay the fare. It is 1,800 yen per person for a round trip boat and a free stroll ahead.
Trek upstream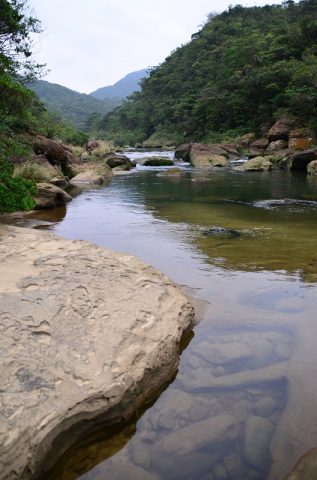 When you arrive at the upper stream of Urauchi River, you can go freely from here. The walking time is basically 2 hours, but this time there was a flight 30 minutes earlier, so I decided to come back in 1 hour and a half.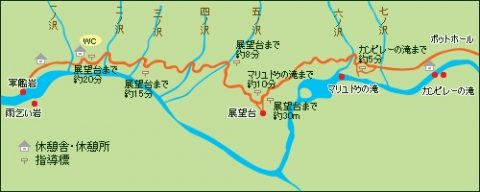 According to the map, it takes about 45 minutes from here to the place where the waterfall is, but it took a little more than 30 minutes by walking with a man's foot.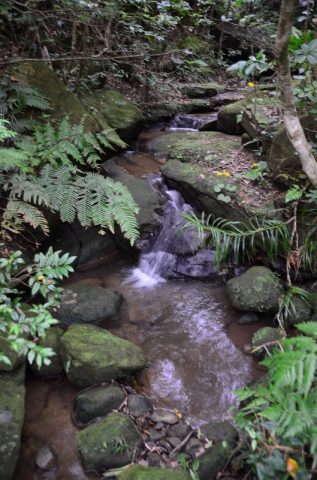 There are mountain paths along the way, but there is almost no slope because you don't climb high mountains. This day was the next day of rain, so there were some places that were a little muddy, but since I was wearing shoes with rubber soles, it was not slippery.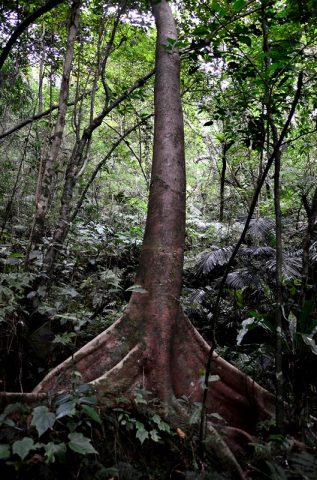 You can see many plants unique to Iriomote Island in this trekking course. In Japan, trees with plate-like roots (laminar root) found in the tropics are found only in Okinawa (Including some areas in Amami).
There is also a tour to Iriomote Island to see the "Saxifrage" which is 2 meters high, and I will tell you about it next time.
View of "Maludu Falls" from the observation deck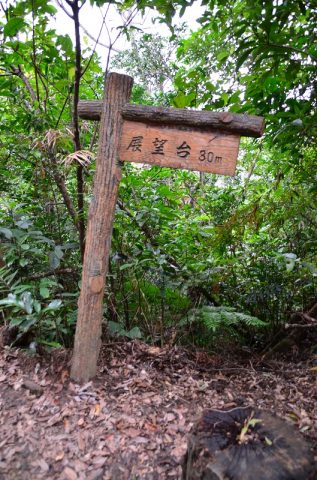 Well, we arrived at our first viewpoint a little over 20 minutes from the dock. This is an observation deck where you can see the Maryudu Falls from a distance.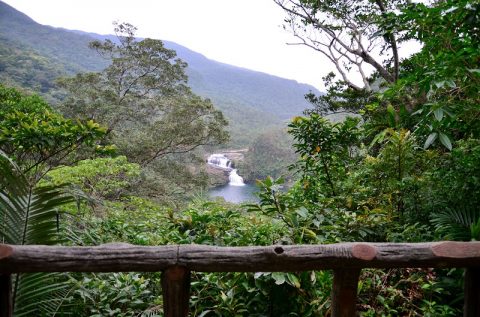 The Maryudu Falls, which has been selected as one of the "Top 100 waterfalls in Japan" features 2 steps. I can't feel it from a distance, but the drop is 20 meters.
I think the waterfall has a lot of impact in proportion to the amount of water, but on this day, it might be a little small, but it lacks in intensity. But I think the beauty of the scenery of the two-tiered waterfall is quite good.
the point of termination of trekking "Kanbilet Falls"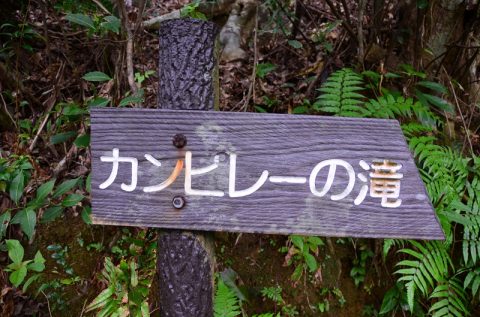 About 10 minutes from the observation deck overlooking the Maryudu Falls, we arrived at the end of the trekking course "Kanbilet Falls".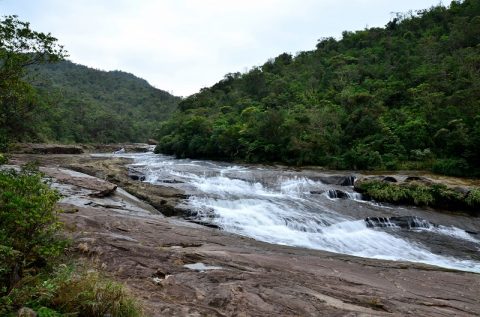 This is a large and open area and you can walk to the side of the water. Probably because of the small amount of water, most of the rocks were exposed.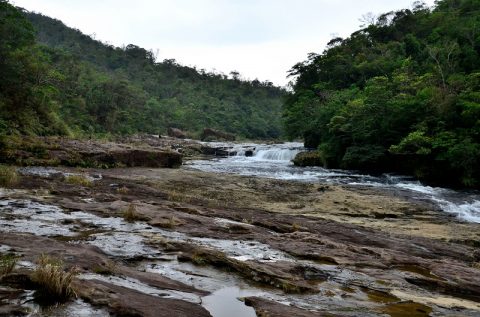 According to Wikipedia, "Kanbilet" means the seat of God. Is this such a sacred place? It is true that the scenery matched with the surrounding trees creates a mysterious atmosphere.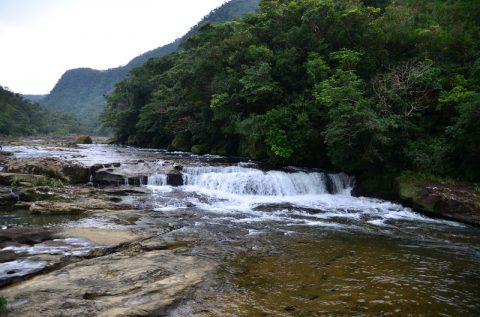 When I think of a waterfall, I imagine the sound and splashing of water with a drop of several tens of meters, but it feels more like an extension of a river. With a little more water, would it be fun to do rafting?
Well, this place is like a so-called power spot. I took a walk for a while and went home in about 15 minutes.
Can you say "unexplored region"? Can't you tell me?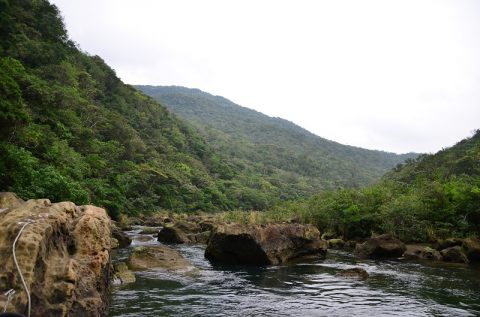 What kind of unexplored regions can be tasted easily with "Maludu Falls" and "Kanbilet Falls"? Participated in Urauchi River Sightseeing Tour in Iriomote Island
I can recommend this trekking tour because you can easily feel the nature of Iriomote Island, but it is far from "unexplored region". In addition to the maintenance of the easy to walk course, the scenery is not very impressive. In order to feel "unexplored region" it may be necessary to infiltrate the inland of the island with heavy equipment.
♪Click here for a List of articles on "Miyako Island, yaeyama area"