I participated in a snorkeling tour on Iriomote Island in Okinawa. Even in December, the temperature in the Yaeyama region sometimes exceeded 25 degrees, so I could enjoy the beautiful sea even though it was off-season.
There is no airport in Iriomote Island, so you have to use a boat from nearby Ishigaki Island to get there, but if the transportation is inconvenient, the travel expenses will inevitably increase. This time, I would like to tell you about the access to Iriomote Island and the travel expenses.
New Ishigaki Airport to Ishigaki Port Isolated Island Terminal
To get to Iriomote Island, you first need to go to "Ishigaki Port Remote Island Terminal" which is the place where boats depart and arrive. This port is convenient as it is located in the city of Ishigaki, but the disadvantage is that it is far from the airport …。
Ishigaki Airport, which used to be close to urban areas, was moved to a remote area 7 km away in 2013 due to the extension of the runway. It took 30 to 40 minutes by bus to get to the city center, but I could go directly to Haneda without stopping at Naha for refueling, so there was an advantage that I could stay longer on Ishigaki Island.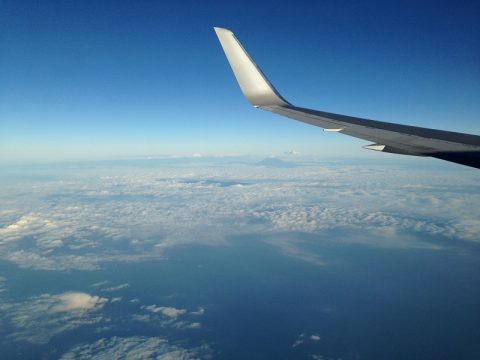 The direct flight from Haneda to Shin-Ishigaki Airport takes 3 and a half hours in winter when the westerlies are strong. It's just like an international flight. JAL and ANA have 2 flights per day each, but there are advantages and disadvantages to the time, so it might be realistic to go via Naha.
Anei Kanko's high-speed ship
The ship from Ishigaki Island to Iriomote Island uses a high-speed ship of a company called "Anei Kanko". There are about 15 round trips per day from 7:10 to 16:40 in the morning and the fare is 1,570 to 2,060 yen one way (Depending on the port of arrival – see below). There is a "round-trip discount", but it's a shame that they only give a 5% discount.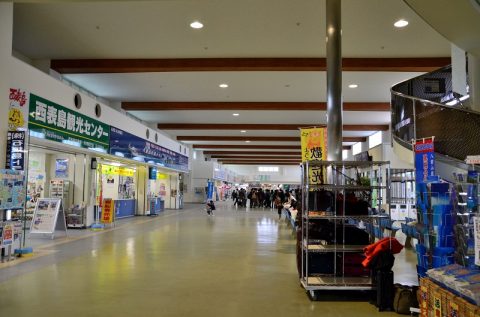 Ishigaki Port Isolated Island Terminal is a base of access to many islands in Yaeyama region other than Iriomote Island, so it is quite large. Including Iriomote Island, there are some islands you can go from Ishigaki Island in a day, so it's convenient.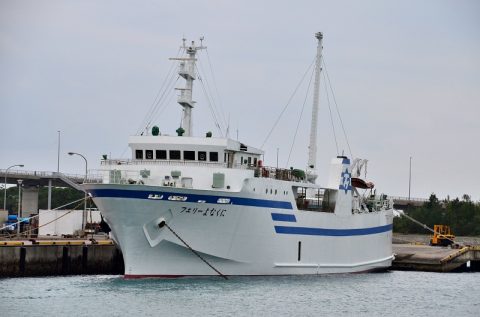 When I took a look at the port, there was a "Without a ferry." at anchor that goes to Yonaguni Island, the westernmost island of Japan. I was lucky to be able to see it because it only runs twice a week. As might be expected of a ferry, it has a dignified appearance.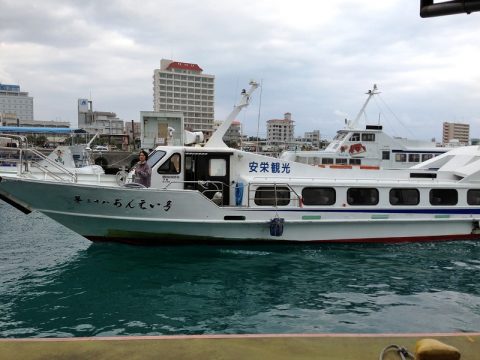 On the other hand, …, the ship to Iriomote Island which I am going to take this time is very small …。, and I am worried that I will be able to withstand the rough waves of winter, but I am going to take it without worrying!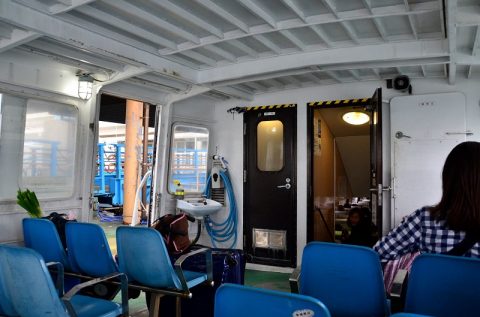 The inside of the ship is unexpectedly large, and there are guest rooms when you enter the door from the deck shown in the picture. There is a toilet, so you don't have to worry. It is warm in the guest room, but of course the deck is exposed to the wind.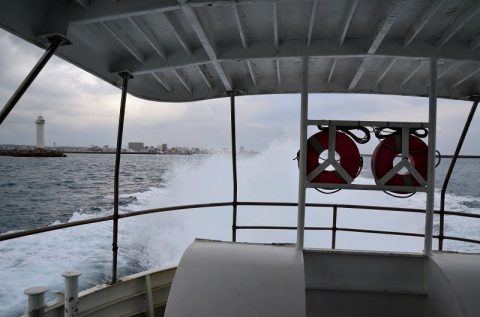 Even in December, since it is in the warm Yaeyama region, there is no freezing cold at all, but it is still chilly when splashed with water. I can hear the engine sound very well, so it's a very lousy seat, but it's suitable for people who want a sense of openness.
All seats are non-reserved, but you can reserve tickets from the website, so I recommend you to reserve in advance during the busy season.
Go to "Ohara" or "Uehara"
Iriomote Island has 2 ports, "Ohara" and "Uehara", and ships from Ishigaki Island have independent routes to each terminal. Since the 2 ports are located diagonally opposite the island, it takes about 45 minutes to drive by car, so you should be careful not to mistake your boat by checking the location of the rental car or hotel you have arranged.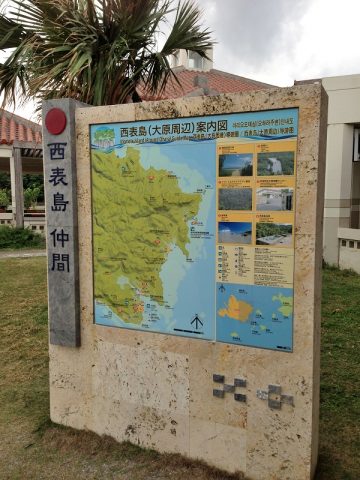 The hotel we stayed at this time was in the direction of "Uehara", but we decided to go there by rental car from "Ohara" due to the ferry schedule. When we arrived at Ohara, it was already 17 o'clock, but even though it was the winter solstice, the days were long in southern countries and it was still bright even after driving for less than 1 hour from here.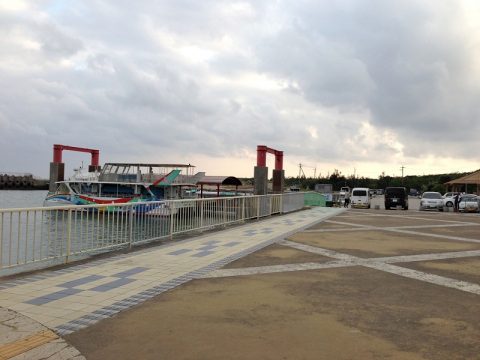 By the way, there is no big welcome like Ogasawara Islands (lol) Of course …。
The travel expense of 4 nights and 5 days is over 70,000!
This trip to Iriomote Island cost 75,000 yen per person for 2 people and 1 room with a friend. It's a package tour of Nansei Rakuen, but now I think it's a little expensive …。
Haneda to Ishigaki Airplane (JAL)
Round trip ticket between Ishigaki and Iriomote
Rental car in Iriomote Island S-Class for 5 days
Hotel Nirakanai Iriomotejima 4 nights (with breakfast)
In addition to the standard flights departing from Haneda Airport at 9 o'clock on the outward route and arriving at Haneda Airport at 22 o'clock on the return route, it should be a little cheaper during the off-season in December, considering that it was a popular resort hotel with a view of the sea.
When you choose a package tour, you tend to forget about the existence of a rental car, but Iriomote Island has only 4 buses a day, so if you don't have a rental car, you won't be able to go sightseeing. I recommend you to make sure that there are no omissions in the arrangement of airplane, ship, car and hotel.
♪Click here for a List of articles on "Miyako Island, yaeyama area"