The last dish of Iriomote Island is a food report of island cuisine. Okinawa has a unique food culture that Honshu doesn't have, and it's the best part of traveling. When it comes to Okinawan island cuisine, at first I had an image that it was difficult to eat because of its unique taste, but in Iriomote Island there is nothing but delicious food no matter which restaurant you enter and eat! Surprisingly, Iriomote Island was a treasure house of gourmet food.
This time, I would like to select two restaurants from the restaurants I visited in Iriomote Island and report on their famous local dishes.
Kitchen inaba
First of all, "Kitchen inaba". It was located in Uehara district and it was within walking distance from "Hotel Nirakanai Iriomote Island" where I stayed, so I visited there 2 times during my stay. If you can have a meal without driving, it's good that you can drink alcohol.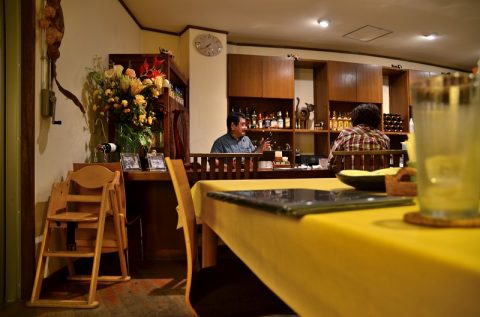 The restaurant has 5 ~ 6 tables for 4 people and several counter seats. I visited both times for dinner, and there was a live performance service on the way.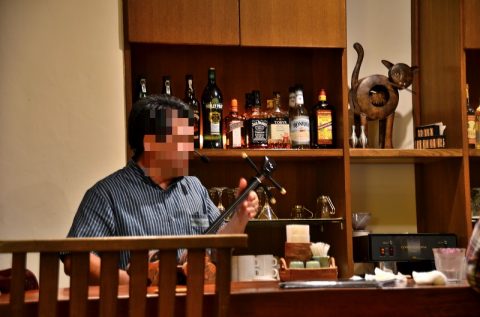 If you look at the homepage, this is what it says "Minyo Live Restaurant". But when I listen to the music, I always say <<Nadasousou.>> and <<Shimanchu nu Takara>> (laughs). This song selection may be the most appreciated. (Kitchen inaba HP)
A variety of high-quality island dishes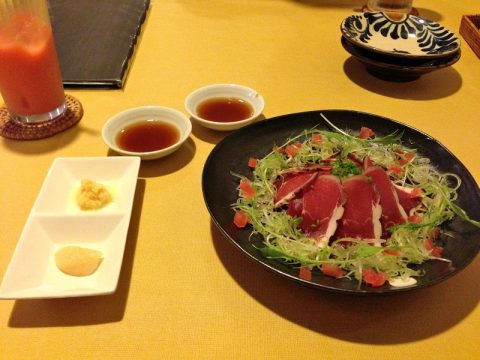 This restaurant serves local dishes from the Yaeyama region. I'll start with "Seared wild boar". This wild boar, which is native to the Yaeyama region, is smaller than the common Japanese wild boar.
When I ate it, there was no smell and it was light. It tastes good with a texture similar to seared bonito. Add ginger and garlic to taste!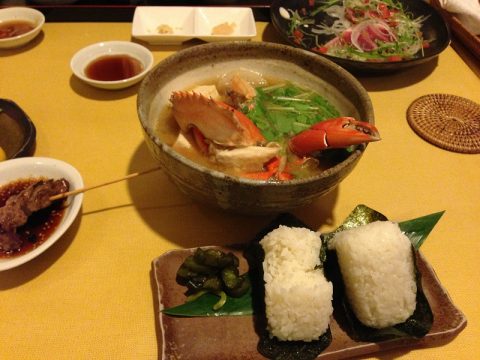 Then, "Chicken breast soup". Saw crab from Iriomote Island is made into miso soup. The soup stock is good. This is also very delicious! Miso soup in a bowl, two rice balls, and just this one is pretty big.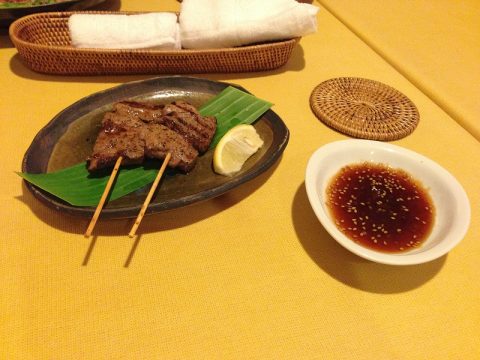 This is "Grilled Yaima beef skewer". Yaimagyu is Kuroge Wagyu from Ishigaki Island, but it is a different brand from "Ishigaki beef" and you can get it cheaper than that. Even so, these 2 skewers cost 650 yen, but they are not hard yet chewy and delicious! I recommend eating it with only the sourness of lemon without sauce.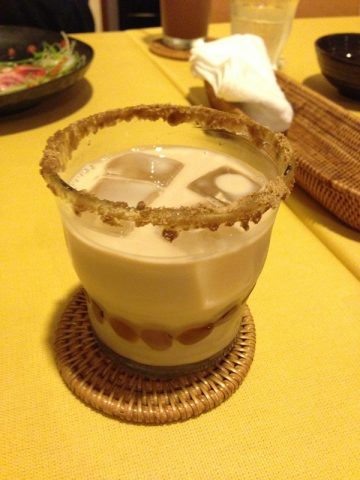 There's also an alcohol menu in this kitchen, inaba. There were cocktails as well, and there was such a creative cocktail using brown sugar.
The dinner budget is more than 3,000 yen per person, but all the menus are voluminous and delicious, and I have no complaints. The appearance is stylish and the atmosphere is good! I think it's a pretty good restaurant.
Izakaya Gajumaru
The 2nd one is "Izakaya Gajumaru". This is also in the Uehara district, about 1 km from Kitchen inaba. It's not too far to walk from Hotel Nirakanai, but I went there by car. My friend and I won in rock-paper-scissors, so my friend is the driver on the way back!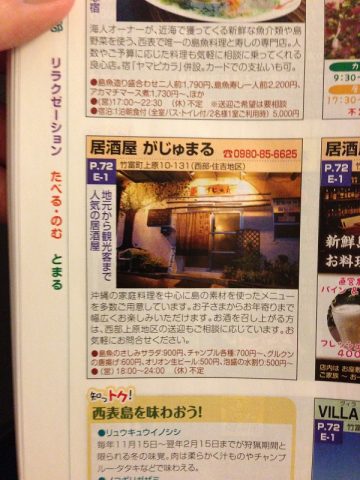 But I heard that this shop can pick you up only in Uehara area. This service is unimaginable in Tokyo, but all of your companions can drink. However, I came here by car without realizing it, so there was no choice … (Yaimanet shop page)
A la carte dishes unique to Izakaya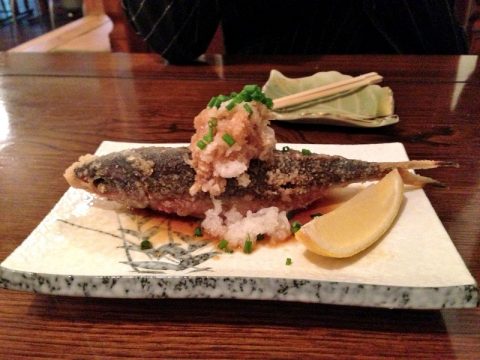 This restaurant also has a good lineup of island dishes. First of all, "Deep-fried Gurukun fish". Gurukun is a kind of sea bass caught in Okinawa, and is about the size of a horse mackerel. I heard that it can be eaten as sashimi, but it is the best to fry only plain white fish. When I ate it, the inside was surprisingly thick and soft, and the crispy texture of the outside combined to make it delicious!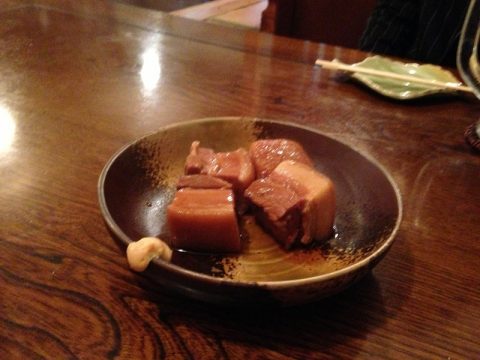 Then came "Rafute". It's pork Kakuni, and Awamori is used for Rafuteh. Shochu with high alcohol content is said to work to soften the fiber of the meat, and when you eat it, it has a melting texture and is delicious. There are only 4 small pieces, so I think it's better to order 2 pieces.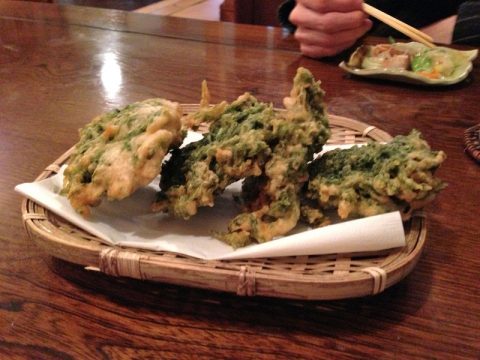 Finally, "Asa Tempura". Aasa is green seaweed that grows in rocky areas of the sea in Okinawa. It is called "Aosa" in Honshu. It is often put in miso soup instead of seaweed, but it is served as tempura here. It has a unique bitterness, so it goes well with alcohol!
Iriomote Island was a treasure house of delicious food!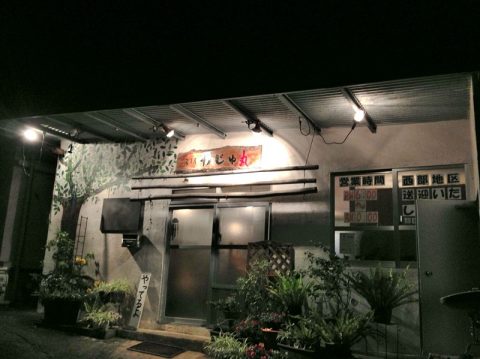 I went to several other restaurants in Iriomote Island, and all of them were creative local dishes and delicious. I thought it was … because the food tastes just happened to match, but my friend who went with me said the same thing, so I think there is no mistake.
If there is a beautiful sea, an unexplored region, and delicious local cuisine, I would definitely like to visit again. This is the food report of Iriomote Island's local gourmet.
♪Click here for a List of articles on "Miyako Island, yaeyama area"