In Lisbon, Portugal, there are many old churches that were built during the Age of Exploration, and the "Igleja de Sao Roque" that I visited this time is one of them. The appearance was simple, but the chapel filled with gold was seen inside, and it was a very impressive church!
※This article was written before the virus scandal. This will be updated.
Church by an Italian architect
Igreja de Sao Roque is in Lisbon's Bairro Alto area. It's very close to Rossio Station, but the tram stop number 24 is right in front of it, so it's convenient to access by tram.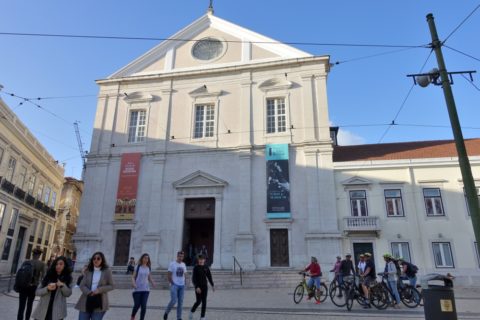 a church with a white exterior triangular roof. It looks brand new, but the church has a long history and was built in the late 16 century.
It was designed by an Italian architect and has an Italian-style baroque design incorporating Renaissance Maniérisme. Fortunately, admission to the church is free!
Admission free! Sophisticated Interior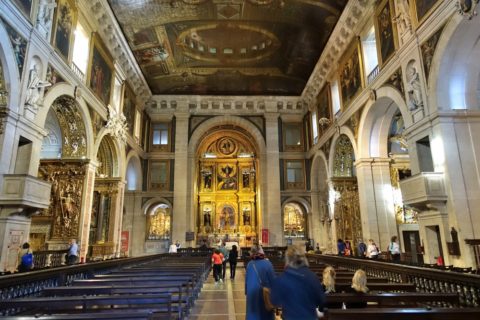 Entrance is from the front entrance facing the square. The interior of the church has a rectangular shape, and although it has a simple structure with only a nave and chapel (festival room) on both sides, it is a very refined space!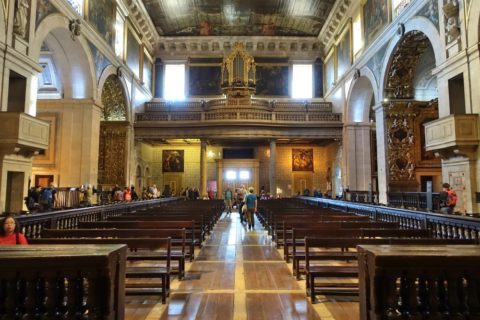 There is a small window near the ceiling, and the interior of the church has natural light. The marble walls, pillars and ceilings are lined with paintings by the renowned religious painter Domingos da Cunha.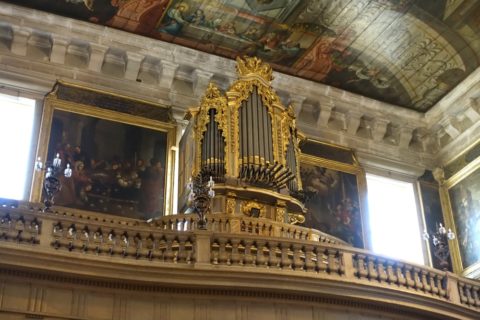 The pipe organ, which is said to have been manufactured in 1784, is also installed on the upper floor of the door opening and front room.
On the other hand, the interior of the church is said to have incorporated elements of the Rococo and Baroque styles, but you can see the tiles of Azulejo everywhere, which makes you realize that this is a Portuguese church.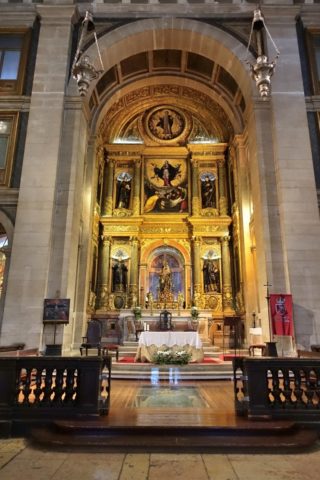 The main altar consists of four statues of saints, including a statue of the Virgin holding a child. It is better to see the altar wrapped in gold decorations closer than from a distance.
The chapel filled with gold is amazing!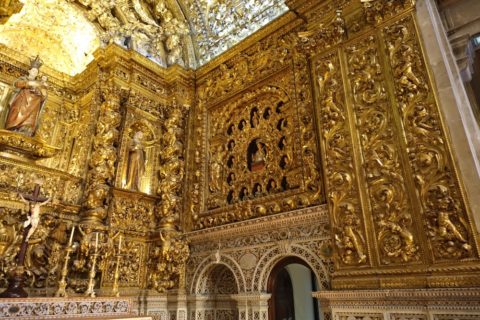 And what is more luxurious is this chapel filled with gold! This is one of the eight chapels on either side of the nave, and the dazzling details are stunning!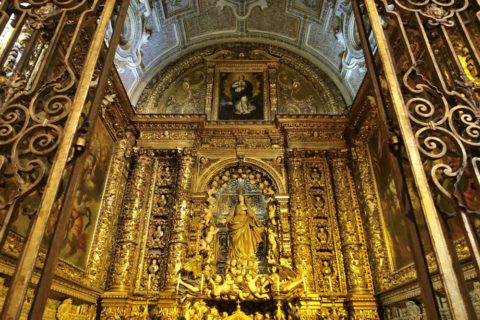 The altar was built at the end of the 17 century and depicts the life of the Virgin Mary. The gilded chapel is heavily influenced by Italian decorating techniques.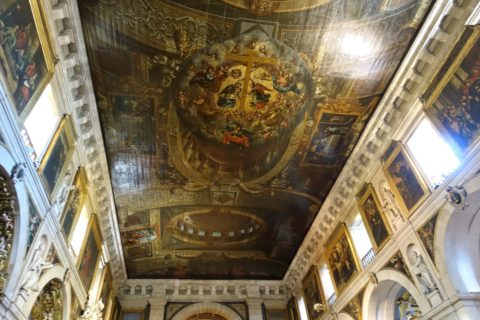 The other ceiling painting is by Francisco Venegas, a Spanish painter who was active in the 16 century.
When you look at the painting of the symmetrical composition using the trick painting technique, there is a description that seems to be a dome roof, and I think this part is a trick painting, but it is a little unrealistic …
an exhibition room next to the altar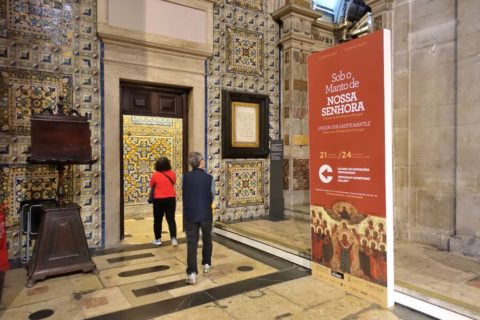 On the left side of the altar, there is an entrance surrounded by azulejo, which is an exhibition room where a special exhibition called "Nossa Senhora" was held.
The interior is full of religious paintings, and there are also many icons that are thought to be Russian Orthodox. Entrance is also free, although I was a little hoping for a beautiful room surrounded by azulejo, there were only exhibits and no interiors …
An additional fee is charged for the adjacent museum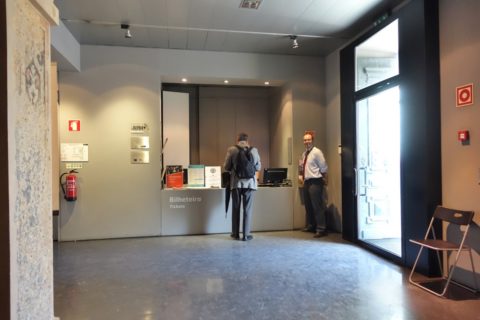 There is also an attached museum next to the church entrance where you can buy a ticket (€2.5) and enter for a fee (No Credit Card).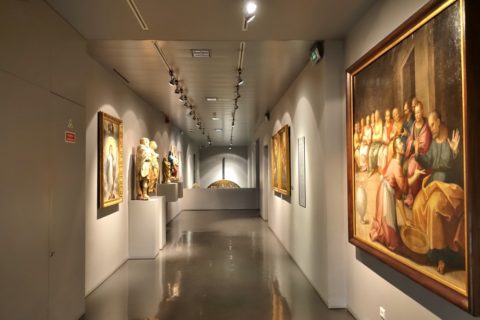 The inside is also an exhibition of religious paintings and sacred tools used in churches. Opened in 1905, it is said to be one of the oldest museums in Portugal. However, the museum underwent major renovations in 2000, and the exhibition area has doubled since then.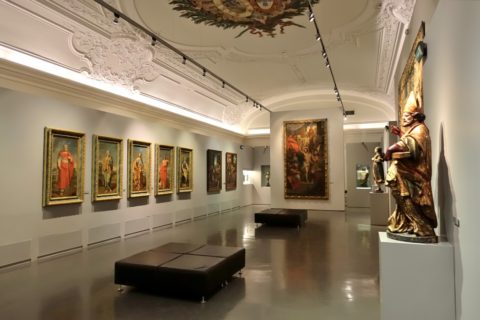 The exhibition area is divided into 2 layers, and it is a museum with volume despite the low admission fee. However, there is no oil painting that tickles artistic sensitivity, so it might be a little boring if you are not interested in Christ …
However, the collection of Joan V, the former king of Portugal, is quite impressive, and the area where golden canopies and candlesticks are exhibited seems to be the best part of the museum.
It might be a very valuable collection, but there was a lifeguard here and he was keeping an eye on it.
A luxurious church that you can easily enter!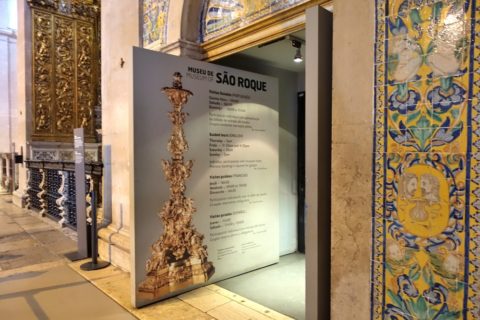 At first glance, it may seem like a modest church in Lisbon "Igleja de Sao Roque", but if you take a closer look, you will discover that it is actually quite impressive! It's free to enter, so it's good to visit during a break between sightseeing.
Igleja de Sao Roque
Address:Largo Trindade Coelho, 1200-470 Lisboa
Opening House:10:00~18:00(Monday 14:00~18:00)
Closed: 1/1, Easter, 5/1, 12/25
★Try it with this too → "Lisbon".