If you search for "Ho Chi Minh Bánh mi" on the Internet, you'll find a binder named Huynh Hoa. It seems to be popular among tourists from all over the world, and there is always a line in front of the shop.
1 40,000 VND and very expensive for Vietnamese local food, what does it taste like? I want to report!
Whenever I go, there is always a long line of people waiting at this popular restaurant.
Huynh Hoa is a popular store of Banh Mi. The location is very close to Truong Dinh Park and is a 7-8 minute walk from the Ben Thanh Market. It seems to be open on regular days, but the opening hours are irregular at 14:30 ~ 23:00, so I don't think it is suitable for breakfast or lunch.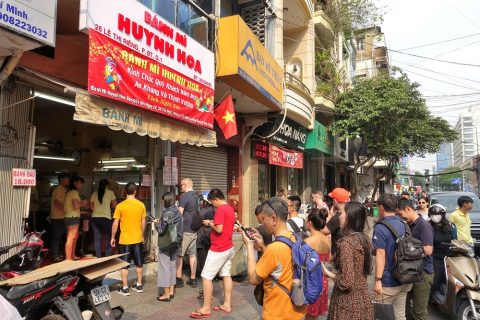 I went there around 15 o'clock, and there was a long line as expected! As far as I can see, no local people are waiting in line, and all seem to be foreign tourists. The hotel where I am staying is close, so I used to pass here several times during my stay, but there is always a long line!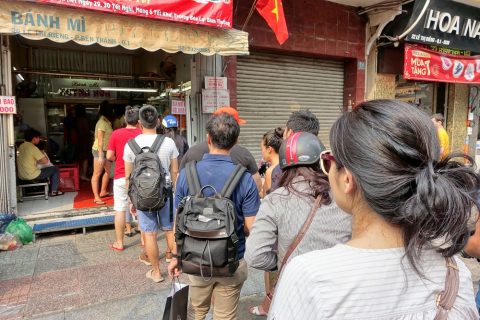 Even so, once you get in line, it's so quick! In just a little over five minutes, I was able to get my hands on a binder me. Since it is a prosperous restaurant, they are good at dealing with customers and they pass it to customers one after another.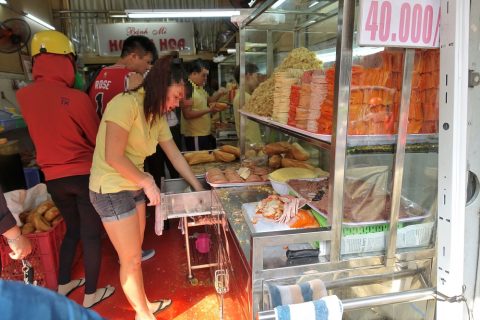 This Huynh Hoa has only 1 kind of 40,000 dong menu. They are not made in advance, and they are handmade one by one despite being busy. There are many kinds of ham and putty on the cooking shelf!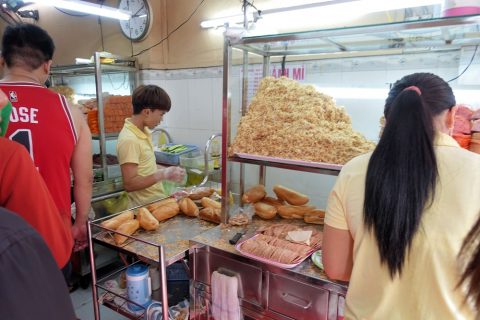 I was looking at the place where they were making it, but a few staff members were working very well, and the Banh Mi was completed in no time. It's hard to put more than 10 kinds of ingredients in bread, but it's a great craftsmanship!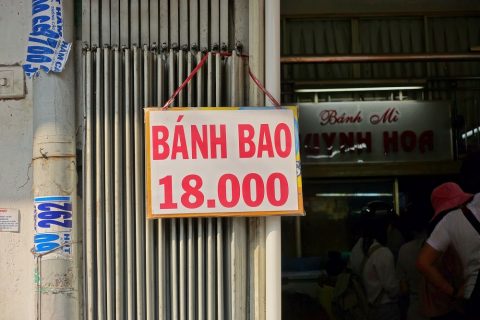 In addition, there is another menu in this restaurant, and it is this Vietnamese style Chinese steamed bun called "Banh Bao". This seems to be popular too, and there was a line to look for it in the back of the store.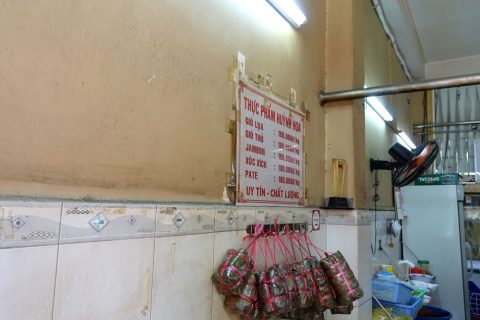 Also, it seems that Banh Mi ingredients are sold at 180,000 VND/kg.
Can you put it in a shopping bag?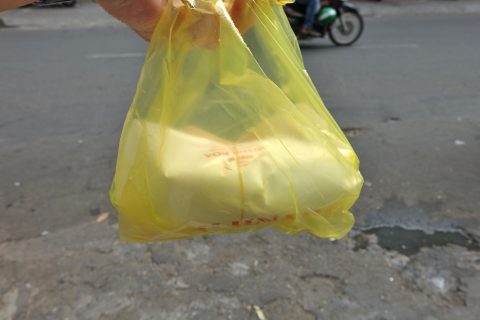 This time I ordered one of 40,000 Banh Mi. Since there is no eat-in space in the store, it is always takeout, but they put it in a plastic bag so that it is easy to carry.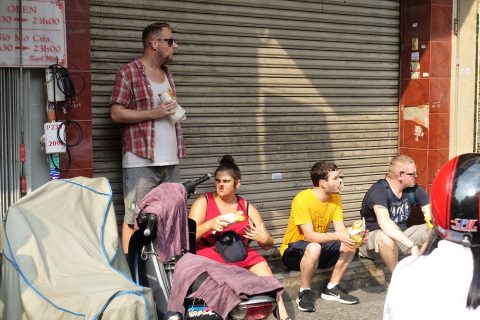 Also, many people sit around eating, but there is a trash can nearby, so you don't have to worry about what to do after eating. I decided to eat standing here too.
Big volume! be hell on wheels!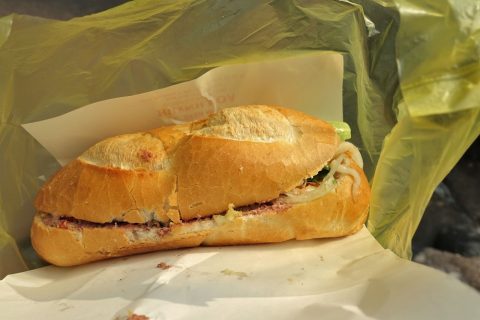 That Bánh Mi is here! I've never seen such a big Banh Mi! No matter how big you open your mouth, it's too big to put in your mouth.
The bread is crunchy and crispy, and on the other hand, the chewy texture of French bread is almost gone.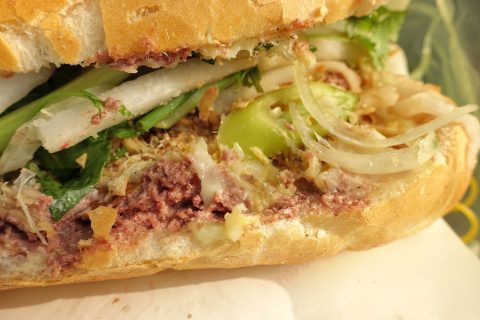 The ingredients are vegetables such as cucumbers and daikon radish, and the liver pate is packed with 3 kinds of thick ham! The liver doesn't smell at all, and the ham is flavorful and very delicious, but there are so many ingredients in it that I don't know what it is.
Even more than that, this Banh Me is so hot! It's dangerous if you don't be careful when you eat it, because sometimes it's scattered in one place with hot sauce so strong that you can blow a fire on it!
The volume is good, but …
Hmm Subtle …。 I can understand that it has some delicious ingredients, but the taste as a sandwich is not so perfect. In this case, the Banh Mi that can be eaten in 25000 dong in the old town of Hanoi is several times more delicious and the degree of perfection is also high.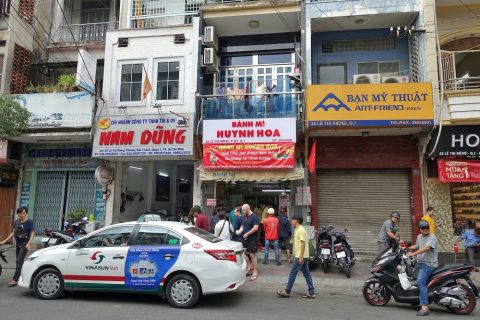 Well, I think it's good for making a hot topic, but according to word of mouth, the price of this Bahn Mi has gone up from 28,000 → 32,000 → 36,000 → 40,000 in the past few years, so it's going to be 50,000 or 60,000 in a few years.
Huynh Hoa's Banh Mi report was a bit suspicious: "It is cheap and delicious."!
Huynh Hoa
Address:26 Lê Thị Riêng, P, Quận 1, Hồ Chí Minh
Opening House:14:30~23:00
♪Click here for a List of articles on "Ho Chi Minh City"