This time, I would like to tell you about the "water puppet play" I enjoyed in Ho Chi Minh City, Vietnam. Han 1000 oi and Ho Chi Minh have their own theaters, and have also become popular tourist spots.
I usually purchase tickets online from Japan whenever I go to see art overseas, but I procure them locally. Anybody can easily put it in and it felt loose, and I was able to enjoy such Vietnamese taste.
Ho Chi Minh Water Doll Theatre
Water puppet theater is a traditional culture that has been passed down in northern Vietnam since the 11 century. It is a puppet theater performed on water such as a pond. It is one of the important tourist attractions in Vietnam, and they have built theaters in Hanoi and Ho Chi Minh City for the past 20 years or so.
The Ho Chi Minh theater I visited is very close to the United Church. Since it is Ho Chi Minh City without a subway or tram, it is the best way to go there by taxi, but I went there on foot. Even so, it takes about 15 minutes from Ben Thanh Market.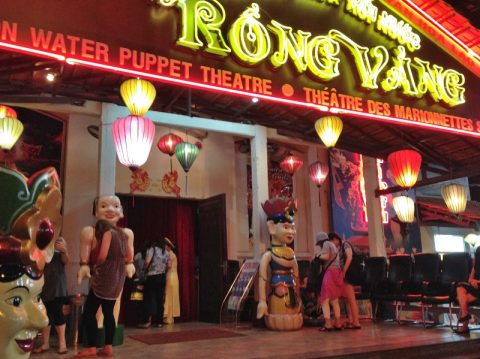 The Water Doll Theatre is called "nhà hát múa rối nước rồng vàng" in Vietnamese, but it's hard to find a page that looks like an official website on Google.
In English, the name is "The Golden Dragon Water Puppet Theater" which translates to "Golden Dragon Water Doll Theater" which sounds like "Vietnam".
Purchase today's tickets at the ticket booth
You buy today's tickets at the ticket booth next to the entrance. I couldn't make a reservation in advance because I couldn't find the website, but I could buy it easily even 30 minutes before the show started. However, you can't choose the seat you want, so people in the ticket booth will choose the seat they want.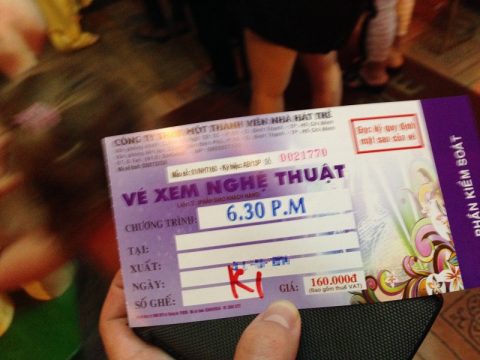 According to the ticket booth, the performance will be held at 17: 00 and 18: 30. It seems that there are 3 performances depending on the day, but basically it seems to be only 2 performances in the evening. I will watch the performance at 18: 30 this time.
The ticket price is 160,000 dong ≒ 820 yen. I heard that the price has been increasing year by year, so it may be a little higher now.
a rather old audience
When you enter inside, it is like a small hall of the local civic culture center, and it is not gorgeous. I didn't take pictures, but there was a souvenir shop.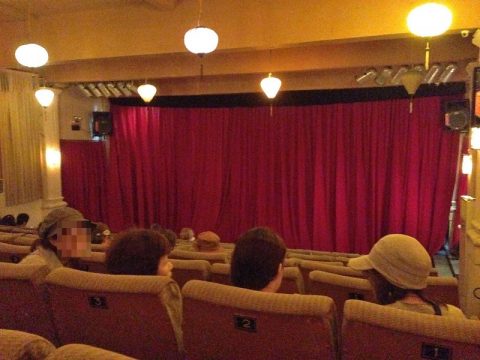 The seating capacity is a little less than 200 people. It is tilted toward the stage, so it is not so hard to see even in the back seat. The seat assigned to me is at the far right in the back. It was not so much when the theater opened, but it was almost full when the performance started. A glimpse of the Japanese (all women)
The theater seems to be old, but the seat is old and if you sit deeply, you will fall back.
45 minute puppet show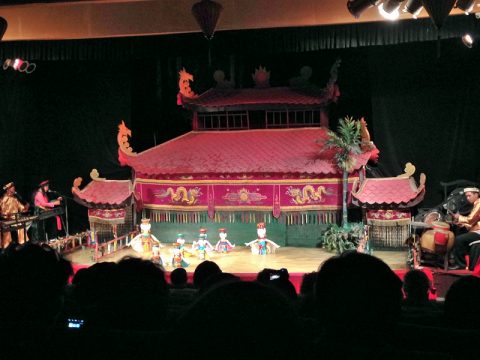 It starts at 18: 30 as scheduled. In the water puppet show, the surface of the water is compared to the ground, and a puppeteer sits behind a green sedge and manipulates the puppets with a long pole. In the beginning, I was a little worried that the puppeteers were operating in this muddy water, but I was told that the puppeteers were only operating at waist height.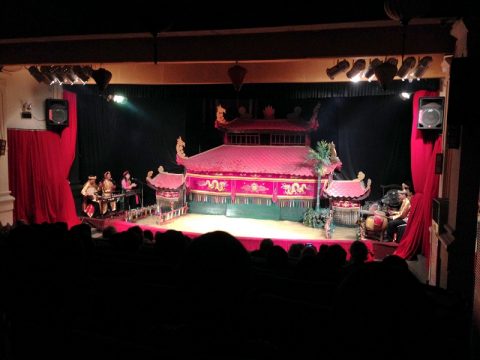 There are six performers on each side of the stage, who play instruments, sing, and tell stories in Vietnamese. It's a bit of a comedy, and you can hear a lot of laughter around you, but it's a bit disappointing that you don't know what you're talking about.
But there was a scene where a dragon doll sparks at the end of the play, so it was quite interesting. Finally, a cast of puppeteers greeted us. There were six puppeteers in total.
Expectations for future development
If you tell me what you think of watching a water puppet play, I think it's good to feel the Vietnamese tradition. There was a multilingual pamphlet (Japanese is also available.), but there wasn't much detail. I hope that this will one day be translated into real time on electronic bulletin boards, just like at the Opera House in Europe.
This water puppet show has been performed in Japan (Yokohama) in the past, so you can see how much effort Vietnam is putting into it. The theater in Ho Chi Minh City was built in the 1990s and is a very old building, but if the entrance fee income of tourists becomes stable, we can expect it to be renovated and clean.
♪Click here for a List of articles on "Ho Chi Minh City"