Although it is close to Chinese cuisine, it is said that there are many healthy dishes. I visited some popular restaurants in Ho Chi Minh City, Vietnam, the home of the area. I would like to report the taste of Vietnamese cuisine which is listed in many guidebooks.
"PHO 24"
First of all, this is a standard Vietnamese dish! I would like to try the familiar "Pho" with rice noodles. It is said that the home of Pho is Hanoi, but there are many Pho shops in Ho Chi Minh City.
I visited "PHO 24" which has many chain stores in the city. In the name of "24" they close at 23 o'clock. There used to be a shop in Japan, but it seems to have withdrawn recently.
*This store is closed, but other stores have the same menu. For details, see the PHO 24 website.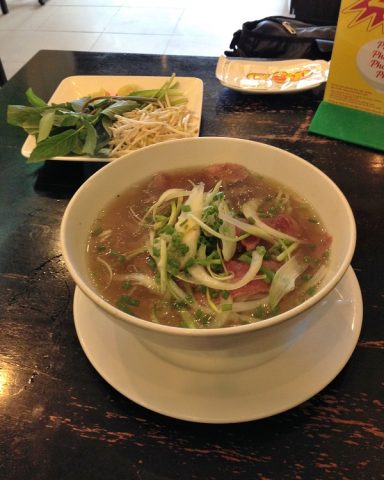 There were several kinds of pho menu, but I ordered the menu written Beef. The soup is lightly seasoned and the meat is hard. The white rice noodles are very soft and you shouldn't expect "Koshi" but they absorb the flavor of the soup well. It is inconvenient not to be able to slurp like in Japan …。
It was OK when I started eating, but the taste soon faded and became juicy. Even so, it is a good meal for about 280 yen. It might be good for finishing up after eating heavy oily food.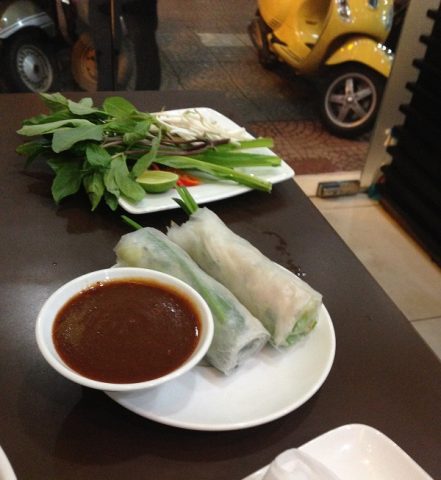 I tried " Gỏi cuốn" as a side dish. This is a dish of raw vegetables wrapped in rice paper, and is mainly eaten as an appetizer.
There is no taste at all, but vegetables have a unique smell, so it is hard to eat without sauce. I was worried about my stomach because it was perishable, but I was fine without any problems at that time. Well, you don't come here to eat this.
Rice dish of " Mì Quảng Ngon Phố Thị"
Then there is a restaurant named 「Phố Thị」on Dinh Tien Hoang street. It is an area where small shops stand side by side.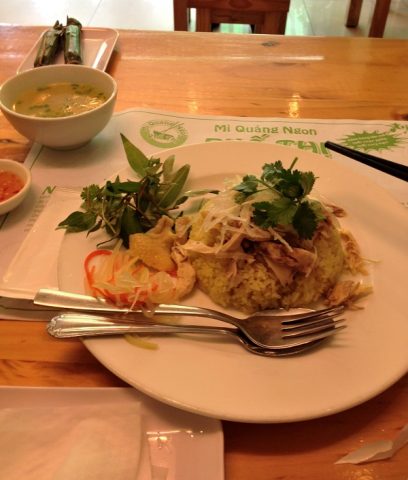 I ate a menu called "Com Ga Hoi An". "Kom Ga" is chicken flavored rice topped with roasted chicken. It had a good chicken bone flavor and a safe taste. I'm a little worried about the leaves on the side, so don't eat them (lol).
How is it compared with Singapore chicken rice? I will go there next month, so I want to try it.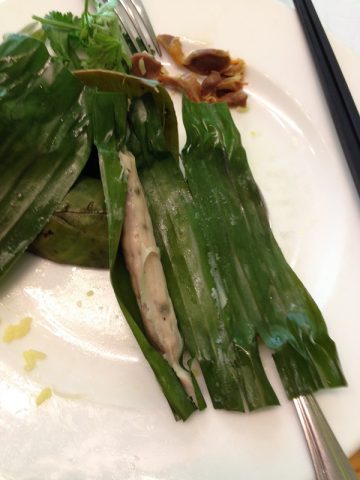 By the way, Small appetizer is wrapped in bamboo leaves. This dish is called "Zor Rua" and it is a Vietnamese pork sausage. When I tried it, it was really sausage! I was a little worried about the cooking, but my stomach was safe.
Mì Quảng Ngon Phố Thị
Address:50A Đường Đinh Tiên Hoàng, Đa Kao, Quận 1, Hồ Chí Minh
Opening hours:6:30~22:00
"Wrap and Roll" Full of Vietnamese Cuisine
Another one is "Wrap and Roll" on Hai Ba Trung Street. The guidebook says "spring roll specialty store", but there were various Vietnamese dishes, not only spring rolls. There are many kinds, so if you want to eat various Vietnamese dishes, you should come here.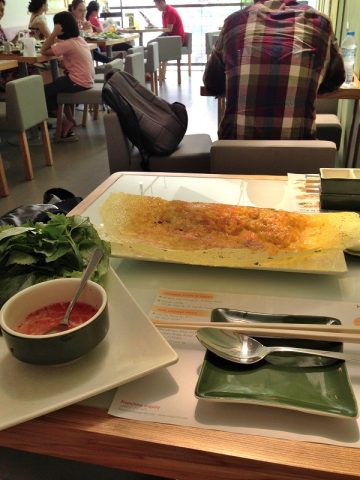 The interior is bright and clean, and the tables and chairs are new and clean. I think it's similar to Mos Burger in Japan.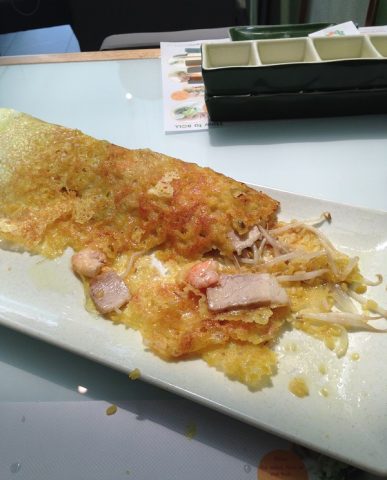 Here, we start with "Bánh xèo". This home cooking is called "Vietnamese style okonomiyaki" and is popular in southern Vietnam. It is a thin dough based on rice flour and coconut milk, and various ingredients are added and baked.
It's not that big in the picture, but it's big enough to remind me of the naan served in Indian restaurants. When I ate it, it had a crispy texture and a savory grilled texture, and it had a nice taste with shrimp and bacon in it, but it was so greasy that I got full right away.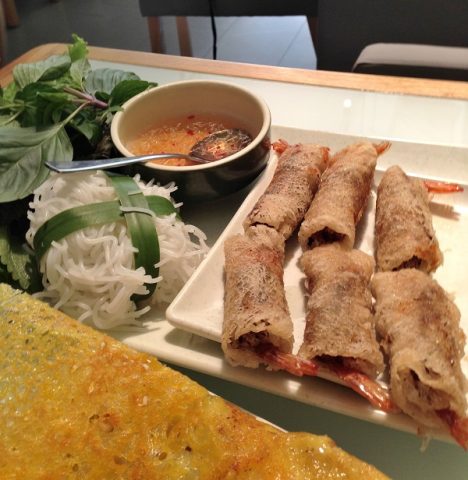 This is followed by a fried spring roll called " Chảgiò". It is seasoned, so you can eat it without sauce. This spring roll with crispy shrimp is not bad, but it is also very oily.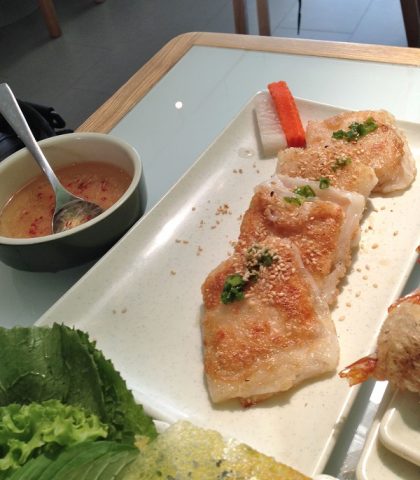 Another dish, shumai dumplings (Unknown name …) with 4 pieces are the same. None of them taste bad, but they are greasy more than they look and heavy. The price of 3 dishes was 212300 dong (≠ 1,050 yen), a little more expensive than before.
Wrap and Roll
Address:62 Hai Bà Trưng, Bến Nghé, Quận 1, Hồ Chí Minh
Opening House:11:00~22:30
The common people food is to take care of your stomach …
My impression of having a meal at a popular restaurant in Ho Chi Minh City was that it was not bad for the price. Pho of rice noodles is healthy, but other fried foods are very greasy! Vietnamese food is said to have originally come from China, but I was surprised to hear that it was not greasy compared to Chinese food. It may be different depending on the store.
If you pay money, you can get delicious food. This is universal, so if you go to a high-class restaurant for foreigners in Ho Chi Minh City, you can get a decent meal. However, that would be the same as going to a Vietnamese restaurant in Japan, and it would be less of an opportunity to see and experience the local lifestyle, so I would like to promote a more popular line as much as possible.
If you are going to Vietnam, please pay attention to "organism" and enjoy your trip.
♪Click here for a List of articles on "Ho Chi Minh City"