A view of Ho Chi Minh City, Vietnam, which is also known as the "Paris of the East". Although it seems to be gaining popularity as a town that retains the remnants of the French rule to this day, when I actually walked around the town, I did not feel the exhilaration that I felt when I visited Europe …。 There are indeed many beautiful Western architecture buildings, but the heat makes me wonder and cannot realize it.
Also, Ho Chi Minh had fewer main attractions compared to Hanoi, so it was a somewhat disappointing trip. This time, I would like to take a look at some typical western architecture in Ho Chi Minh City.
Virgin Mary Church (Saigon Grand Church)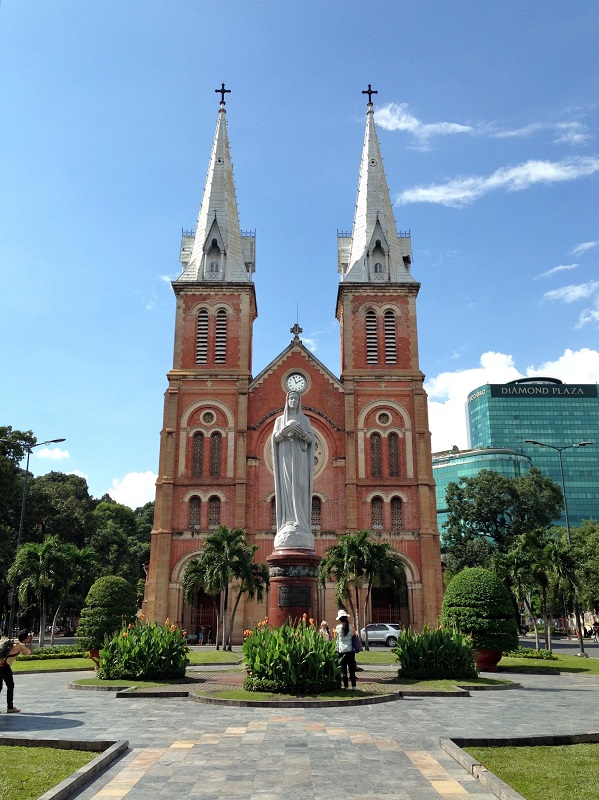 First of all, it is the beautiful church of the Virgin Mary made of red brick which is a standard tourist spot. It was built in the middle of 19 century, so it is a new church for western architecture. There is a beautiful courtyard in front of the church.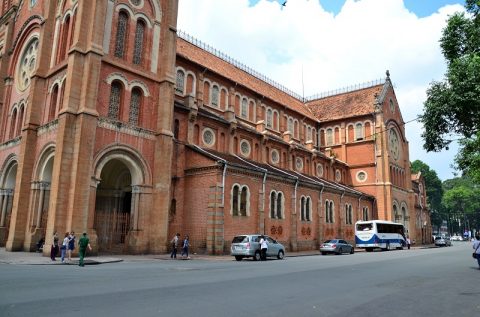 It is a very large church with depth. Ordinary tourists can enter, but the opening hours are limited to 8:00 ~ 11:00 and 15:00 ~ 16:00, so they don't have a chance to enter, …。
There are many Christians in Ho Chi Minh City, and the auditorium is sometimes full on Sunday's mass. It might be a good idea to visit during events such as Christmas.
Ho Chi Minh's main attractions are mostly around this Virgin Mary Church. As mentioned above, Ho Chi Minh has fewer sightseeing spots than Hanoi, so you can just walk around the area.
Saigon Central Post Office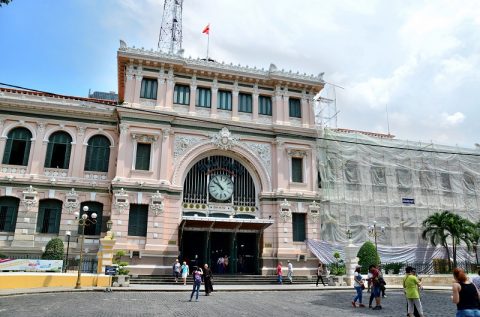 "Central Post Office" next to the Church of the Virgin Mary. This building is also relatively new, having been completed more than 100 10 years ago.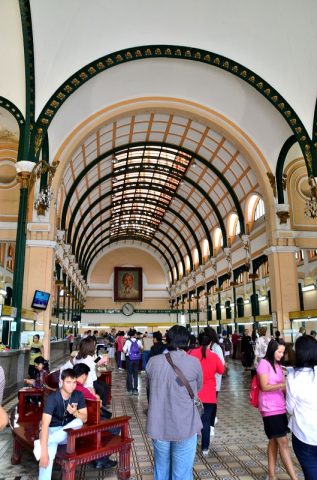 It's full of tourists! There was a counter at the souvenir shop in the central booth, and sundries were displayed. It's just "post office" so you can go to the counter around you and do all the paperwork. It is convenient as it has travel information and a currency exchange, but I think the rate was not so good …。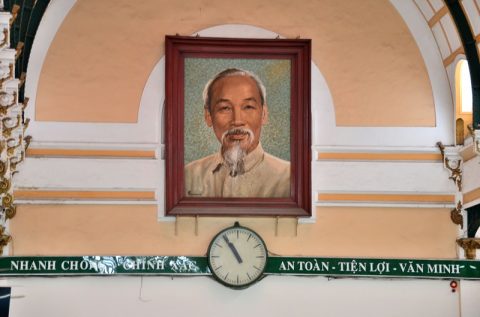 On the front is a portrait of Ho Chi Minh on the Vietnamese dong bill. Like Lee Kuan Yew of Singapore who died two years ago, it's hard to find a leader that is loved by the people in Japan. It's always full of corruption …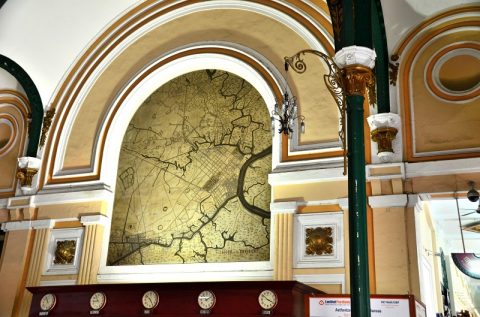 This building was also built during the period of French rule, but it has a different atmosphere from the real France, with clocks that show the time of cities around the world and maps of Saigon at the time of construction.
Office of the People's Committee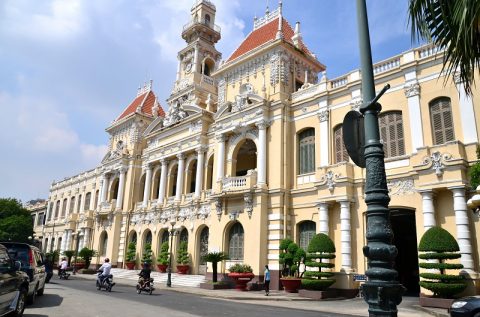 Another example is the "Office of the People's Committee" at the end of Guenfé Avenue, which is a magnificent Western building. You can't go inside, but the fine decoration on the exterior is the best in Ho Chi Minh City.
At that time, Guenfe Street was under construction, but now you can see this government building from the square in the center of the roadway. It will be a pedestrian zone on weekends, so you can enjoy a quiet walk as there will be no hustle and bustle of motorcycles running on both sides of the square.
Oriental Paris …
Looking at the pictures like this, it is easy to think that Ho Chi Minh City has a lot of Western architecture and beautiful streets, but it is only a part of it, and most of it is the general downtown of Southeast Asia. It's called the "Paris of the East" but from the perspective of someone who has actually walked the streets of Paris, it's a bit far from being called that.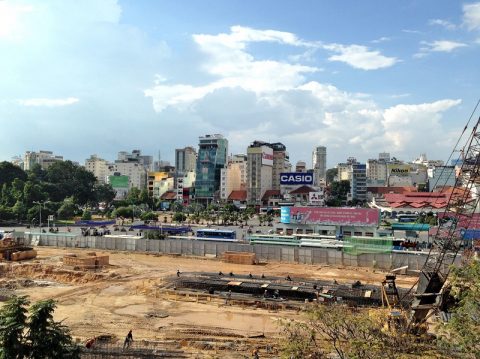 However, Ho Chi Minh City is still in the developing stage, and there are large-scale construction projects going on in various parts of the country, and the subway is scheduled to open in 2018 (The opening will be delayed by several years until after 2020.). I believe that in the next few years, Ho Chi Minh City will surely become a beautiful city without any complaints.
You should be careful about pickpockets, but the security is good, and the air tickets and hotels are much cheaper than KL in Malaysia, so I think they will become more popular in the future.
♪Click here for a List of articles on "Ho Chi Minh City"