At Sentosa Island in Singapore, I was a bit hungry before watching the Wings Of Time, so I went to the food court "Malaysian Food Street" in front of the waterfront station. This is a place like a theme park with colorful buildings. I was attracted by the picture on the sign and tried the taste of "Claypot Chicken Rice" at many shops. …?
※This article was written before the virus scandal. This will be updated.
Food court on Sentosa Island
As mentioned in the previous article, I visited Sentosa Island to see "Wings Of Time". After I bought the ticket, I had some time until the performance started, so I would like to have a light meal.
I went to Waterfront Station on the Sentosa Express. It is the first station from Singapore mainland to Sentosa Island.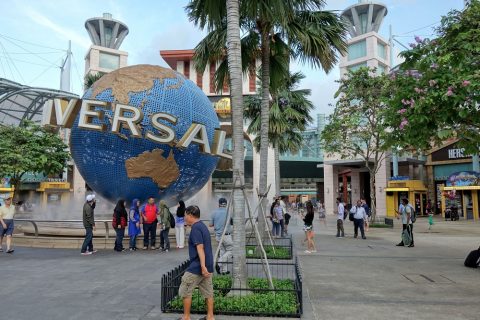 It is the busiest shopping district on Sentosa Island with many restaurants and cafes, and the area is a resort facility called "Resort World Sentosa". The entrance to Universal Studios Singapore is also in front of the station.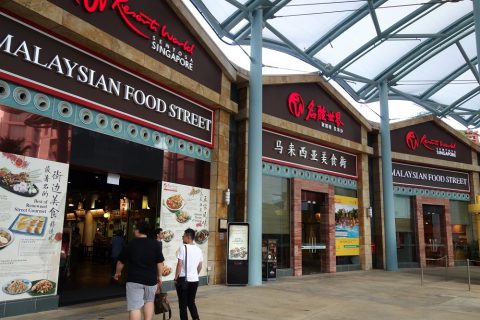 MALAYSIAN FOOD STREET is a corner in front of the station, lined with similarly shaped buildings. The food court is said to be a collection of food stalls selected from Penang and Malacca in Malaysia, and it is mentioned in many guide books.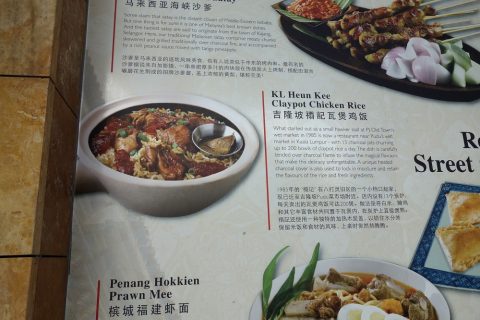 At the entrance, each shop's signature products are introduced, and I was attracted to chicken rice in an earthenware pot. It looks delicious in the picture, but how is it actually? I would like to try this one this time.
Reproducing nostalgic streets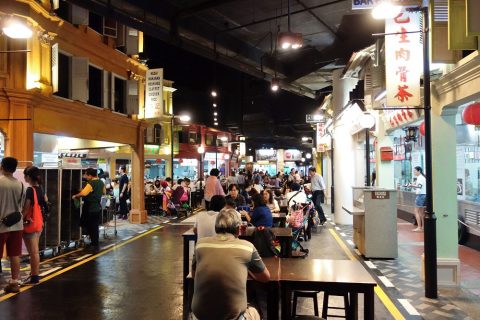 As you walk into Malaysian Food Street, you will see red and yellow nostalgic buildings. There are even pictures of roads and crosswalks on the floor. The street stall district is reproduced under the name of "Food Street".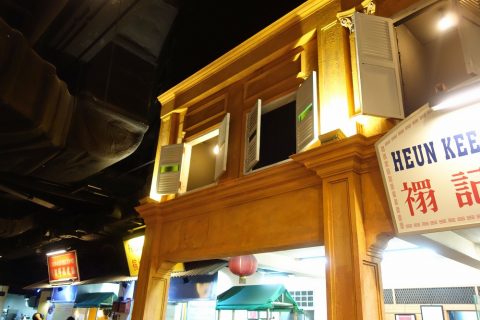 It has a retro feel, but the building itself is brand new. "Resort World Sentosa" opened in 2012, so I think this food street has just opened.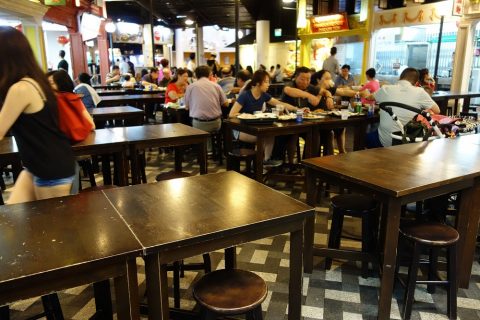 The food court system in Singapore is basically the same everywhere. You order food at your favorite restaurant and take it to your favorite table. It's all self-service.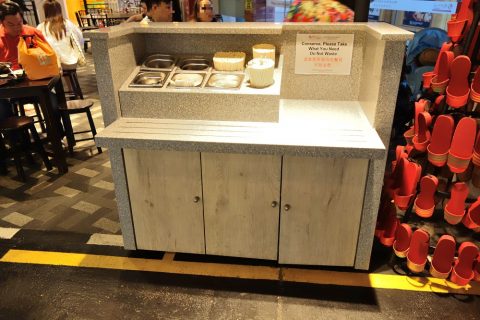 There are counters like this everywhere in the building, and tableware is also shared.
It looks clean compared to outdoor stalls. It didn't get greasy with oil, so I could use it without worrying too much.
HEUN KEE CLAYPOT CHICKEN RICE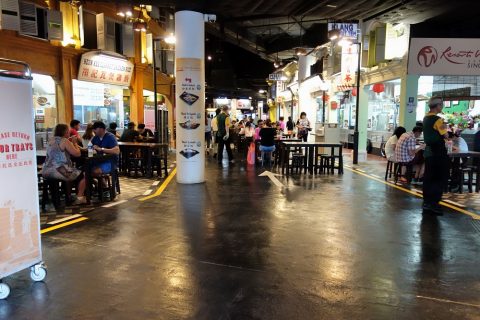 The claypot chicken rice restaurant that I was looking for was located a few doors from the entrance on the USS side. This food street is not such a big space, and the passage is a single road, so you won't get lost if you look from the end.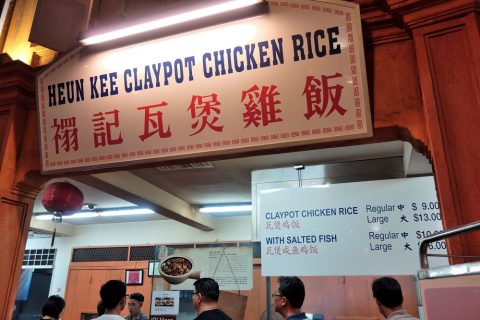 It reads "Hunky Kreipot Chicken Rice". I hear it's based in Kuala Lumpur. Looking at the price list, the clay pot chicken rice is $9 for a regular size and $13 for a large size, which is pretty good for a street stall. Does it include quite a lot of tourist spot prices?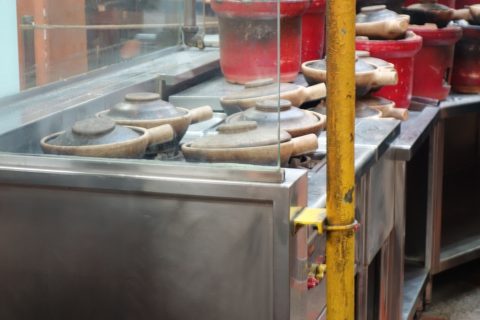 There are a lot of earthenware pots in front of the store! You don't see this type of pot very often in Japan.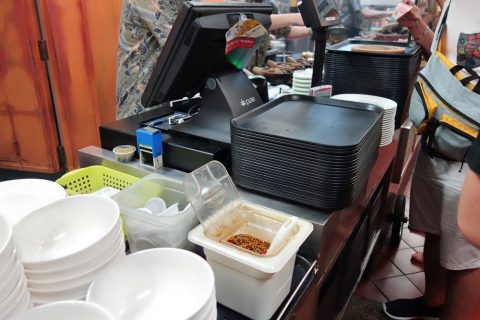 There was a line of about 5 people, but the turnover was fast so I didn't have to wait so long and I was able to order in about 3 minutes. While you are lining up, hot earthenware pots are put on a tray one after another and carried.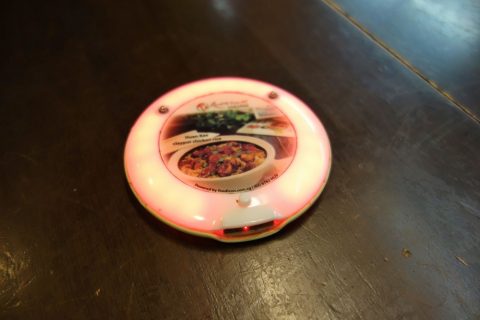 When you're done paying, you're given a number card, which glows red and vibrates to finish. We will exchange your food when you pay. Like in Japan, we often see this round type in any country these days.
How is the taste of the claypot chicken rice?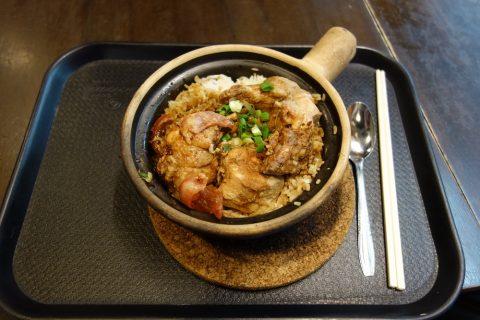 Then I'll eat it right away! Claypot rice is a soy sauce-based dish made by grilling rice with chicken in an earthenware pot. It has a slightly fragrant aroma and gives a good impression.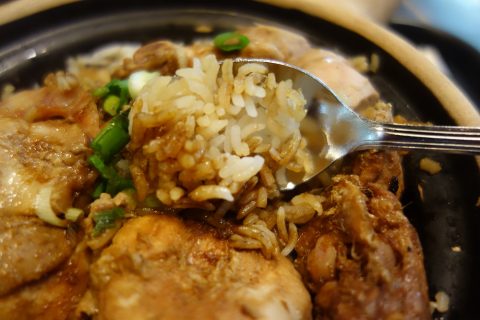 Rice has a unique texture of long and thin rice from Southeast Asia. When you eat it, the unique spices are stronger than the soy sauce, and it is slightly "Asian odor". It doesn't taste bad, but Japanese people may not like it very much.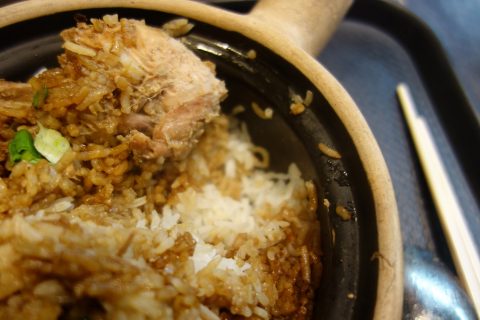 The ingredients are just a few big chicken and small bacon. That's fine, but the chicken is dehydrated and very dry. It is not half raw like the chicken I ate at "Buntogi", but it is not very juicy.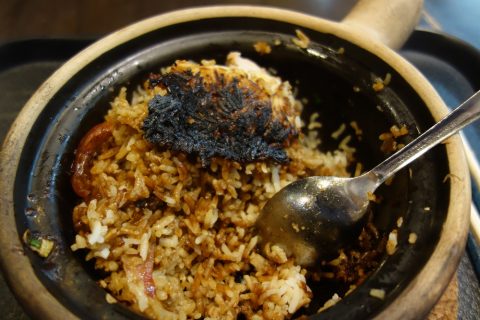 I also learned later that the trick is to mix the claypot rice well first before eating. If you leave it without mixing it too much, it will burn black like this, so you need to be careful.
Looking forward to other stores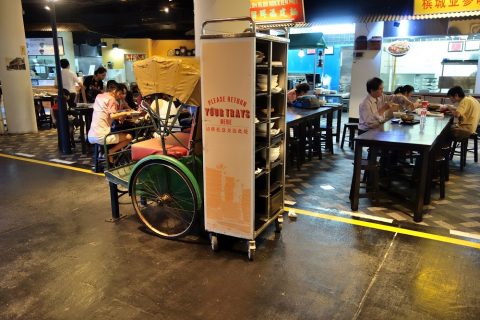 Hmm, I'm a little disappointed! It had a taste like "Malayan" so it had an authentic taste, but I didn't like it. 9 dollars is expensive for this …。 Malaysia Food Street has 19 restaurants in total, so you might want to look for something else. However, you should be aware that every place has a price for sightseeing spots.
♪Click here for a List of articles on "Singapore"