"香港油鶏飯・面 (Hawker CHAN Hong Kong Soya Sauce Chicken Rice & Noodle)" is a restaurant in the food court in Chinatown, Singapore that earned a star in Michelin in 2016. Since I could enjoy Michelin gourmet at a reasonable price, waiting for 2 hours every day became famous for the usual long line.
But as a way to ease the procession, an independent store has opened near the food court. I went and checked.
※This article was written before the virus scandal. This will be updated.
香港油鶏飯・面Smith Street location and business hours
The "香港油鶏飯・面" I visited is the Smith Street store in Chinatown. It is very close to the food court "Complex Food Center" which became famous because of the long queue.
I often visited Chinatown during my trip. It is an area where colorful buildings stand side by side under the name of "China". The location is very close to Chinatown station of MRT.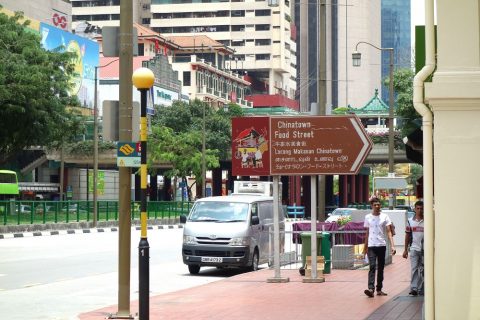 Smith Street is just one street away from the main road and is easy to find because it is marked by a "Food Street" sign. There is a store a few doors down from here.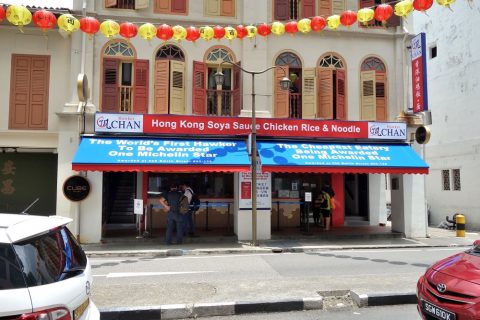 Open 10:00 ~ 20:00 (Closed on Wednesdays). The paint is brand-new probably because it's just been done. If you look at Google Street View, you'll see the stores that were there before.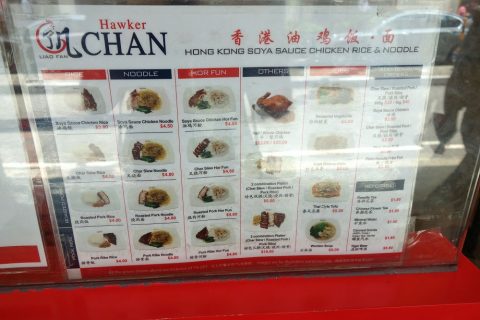 If you look at the menu at the store, the number is unexpectedly large. The side menu has wonton soup and the drinks have 5 kinds of Chinese tea. The signature menu, Souya Sauce Chicken can be chosen from 3 types, RICE, NOODLE and HOR FUN (a noodle made from rice flour, called hafen), and it seems that there is also a version of roasted pork as well as chicken.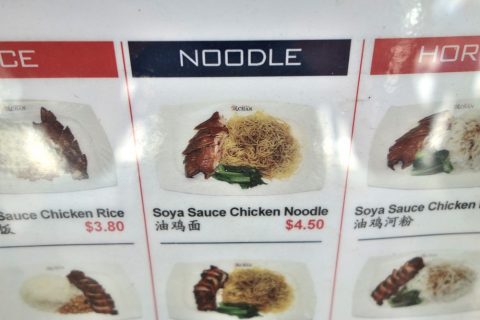 I would like to try the standard soy sauce chicken noodle this time. The price is $4.5, about 2 to 30% more than eating in the food court, but if you think you can get change for one coin, it's cheap.
Surprisingly, there were not many people waiting in line …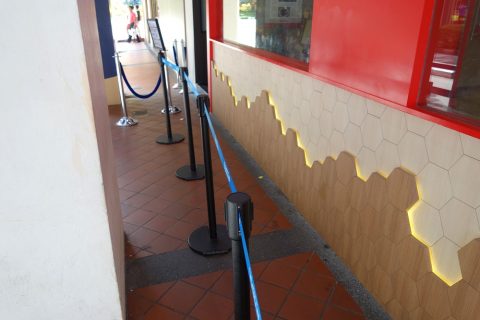 By the way, there was a word of mouth that the line of this "香港油鶏飯・面" never stopped even after the new store opened, so I was scared, but there was no line in the store. It was past 13 o'clock, and I thought it was still the peak time for lunch, but I was a little surprised.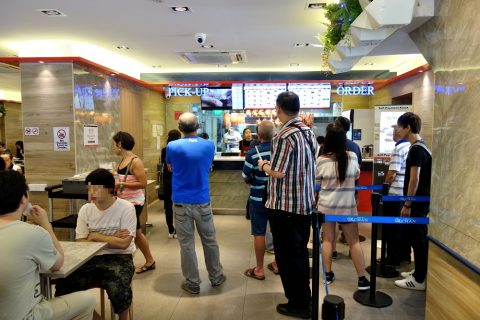 When I went inside, the shop was crowded with many people, but there were only a few people waiting for an order. At this rate, it won't take much time.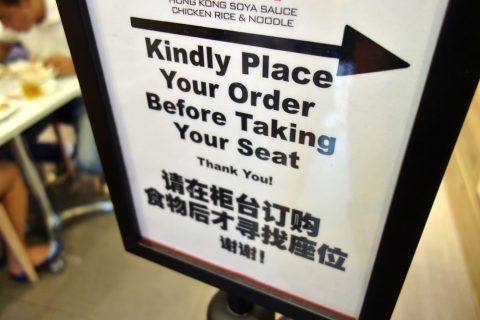 In this restaurant, it seems that the system is to order the food first and then sit down. If you reserve a seat first, you may be scolded.
Order at the counter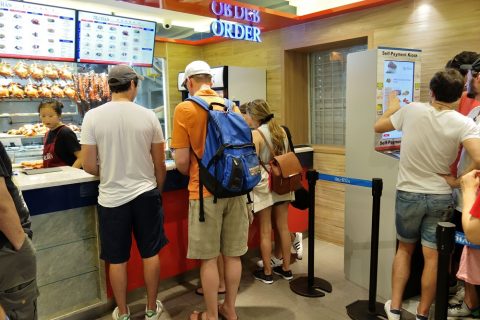 Orders for food are taken at the "ORDER" counter. There was a partition at the head, and there was a line. But one thing that bothers me is the machine in front of the counter.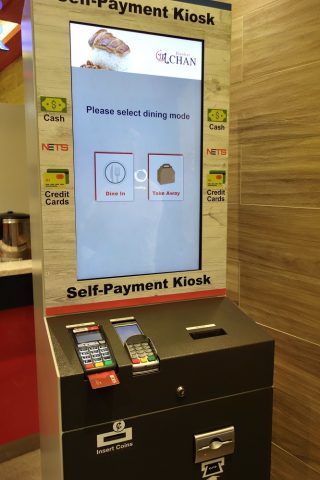 It says "Self-Payment" so I think I can order and settle the bill with this, but nobody used it at that time. An old lady who happened to be standing in line in front of me was trying to use this machine, but the response of the touch panel was bad and the load time was long, so I struggled and finally gave up.
I think this machine was introduced to handle customers as soon as possible because they couldn't stand the long line, but it's not useful.
take a number and wait at one's seat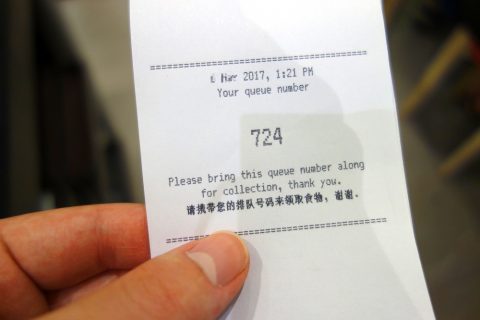 When I stood in line, there was a queue of about 10 people. Even so, the waiting time was about 5 minutes. When you make an order and settle the payment, you will be given a number ticket with a receipt.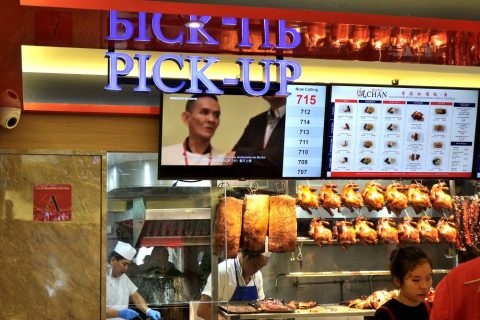 Numbers are displayed on the electronic bulletin board in the order the dishes are prepared, and people go to the PICK-UP counter to pick up their dishes. This area is the same as fast food restaurants in Japan.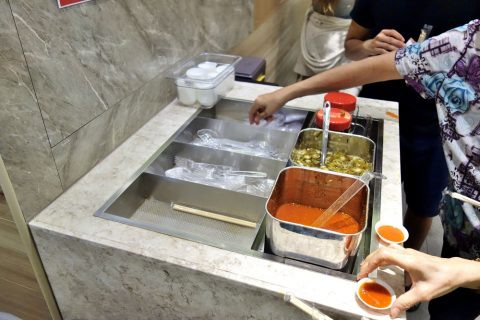 There are spoons, forks and condiments next to the counter, and you take what you need. Spoons and forks are very lightweight plastic. Maybe because waribashis are popular, they were almost gone.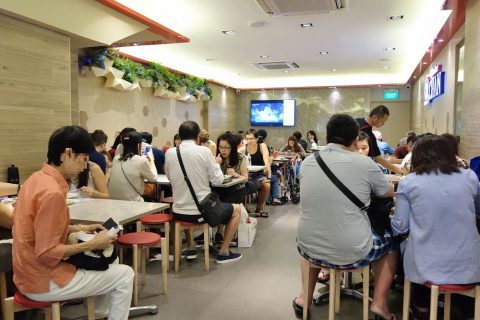 We had to reserve a seat while waiting for the dish to be ready, but there were many people in the queue for the order, so it took about 5 minutes to wait for a vacant seat. But the turnover of customers is intense, so I don't think you will have to wait so long even if it is full.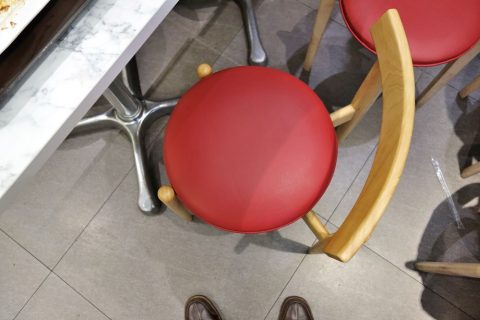 The chair is a small round chair. It is not very comfortable to sit on, but I think it is a device unique to a busy store to let customers leave early.
What does Souya Sauce Chicken Noodle taste like?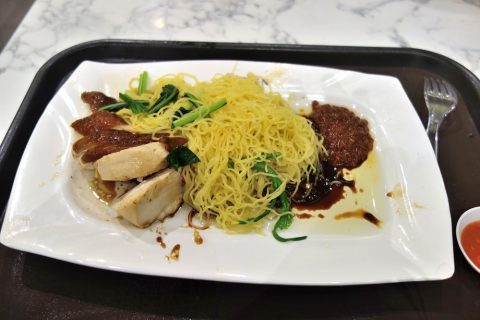 10 minutes after the order, chicken noodles with soy sauce were ready. Spoons and forks are disposable, while dishes are made of solid pottery. Where the tray is sticky. …。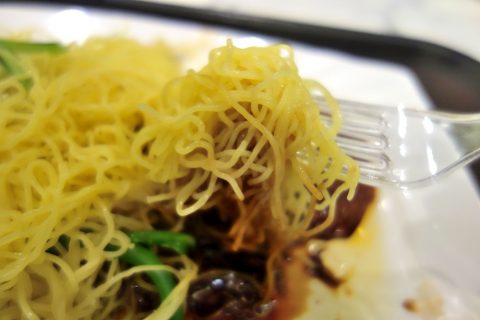 Fragrance is a little Asian. But when I ate it, there was no smell, and it was a little bit spicy, and it was a bit good. The noodles are unusually long, so it's hard to eat without breaking off. …。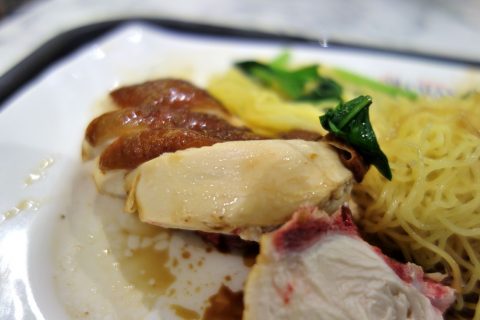 The chicken is tender, but sometimes there are small bones in it, so be careful. The burnt part of the skin is nice and fragrant, but it bothers me that there is some red meat left. In Japan, half-raw chicken is not very good, but it is often served in Singapore. I like well-done beef, so I dropped this lean part and ate it.
Worth a try? Michelin Gourmet Flavors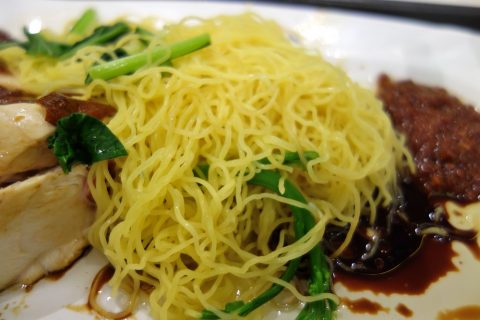 a starred street food "Soy Sauce Chicken Noodles" from Michelin. Generally speaking, it is not bad, but after all, it is a class B gourmet …。 Especially, the quality of the noodles was a little close to instant. But the grilled chicken is exquisite, and I don't think it's a low level, whether you like it or not.
However, it is a different matter from the food, but the too cheap plastic fork doesn't taste good and I can't help feeling that it affects the taste of the food. I felt that it would be better to use a spoon and fork as they use proper plates.
That said, the Michelin gourmet restaurant Hawker CHAN "香港油鶏飯・面" can be had for just $4.5. I think it's worth trying other menus such as RICE and HOR FUN as there might be some excellent gourmet hidden in other menus. I hope you will visit once.
♪Click here for a List of articles on "Singapore"