After returning from Sydney, I went to Tokushima for some unrefined business! I used JAL to go to Tokushima from Haneda Airport, but this time I have to take my elderly grandmother with me, and my grandmother who is lame cannot walk a long distance, so I am worried about moving around in the airport. So I decided to rent a wheelchair this time.
In addition to the procedures for wheelchair rentals and priority boarding, we also experienced whether people in wheelchairs can use the JGC entrance and the Sakura Lounge.
※This article was written before the virus scandal. This will be updated.
Wheelchair use requires reservation
You need to make a reservation in advance to use a wheelchair at JAL. To book a wheelchair, call JAL Priority Guest Center after booking a ticket. As long as you have a reservation, you don't have to issue a ticket (Cleared), and you can pay for the ticket after you reserve a wheelchair.

When you call to make a reservation, you will be asked a few questions such as "Can I walk on the plane?" or "Is there a companion who can push the wheelchair to the boarding gate?" and arrangements will be made accordingly. Basically, wheelchairs are allowed only to the boarding gate, and they cannot enter the plane. Also, it was confirmed that there was always a companion.
Get off at "wheelchair access" by taxi
If you go to Haneda Airport with a disabled person, I think most of them will go by private car or taxi. This time we also went by taxi.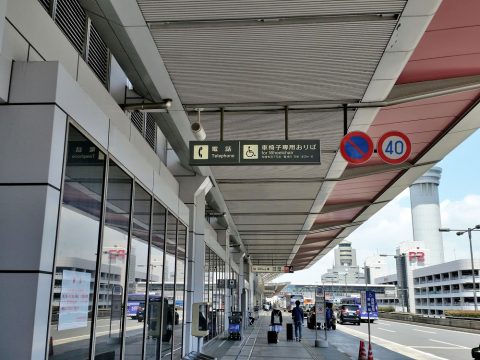 This time we are taking JAL to Tokushima, so it is the south wing of Haneda Airport Terminal 1. There is a "Wheelchair accessible area" between the departing floors 3 and 4, so I'll get off here. When I made a reservation by phone to JAL, they told me to get off here.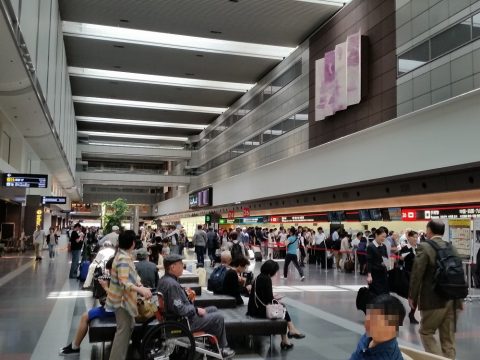 Unfortunately, the distance from here to the "JAL Smile Support" counter is quite long … wheelchairs are at the smile support counter and must be rented by company, which can lead to lost time. In other words, if you want to use a wheelchair when getting out of a taxi, you need to prepare a wheelchair and wait at the airport in advance.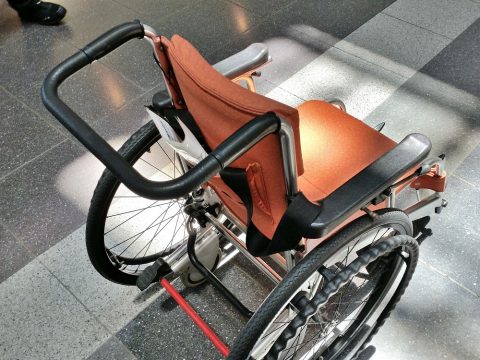 This time, my grandmother was able to walk with a cane for a very short distance, so after getting out of the taxi, she sat in a chair nearby and waited for me, but if she had any difficulty walking, she would have to park her car here for a while (Let me wait if you need a taxi.). This is a little inconvenient!
rent a wheelchair at "JAL Smile Support"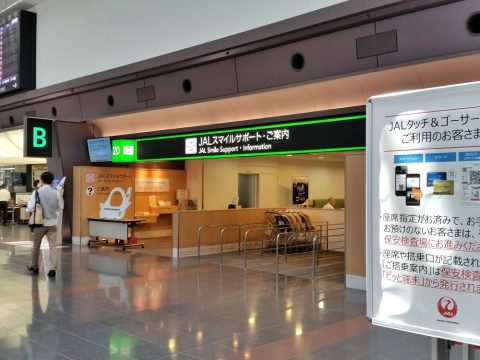 As mentioned above, you can rent a wheelchair after completing the procedure at the JAL Smile Support counter. At this time, they will issue the ticket, change the seat, and check in.
That's good, but the person in charge at this time is a little unreliable, and I don't have much knowledge about the advanced member system such as Sakura Lounge, so I can use it without any problem even in a wheelchair, right? When I asked them, they answered "Probably no problem …" slowly and undependably …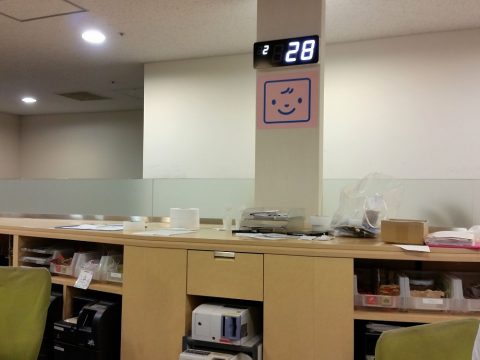 Smile support can be used not only by the disabled but also by people with small children, so it will be very crowded during the busy season. In that case, you have to take a number and wait for your turn, so if you want to rent a wheelchair as soon as possible, it's a bit troublesome.
If you don't make it possible to bring a wheelchair without any procedures, I don't know what the support is for.
To JAL Global Club Entrance
When I asked about the safety check of the wheelchair, it was the same as the general public. My grandmother is not a senior member, but if she is with me (JGC member), she can use the entrance exclusively for JGC.
I actually went in from the JGC entrance, and it certainly passed without any accident. People in wheelchairs passed through metal detectors while sitting in a wheelchair, and then a female inspector (If you're a male, you're probably a male inspector.) conducted a thorough body check.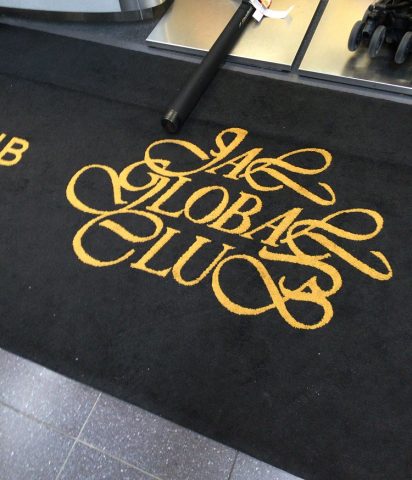 But that's good, but the staff at this security check station is very incompetent! When I look around with my luggage and wheelchair, the female staff in front of me does nothing, and even when they see each other, they just stand around.
When I got on the train from Tokushima Airport, they took care of me in various ways such as "Shall I carry your bag?", and the staff even pushed my grandmother in a wheelchair through a metal detector (At Haneda, I had to push myself.). I was surprised at how much difference there was between airports.
Basically, "not take care of" may be a written rule, but the "Haneda" of the world is a sad thing.
Enter Sakura Lounge
After passing the security check, I went to Sakura Lounge. You enter from the entrance of the lounge and take the elevator in the back to the upper floor. At the reception, they said, "Please come to Sakura Lounge ~" and didn't push anything especially about wheelchairs, and just in case, they asked if it was okay to enter in a wheelchair, but there was no problem at all.
It was true that there was no problem because there was a wheelchair in the lounge, and if I had to say, there was no special treatment such as "Please come this way ~" by the staff, and there was no difference from usual use.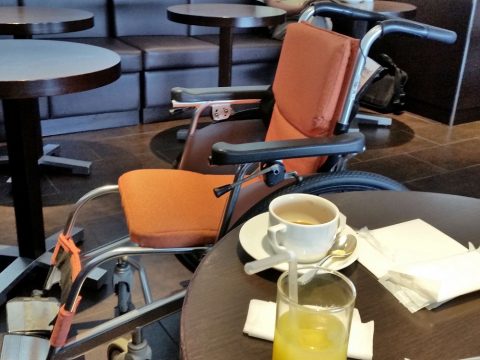 There is no space for wheelchairs in Sakura Lounge. The Sakura Lounge at Haneda Airport is spacious, but there are some seats with limited space depending on the place, so I chose the seat closest to the wall of the dining area so as not to disturb other people as much as possible.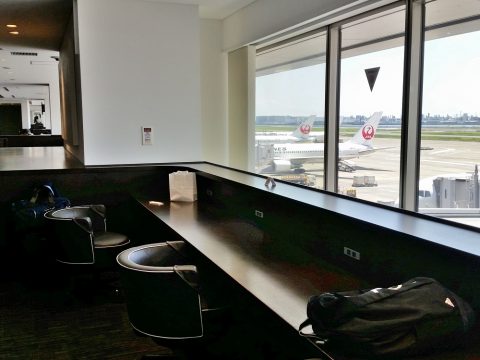 However, on the way, my grandmother moved to a window seat because she wanted to see an airplane outside. The passage to this place is narrow, but since it is a counter table, it can be attached as it is even to a wheelchair, and it won't get in the way once you are seated.
Of course, it may not be a good idea to move around in the lounge in a wheelchair, but I think there will be no problem as long as there is some consideration such as having my grandmother sit down and I go get the drinks. In the end, I could spend a comfortable time without bothering other people.
Boarding is a top priority
When boarding an airplane, wheelchair users and other "Customers who would like to help" eligible persons will be guided into the plane prior to priority boarding for senior members. Therefore, the staff told us to stand by at least 30 minutes before departure.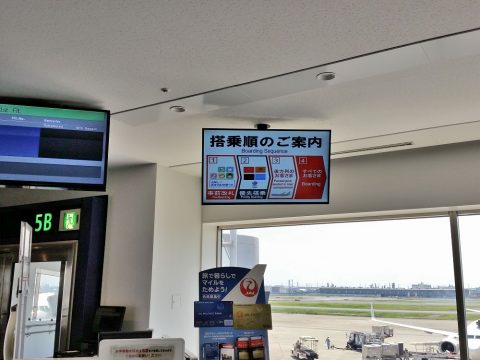 When you arrive at the boarding gate, the staff will tell you the exact boarding time. At that time, it was 3 minutes before the boarding time which was announced to the general public. I was told to wear a seat belt for the safety of the wheelchair.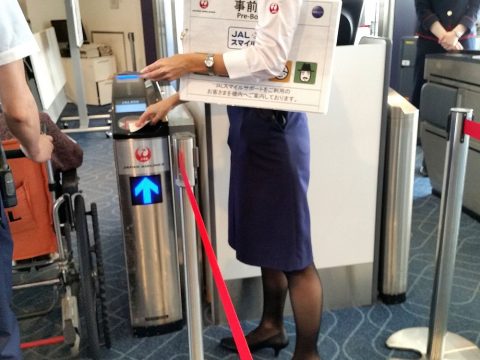 And start boarding! The staff will take care of all the boarding passes for your companion and push your wheelchair. On the boarding bridge, where the boat is on a downhill slope, the boat travels backwards.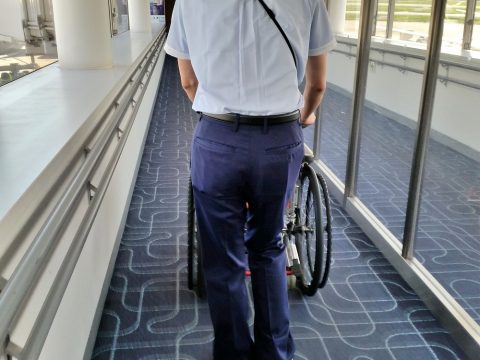 Wheelchairs are allowed only up to the entrance, but many CAs were waiting in the plane, and they did all the moving support from here to the seat. There is only a limited space in the plane, so I think it would be better to leave everything to the person in charge rather than having a companion help.
After confirming the seat, a priority passenger of a senior member entered the plane.
When arriving, guide to the taxi stand
On the contrary to the boarding time, when arriving at Tokushima Airport, all the general passengers get off and are guided last.
There is no need for a companion here. The staff helped us to get to the wheelchair and guided us to the exit and the taxi stand. When I went to the restroom on the way, they showed me to the wheelchair accessible restroom, so I was relieved.
If possible, I would like you to do this from the moment you arrive at Haneda Airport.
Summary of JAL Wheelchair Use
The wheelchair will be picked up by a companion upon arrival at the airport.
No assistance from the staff for the conductor to the boarding gate.
A safety inspection site shall be the same as general facilities (JGC lane available).
Lounge usage conditions are the same (No special treatment.)
When disembarking, an attendant will accompany you to the taxi stand.
This is a summary of JAL's experience using wheelchairs. I understand that there is no special treatment for wheelchair users, and the treatment is no different from that of ordinary people except for getting on and off the plane. But the difference in "concern" between Haneda Airport and Tokushima Airport is obvious! Plus α service is not obligatory, but I think humanity comes out in places like this, but I guess cities are cold as expected. …
♪I also recommend this link→Collection of AIRPORT LOUNGE Reviews Worldwide! Wine, buffet, Shower, etc.