Thai-style chicken rice called "Kaomunkai" is gaining popularity as a popular street food in Thailand. When I visited Singapore this spring, I found it difficult to find any good chicken rice.
I would like to try out the chicken rice at Go-Ang Kaomunkai Pratunam which is considered to be the most famous restaurant in Bangkok.
Somewhat difficult place to find and store name
The famous Kaomunkai restaurant Go-Ang Kaomunkai Pratunam is located along Phetchaburi, which runs from east to west in the center of Bangkok.
Although it is located in the center of the city, it is a little inconvenient because it is quite far from the train station. I went from the BTS Chit Lom station and it took about 15 minutes on foot.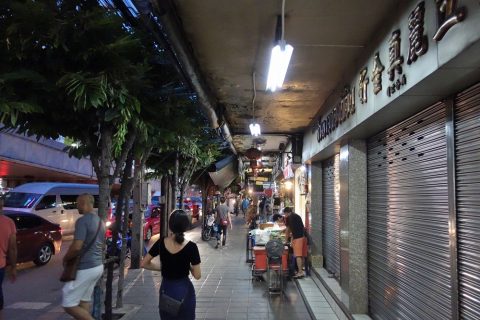 From Chit Lom station, take the busy main street, cross the Saen Saep Canal and enter the sidewalk of Petchaburi Street. In a deep space with dim lighting, an area with rows of popular restaurants appeared. It's not that there are suspicious people, but it might be a little scary late at night.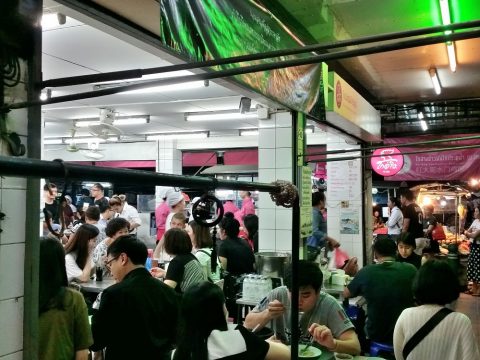 At first, I looked for this Go-Ang Kaomunkai Pratunam with a map in one hand, but the name of the restaurant was not written in big English, so I passed by! Also, there is a website that says the name of this restaurant is "Raan Kai Thong Pratunam", so I don't know which is the real name …
But the Noren (a restaurant curtain) in front of the store says "Go-Ang Kaomunkai Pratunam 紅大哥水門鶏飯" so I think this is correct. The windswept interior that is crowded with people is the landmark!
Non-air-conditioned interior and spoon-stained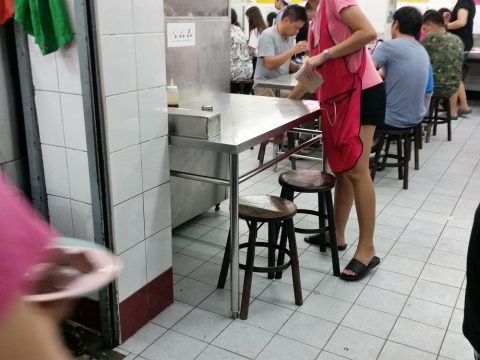 The time was 18:30, and I was prepared to wait in a line because of the word of mouth that it was inevitable to wait in a line, but there was no line probably because it was a little early at dinner time. When I told the staff that I was alone, they showed me to a seat in a corner next to the kitchen.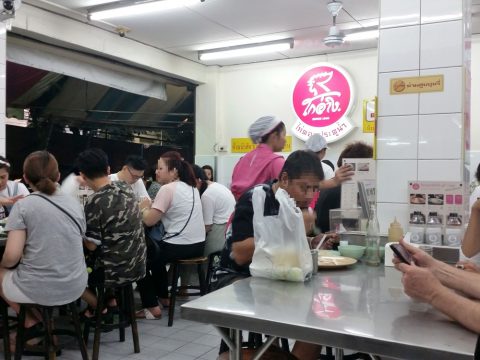 Even though there is no queue, the restaurant is almost full. It has a simple large table made of stainless steel and a round wooden chair. Although it is a store for common people, it seems to have no problem with cleanliness.
Silver tableware on the table. I'm sure it has been cleaned properly, but when you see this kind of dirt, you're a little worried. … If you're concerned, bring wet tissues.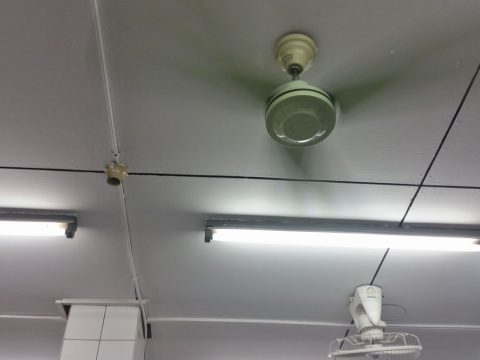 By the way, there is no air conditioner in the store, only ceiling fan and fan. It's windy, so the wind can pass through, but it might be hot during the day.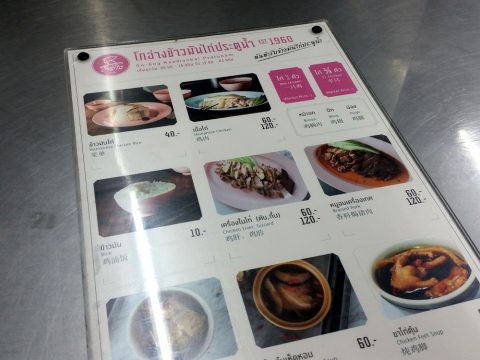 If you look at the menu, the famous chicken rice is only 40 bahts, which is exceptionally cheap! A la carte dishes are priced at 60 baht, which is 1/2 to 1/3 of the prices at chain stores in restaurantping centers.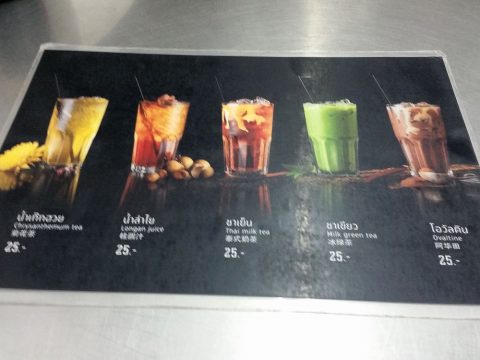 I was told to choose from these 5 drinks (There is no beer.). Both of them are cheap at 25 baht, but most of the drinks in these places can't be drunk with a strange sweetness, so I asked the staff at … which one is not sweet, but they didn't really know if it was a young student.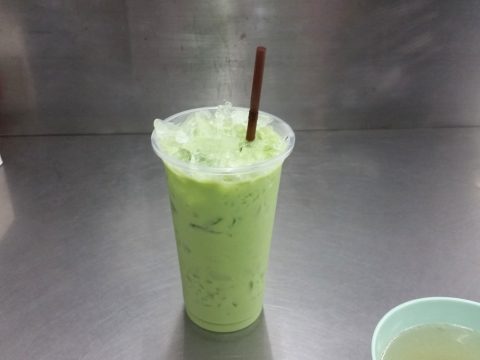 So I chose this green drink. It came out in a disposable cup, not a glass as in the picture. Like the name "Milk green tea" it has a matcha taste, but it is still sweet! It's a unique sweetness, but I'm glad it wasn't unpalatable.
As for this drink, it seems to be a separate bill from chicken rice, and I was forced to pay 25 baht by the staff on the spot. I thought it was a little strange, but I was afraid that I might be deceived because the customers around me were drinking the same cup. In fact, I was not charged for drinks later, so there was no problem.
How does Thai chicken rice taste?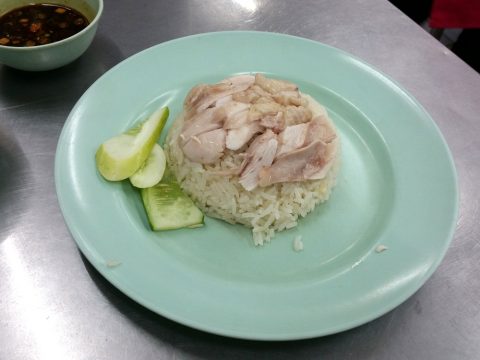 Here is the "Kaomunkai" that was served 7 to 8 minutes after I ordered! A side dish of chicken and cucumber on a round bowl of rice. It's smaller than I thought, and the content is much smaller than the picture.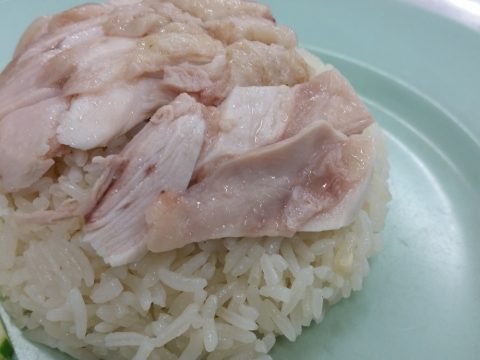 Rice with garlic. The chicken is a little pinkish, but it's cooked through rather than half-raw, bleeding like Singapore's "Boon Tong Kee" chicken rice. The chewy and soft meat has good texture and no strange smell. Isn't the taste of the common people's restaurant in Southeast Asia high level?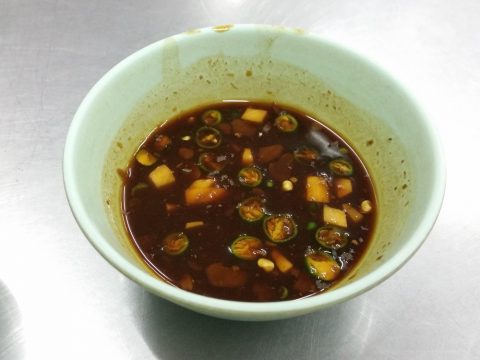 It comes with the same sauce as in Singapore. It's a very spicy sauce, but it'll be nice if you add a little to the chicken. It is a good accent to lightly seasoned chicken rice!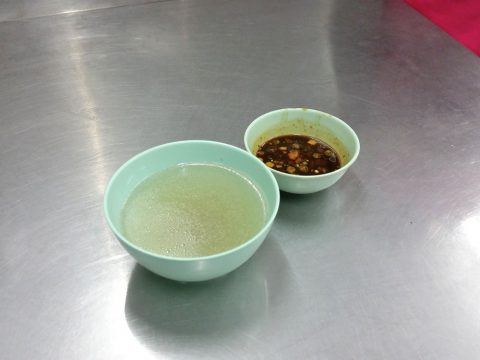 But the soup that comes with it for free is absolutely awful! It has almost no taste, and instead, there is a lot of oil floating on it, and it only tastes like that oil. It seems to be bad for your health. … Give me a bite!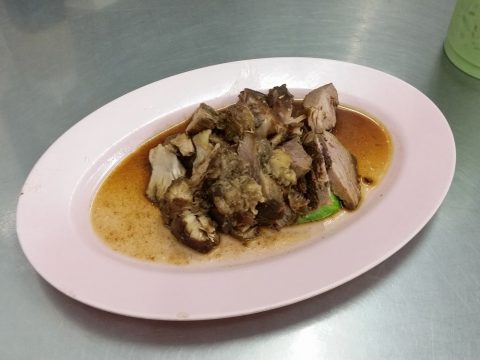 By the way, chicken rice is not enough, so I added another dish! Braised pork (60 baht), slightly curry-flavored pork is a bit dry but not bad. However, it is much smaller than the picture. I had 2 dishes with chicken rice, but I felt it was not enough.
There will be a line after 19 o'clock!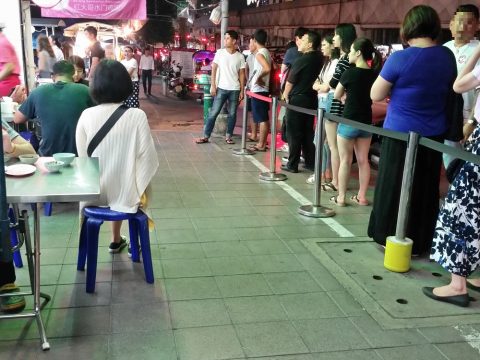 After the meal, there was a long line when I left the restaurant! There was no line when we entered at 18:30, but the difference of only 30 minutes is amazing! When you visit Go-Ang Kaomunkai Pratunam for dinner, I recommend you to go early.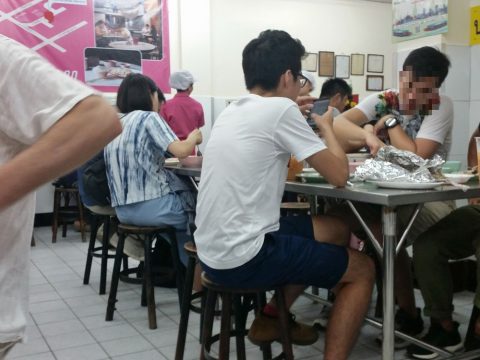 That being said, I tried the taste of Bangkok's most famous "Kaomunkai" and found it to be at a very high level as a reasonably priced menu for ordinary people. It's a little far from the station, but it might be worth a visit. But the portion of each dish is small, so I recommend ordering more than one dish per person.
Go-Ang Kaomunkai Pratunam
Opnening House:6:00~14:00、17:00~26:00
Address:

960-962 Phetchaburi Rd.

, 

Bangkok 10400, 

Thailand
♪Click here for a List of articles on "Bangkok"