The GUM Department Store is an upscale department store located in "Red Square" in Moscow, Russia. The historic building built in the 19 century is lined with famous brand stores from around the world and is always crowded with tourists.
I thought it was a rather expensive restaurant with a tourist price, but when I went there, I found a place where I could enjoy at a surprisingly reasonable price, such as a delicious ice cream for only 170 yen and a self-service cafe where I could eat cake for 200 yen!
Go through the metal gate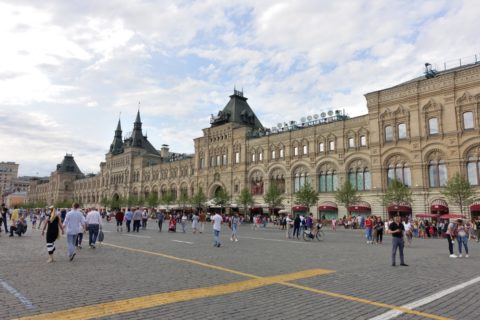 Standing proudly in the Red Square "GUM Department Store". It looks like a royal palace! It's 250 meters wide, and it's a shopping mall from end to end.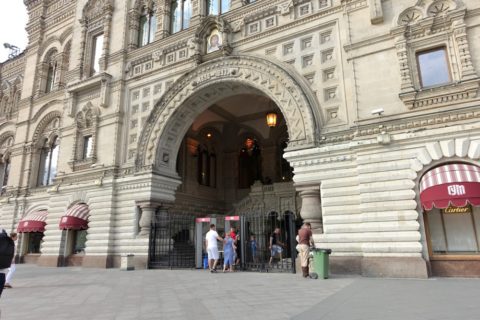 There are many entrances to this department store, but the main entrance is in the center of the building. On the arched gate, there is a picture of a Russian Orthodox saint.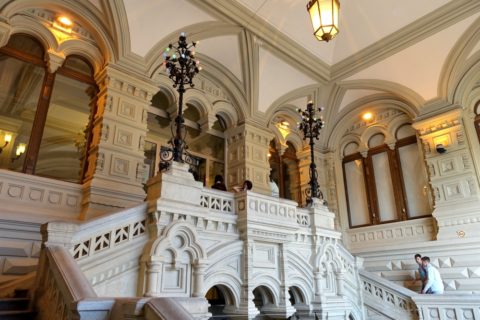 There is a grand staircase inside the gate, and the second floor is the entrance of the store. There's a metal detector in here, and security is on the lookout right next door, but no one is going anywhere, and I wonder if it makes sense …?
beautiful Renaissance interior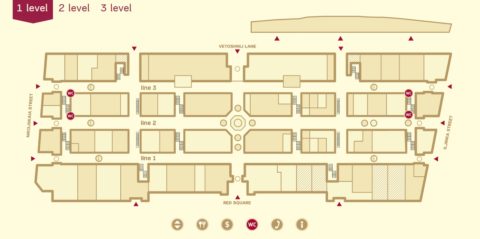 The GUM Department Store has three shopping floors from the first floor to the third floor, with three aisles between each of the four store blocks. About 200 shops and restaurants are gathered there.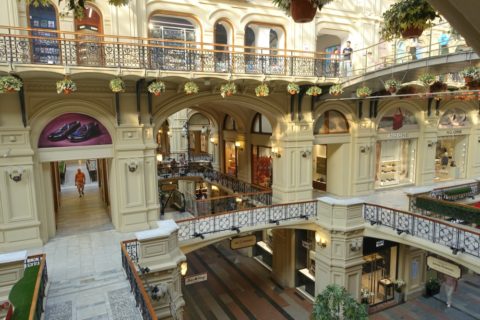 The inside, where the background music of fusion JAZZ flows, is very gorgeous, and there are stylish lights like streetlights on the cream-colored Renaissance interior walls. On the upper floor, there are many bridges that can go to and from each block.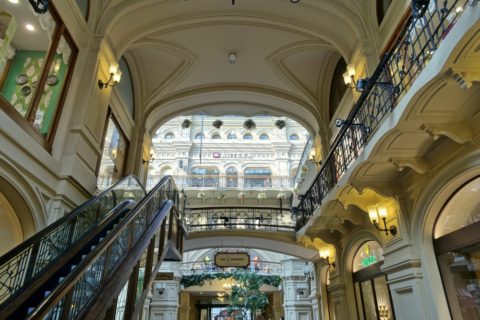 According to an official website, the building was completed in 1893 and has remained intact for more than 120 years. At the time, it was one of the largest department stores in Europe.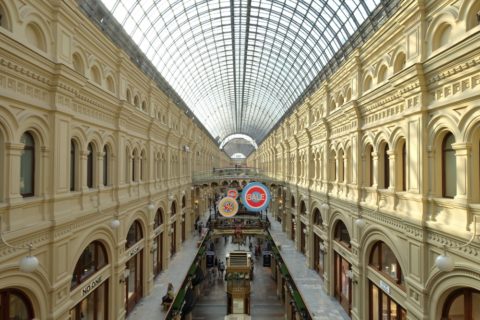 The passageway is completely designed to be wiped off, and it has an excellent sense of openness! It feels like the arcade was built between different buildings rather than inside the building.
However, maybe because of the structure, the air conditioner is hardly working, so it is quite hot …
The price of caviar is …?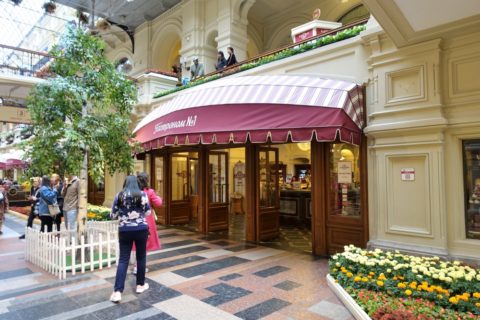 Although the GUM Department Store is full of luxury stores, there are also some affordable stores that are easy for tourists to enter. I checked the "Gastronome No.1" grocery store on aisle 3 on the 1st floor.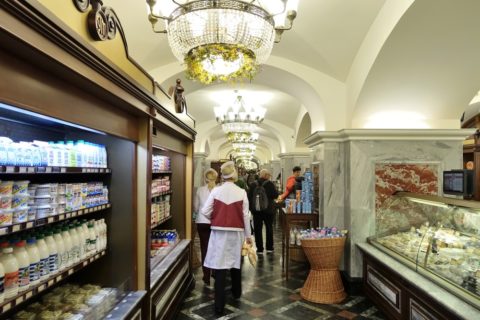 This store is like a high-class supermarket, and they sell various foods such as vegetables, fruits, side dishes, canned food and wine. The sales floor area is large, and there is a passage as long as 150 meters.
There was a honey section, so I checked and found that the price was around 120 RUB per 100 ml. I was surprised to find a cheap one that I could buy at around 70 RUB/100 ml.
It might be a better deal than the honey specialty store (Dom Meda) I told you about the other day (Reference → You can try "Dom Meda", a honey specialty store in Moscow! I bought some rare honey.).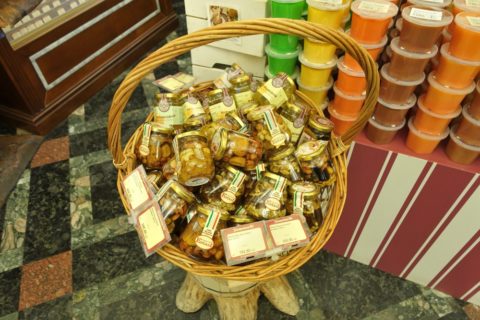 Bottled honey with walnuts and nuts is also sold. It was small and reasonable, so I bought one and tried it, but somehow the taste didn't soak in at all, and it was just sticky and not particularly delicious.
The bottle cap is not perfect, so it will be a big problem if you don't put it in a plastic bag when you carry it. …
In addition, we also found high-class ingredients "caviar"! I wanted to buy it if I could get it at a low price, but the one with only 50 grams costs as much as 4,865 RUB! Just because it's Russia, it doesn't mean you can buy it cheaply.
Self-service cafe on the top floor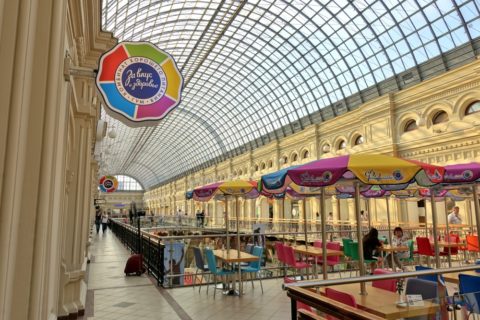 There aren't many restaurants in this department store, but there was a rather large self-service cafe at the very end of the top floor, so I used it! There are also terrace seats, and the advantage is that you can eat while looking at the interior of the arcade.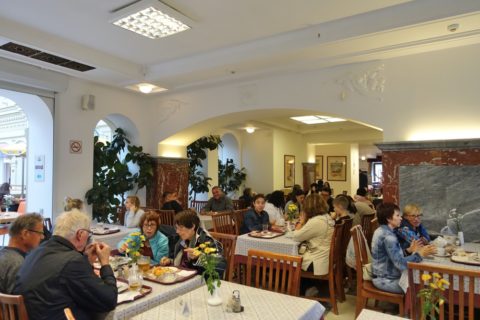 The ordering system is the same as that of a Japanese cafe. You order at the counter and take it to your favorite seat.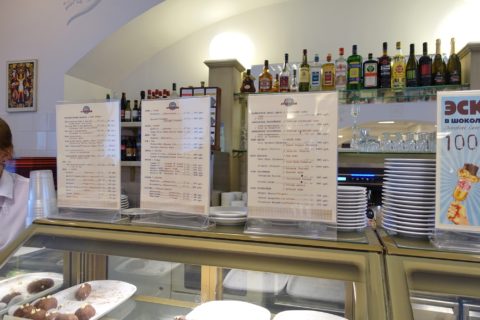 The menu is written in English, and the tea is from 60 RUB, and the coffee is from 90 RUB, which is a reasonable price! We also have alcohol, and you can choose cake from the showcase.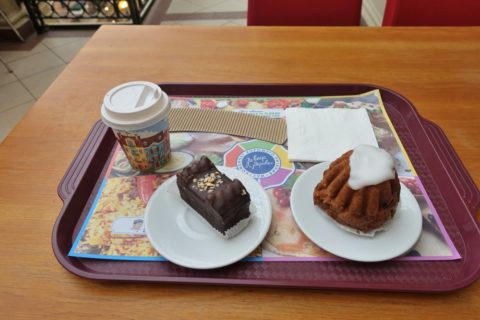 This set is 330 RUB. Cappuccino or chocolate cake is not a big deal, but this muffin-like cake had a fluffy texture and a flavor of raisins with a lot of liquor, and it was quite delicious!
I never thought I could eat a 200 yen cake in a place like this …!
Only 100 RUB! Delicious Ice Cream Shop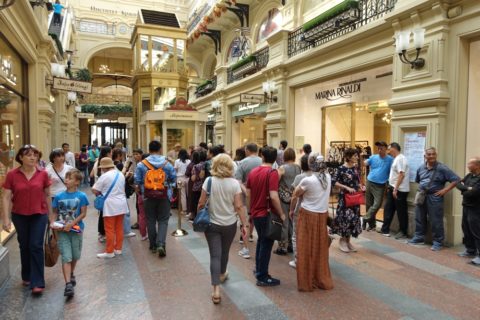 Another thing I noticed when I was walking down the passage on the first floor was the crowd here. I went to an ice cream shop, and there was a line mainly of tourists.
Inside the small box is an aunt who makes ice cream and hands it to you when you order. There are 11 flavors, but the price is only 100 RUB!
It seems that some flavors are already sold out, and at this time, I could only choose 8 flavors.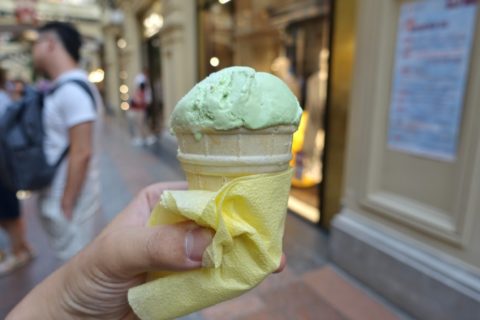 I tried the pistachio flavor, and it was really delicious! It has a rich milk flavor with a nutty flavor that can be eaten for only 170 yen! I am satisfied with this queue!
Bosco Cafe ice cream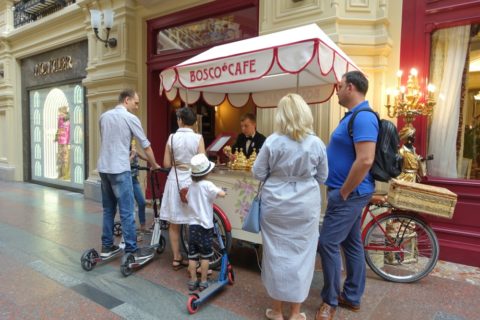 Also, there was another ice cream shop right in front of this shop. This is a cafe called Bosco Cafe that sells wagons in front of the store, but there is almost no line for its luxurious feel.
The price is 100 RUB for 1 and there are 5 flavors. We also have pistachios, but chocolate is already sold out.
The staff wearing a bow tie will make it for you when you order, but the disadvantage is that it takes almost 5 minutes to make 1. …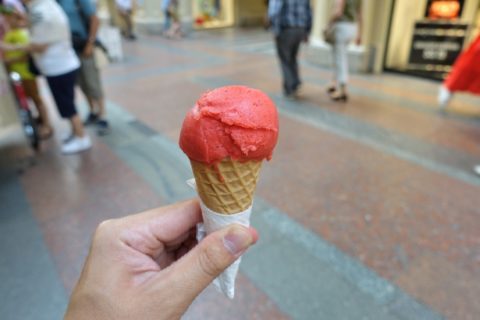 I tried strawberry, but it was a little different and had a gelato-like texture. While keeping milky taste, fresh strawberry flavor spreads in your mouth! I can't believe this is only 170 yen!
There is a charge for the toilet
Finally, one piece of information on the toilets in the GUM Department Store. The restrooms are located on the stairs landings on both sides of the 1st and 3rd floors, but both are charged, with 50 RUB on the 3rd floor and 100 RUB on the 1st floor.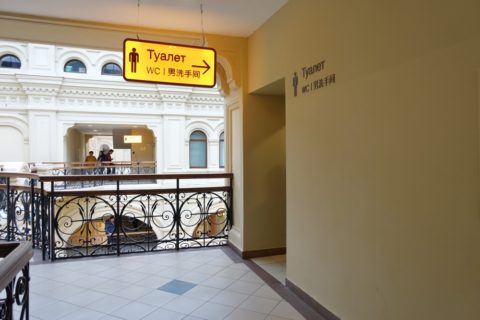 There is a manned counter inside, and you pay there. There was also a card reader, so maybe you could use a credit card.
However, the attitude of BBA at the counter on the 3rd floor, which I used, was so bad that I got annoyed just by using the toilet ・・・。 You shouldn't expect good service in a place like this.
A luxury department store that can be enjoyed at a reasonable price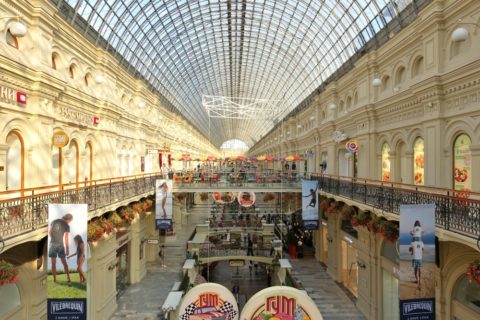 That's why I was able to enjoy the (or expensive for tourists,) GUM Department Store at a surprisingly reasonable price. It might be a good place to rest during sightseeing.
GUM Department Store
Opening House:10:00~22:00