Russia is known for ballet! So, this time I will report on ballet performance at "Danchenkok Theatre" in Moscow! Hidden behind the Bolshoi Theatre, it is a theater that I am not familiar with, but because I can see famous ballet works at reasonable prices, the performance is full!
I would like to report the details such as how to buy tickets, the seats and the menu of the bar in the foyer.
very close to the Bolshoi Theatre
Danchenkok Theatre is located here near the center of Moscow, Russia. Located along Bolshaya Dmitrovka Avenue, the famous Bolshoi Theatre is just steps away.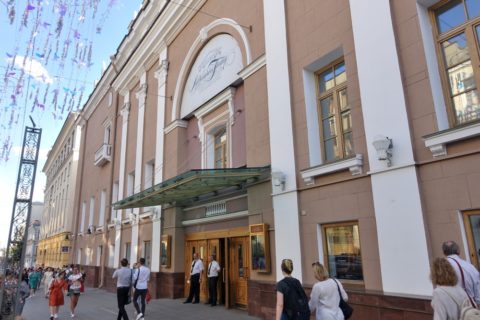 The formal name is "Stanislavsky and Nemirovich – Danchenko Moscow Music Theatre" which means the theater was established by the merger of 2 companies, "Constantin Stanislavsky" and "Vladimir Nemirovich Danchenko".
It was established in 1941, but the theater itself seems to have existed before that.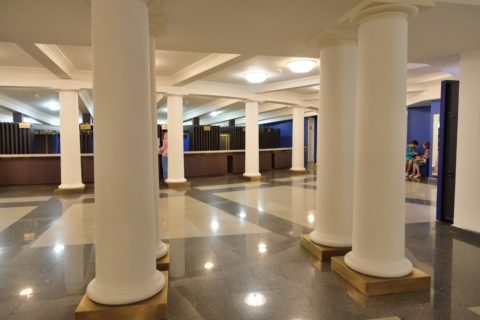 If you go inside after a simple security check, there is a stark lobby with many pillars, and if you go further, there is a big cloakroom.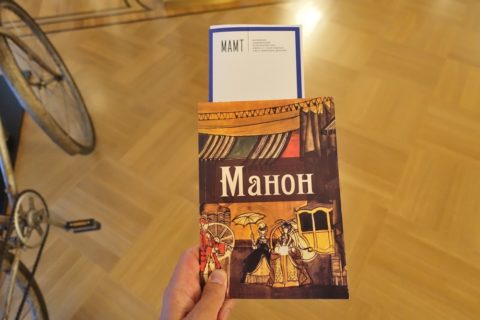 There was a staff with a program, so I bought 1 and the price was 300 RUB. After all, this person doesn't seem to be able to speak any English at all, and when I said "1 Program Please" at first, he didn't understand me at all, so I panicked …。
When I showed him the money and pointed to the program, he finally understood, but in Russia, there are many places where English isn't spoken.
museum foyer
The main foyer and seats are upstairs, so follow the "Auditorium" signs up the stairs on the cloakroom sleeves. It doesn't have a red carpet or gorgeous decorations, but it has a magnificent structure with a big mirror!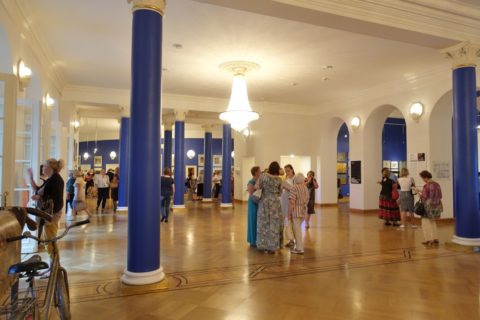 The foyer on the upper floor is a blue and white interior. This place is also not gorgeous, but it is a refined space that is typical of Russia.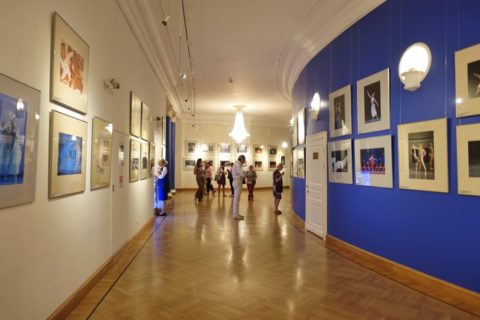 The foyer is lined with rooms and displays of ballet photos and paintings throughout. All the photos are of successive ballet performances.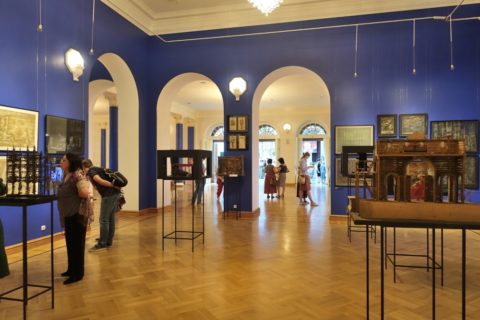 In addition to photos, there is also an exhibition of paintings that seem to be based on the theme of ballet. All of them were made in the late 20 century, but I was surprised by the variety of the original gallery.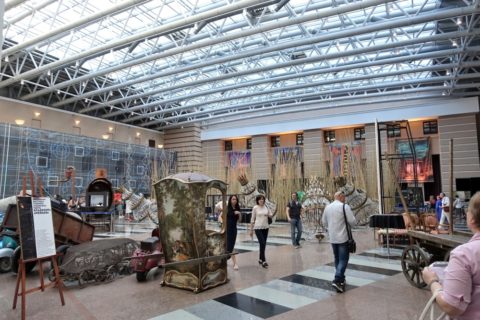 Also in the center of the foyer is a wide, bright area with glass ceilings where stage goods believed to have been used in previous performances are displayed.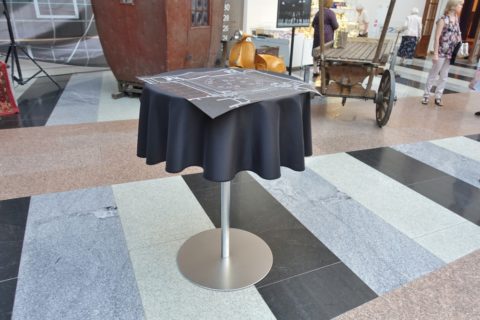 There is a bar and a cocktail table here, and it seems to be the main social place, but for some reason only here is not air-conditioned, so it is hot …。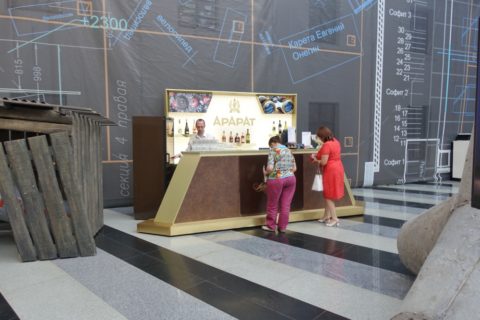 The bar is open not only during intermission but also before the show starts. It was a good opportunity for me, so I ordered wine, but I could hardly communicate in English at all, so I got impatient …。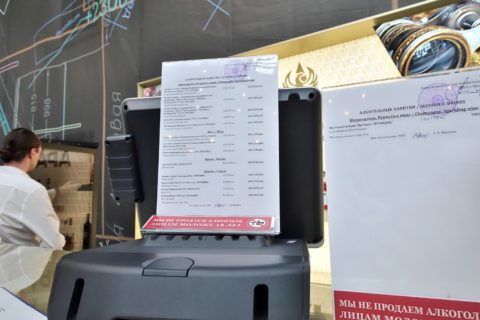 If you check the menu, the drinks are mainly alcohol, the wine is 500 ~ 600 RUB including sparkling, and there are also whisky and brandy. The menu is written in English, so I pointed at it and ordered it.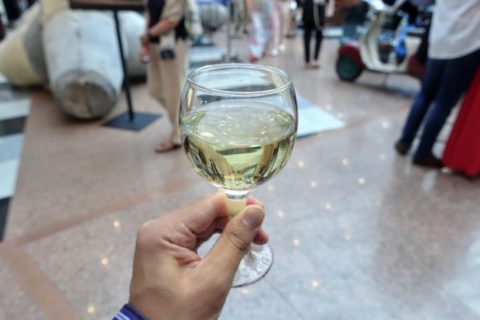 I ordered a Chardonnay white (500 RUB), and it was a super cheap taste that didn't really stand out! When I looked it up later, this brand called "Takun Chardonnay" was so cheap that you can buy a bottle of wine for only one coin in Japan …。
If you can get 800 yen for 1 glass, I'd like you to put in a better bottle …。
a blue auditorium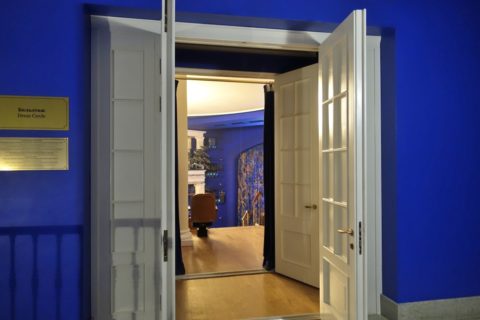 Now, let's go to the audience! The opening of the audience seats was very late, and they started to enter after 15 minutes before the curtain time.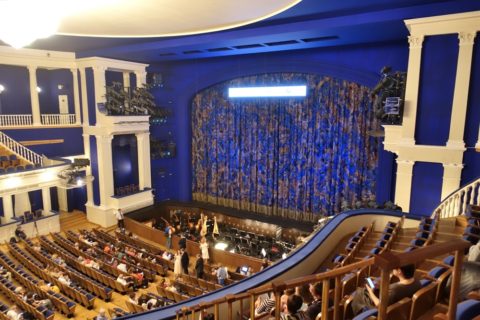 The auditorium of the audience seats is based on the same colors of blue and white as foyer. It's not a big theater, and it has a capacity of just under 1000.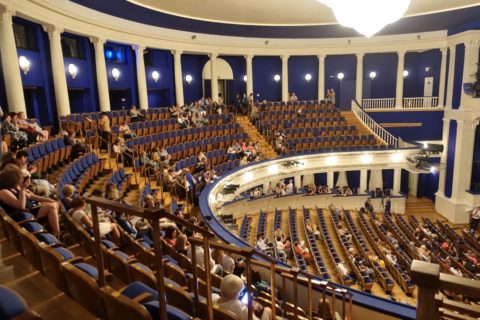 Ballet and opera theaters have balcony seats that rise up around a flat dirt floor, but this theater has only a fan-shaped second floor like a regular concert hall.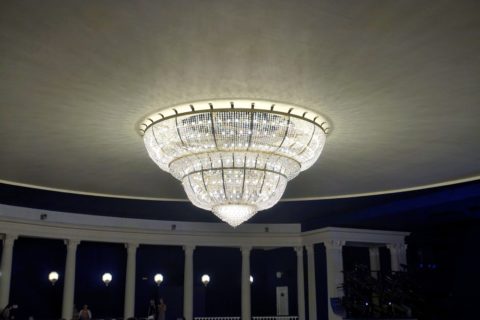 The chandelier is also a modest design, but the sophisticated design of the jewel pressed tightly is quite good. It's not gorgeous, but it might be the best environment to concentrate on stage shows.
slightly uncomfortable seat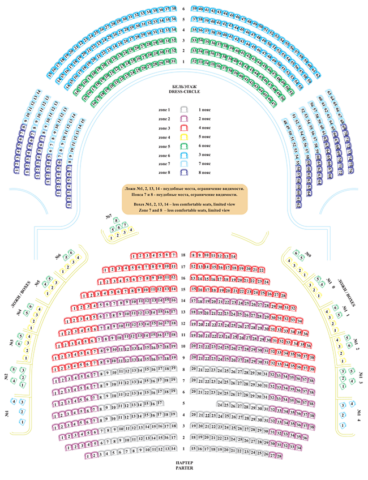 My seat this time is the 11 row from the front of the flat dirt floor on the 1st floor. In the 2nd category, the ticket price was 3,000 RUB. I booked it on the day the ticket was sold, so it was an excellent seat on the aisle side in the center with no complaints about the view and sound!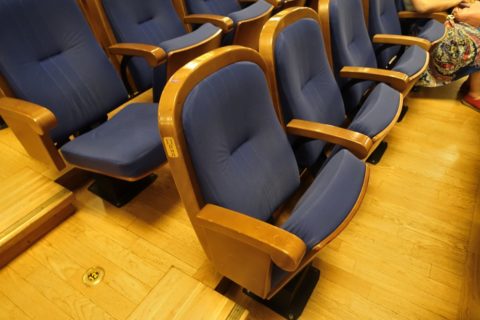 The seat width measured at hand is about 47 cm, so there is plenty of room, but maybe it's because of the bad construction of the chair, and I don't feel comfortable sitting on it as it always shakes. …。 The armrests are also unusually high, so I don't feel comfortable sitting on it. …。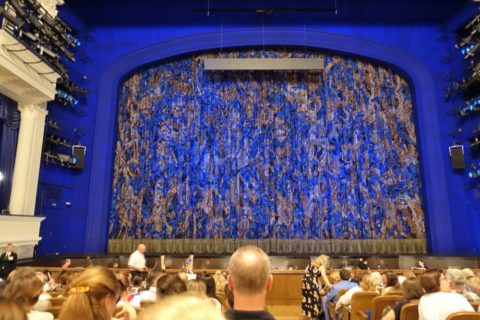 Also, the front and back seats are not shifted to the right and left, so if a big person sits in front of you, your head gets in the way and you can't see the stage. Fortunately, I was saved this time because I was a small woman, but many Russian theaters have this kind of design.
The dancer who plays the heroine was amazing!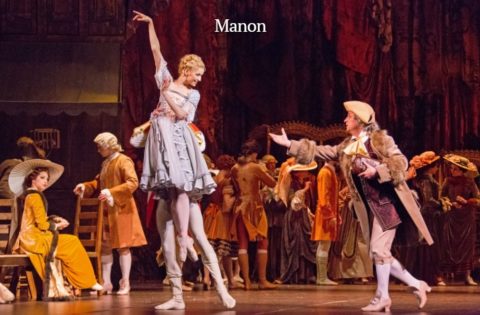 Now, this program is the 20 century French ballet "Manon". It is a work based on the novel "Manon Lesko".
I watched this piece, which is also known for its highly histrionic choreography, paying attention to how it would be performed by a real Russian ballet company, but it was relatively normal for a dancer, and I was not particularly impressed.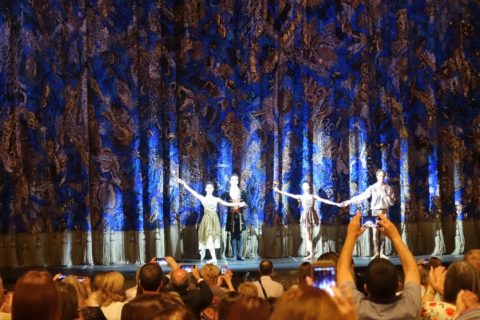 But the only one, the heroine: As far as the dancer who plays Manon is concerned, I take my hat off to him for his outstanding acting ability! From the toes to the fingertips, the movement is perfectly calculated and has a wide range of expression. It was such a great performance that I could fall in love just by looking at her gestures!
Probably the best ballet dancer I have ever seen in the world! It's true that there are real talented people in such a casual place like Russia.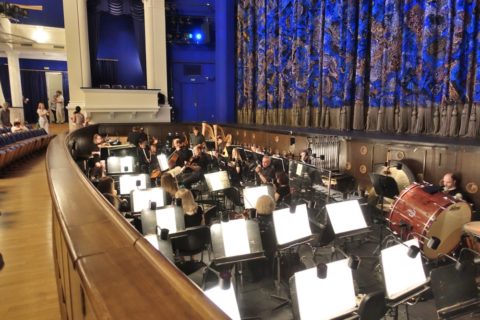 However, when it comes to playing music, …。 stringed instruments do not match unison, and the acoustic balance is not good. Strings, in particular, have a noticeable scratching noise, which may be due to the sound of the hall …?
Purchase tickets from the official website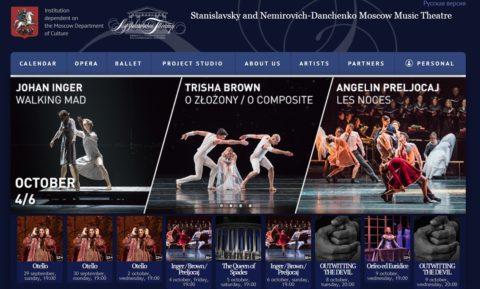 Also, I bought a ticket for Danchenkok Theatre from the official website. It is very easy to buy with English switching! You can choose your seat from the seat map.
Fill in your name and email address and pay with your credit card. All you have to do is print out the e-ticket with barcode and bring it on the day!
The performance season is from September to June of the following year. Tickets are usually sold 3 months before the performance.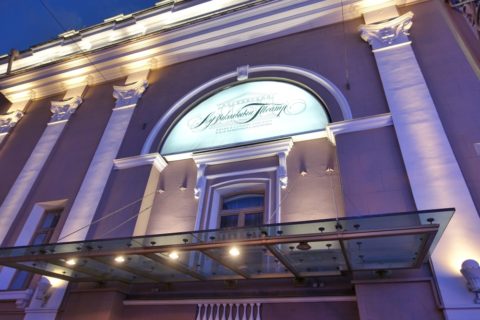 It's not as gorgeous as the Bolshoi Theater, but this ticket is definitely cheaper! It is a good place to see ballet because famous works such as "walnut" and "Donki" are performed there.
Maybe I'll see a great soloist act like this? If you are visiting Moscow, please check it out!
♪Click here for a List of articles on "Opera House & Concert Hall around the world"