I visited several opera houses and concert halls in Spain, and this time I would like to report the seats, views, and sounds of the concert hall "Madrid Auditorio Nacional de Musica" I visited in Madrid.
I visited there for an orchestra performance, and it was a great hall with a huge pipe organ and innovative lighting equipment as it is named "state"!
※This article was written before the virus scandal. This will be updated.
Venue access and ticket purchase
The location of Madrid Auditorio Nacional de Musica is a little far from the city center.
The closest stations are Cruz del Rayo on Metro 9 or Prosperidad on Metro 4, each of which requires a transfer from Opera. If you go to a concert, it might be better to have some time.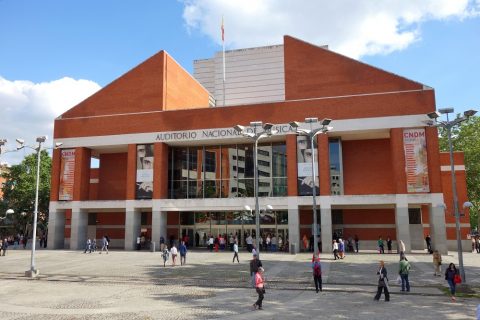 Madrid Auditorio Nacional de Musica with a light brown color and characteristic shaped roof. It looks like a facade of a civic culture center in Japan. This hall was established in 1988, so it doesn't seem to have a long history.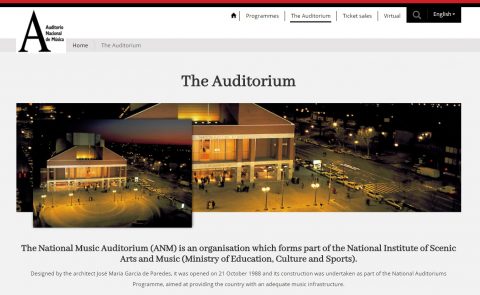 Tickets for Madrid Auditorio Nacional de Musica performances can be purchased here. This is the same website as the Zarzuela National Theater we introduced the other day, but it supports English switching and you can also reserve a seat.
After paying by credit card, you can print out the e-ticket sent in PDF and bring it on the day! It is convenient because you don't need to exchange at the ticket office.
foyer and bar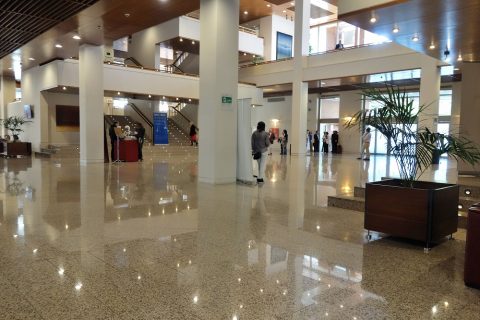 Open 45 minutes before curtain time! If you go inside after checking your ticket at the entrance, there is a foyer with a glossy floor. It has a sense of openness because it is wiped up to the upper floor, but there is no decoration for the luxury.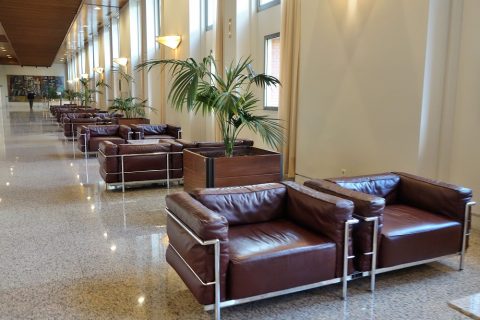 This foyer is larger than expected, and there is a wide corridor that surrounds some part of the seats. There is a big sofa, and it looks like an airport lounge.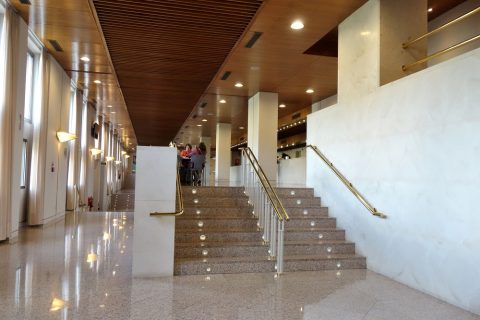 There is also a bar in the foyer, which is on the upper floors, but it gets smaller and simpler as you go up. Spain may not have a strong social culture, and I am surprised that there are not as many people who stay at the seats during breaks as in Vienna.
Seat map and hall view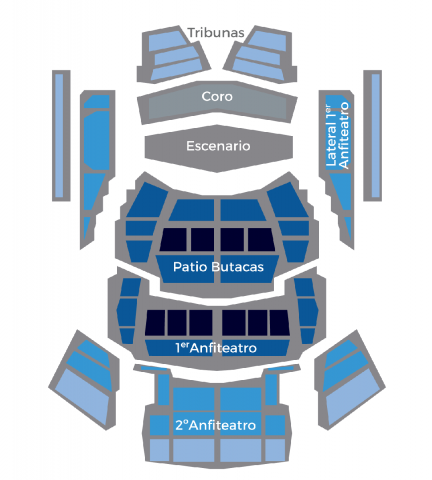 This Madrid Auditorio Nacional de Musica has 2,324 seats and is quite big! In addition, there is a middle hall of Capa 692, several rehearsal halls and a recording studio, and it looks like a complex.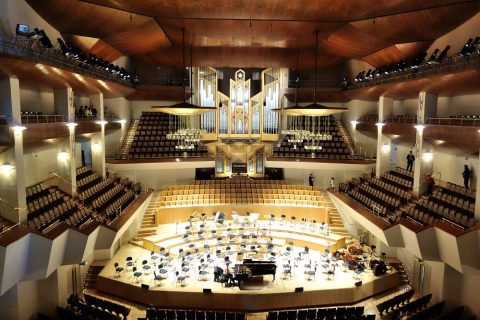 First, the view from the top floor (third floor seating) is here! The huge pipe organ and four distinctive lighting fixtures in front of it are impressive.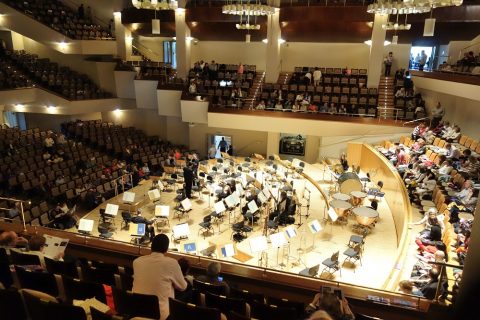 The stage is not so big for a large hole, and the narrow frontage is covered by the depth. It looks like an overhang stage, but I can't see the joint, so maybe this is the original shape?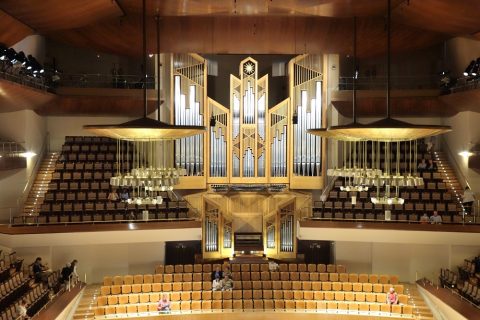 The pipe organ is amazing! José María García de Paredes, an architect from Seville, died in 1990. If you compare it with the completion year of this hall, it is a work of his late years.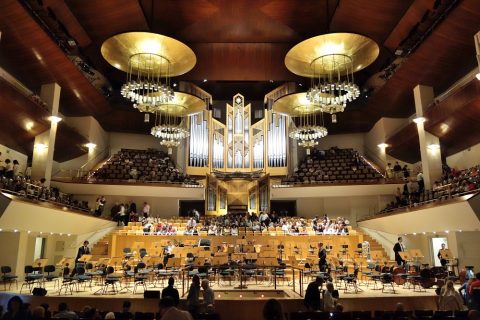 I looked up at this stage and the pipe organ from the flat dirt floor on the first floor, and the pipe organ and the lighting matched well and was good! I think it is meaningful to be able to see it under this view, even considering that it makes it difficult to see the performers at the back of the stage.
Seat specifications and the view from the 3rd floor seats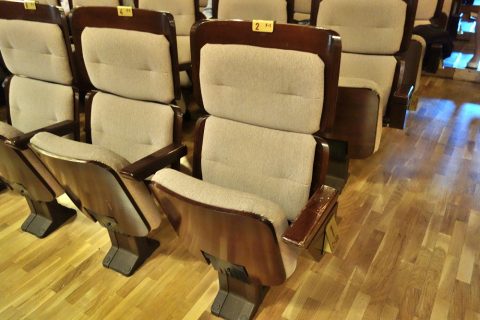 The seats in this hall have the same gray cushions on the floor above and below. The back is high, so it's convenient for people who sleep listening to music (laughs).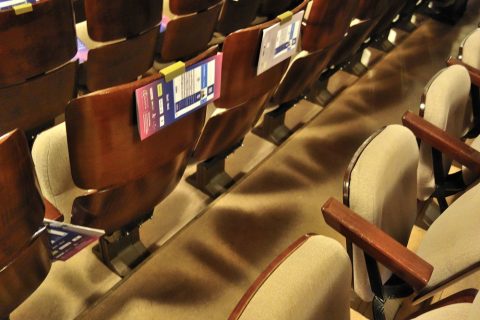 The floor is not so wide, but there are a lot of uneven seats in the front and back rows as a whole, so I think there are few seats that are extremely difficult to see the stage.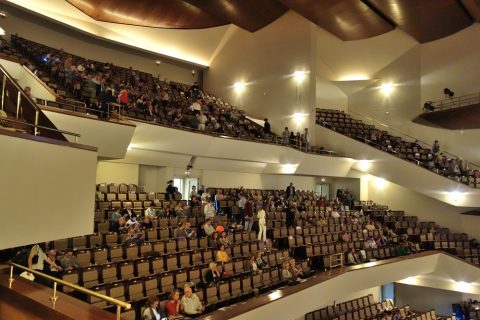 My seat this time is the first row on the 3rd floor. It was hard that I couldn't keep my feet straight, but the view was perfect! It makes a lot of noise, and considering the price of this ticket (€38), the cost performance might be good.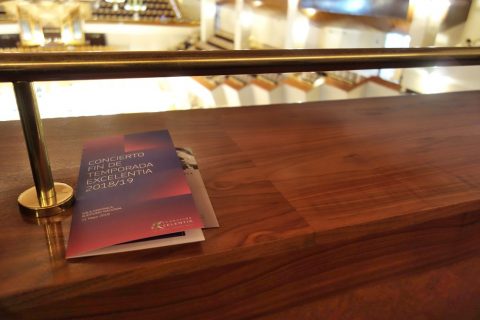 Also, there is a space for things to put on the handrail in the first row of the upper floor, but I was warned when I put the pouch here! It goes without saying that it prevents falling, but if it's just a program, they won't say anything.
But there is no protrusion on the edge, so I really have to be careful not to drop things!
The program is available at …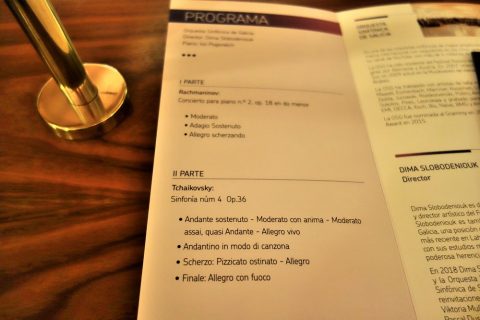 Well, for today's program, the first part is the famous Piano Concerto No. 2 by S. Rachmaninoff, and the second part is the Symphony No. 4 by Tchaikovsky. The performance is by the Galician Symphony Orchestra.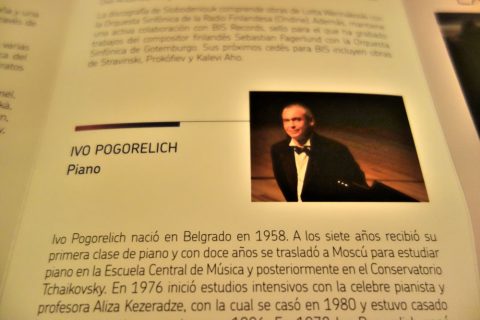 Ivo Pogorellić (Ivo Pogorelich) was a 59 year-old Croatian pianist. He often comes to Japan and holds solo recitals, but his performance was a little hard to hear …。
It adds a unique accent to the melody, so the melody is rickety without becoming legato, and the sound is dirty because f is struck and played. As a proof of that, in the latter half of the story, there are so many sounds that go out of tune.
Originally, he is known to play unconventional music that does not follow the instructions of the music score, but the means of expression is limited to strong and weak and tempo, but for that reason, when it comes to small sound or weak sound, it will be buried in the sound and you will not be able to hear it. …。 Playing with characteristics is just to hide the lack of technique.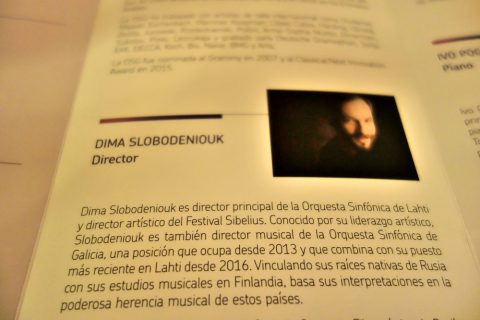 The conductor was Dmitri Slobodeniouk (Diema Slobodenyuk). Born in Russia, he is 43 years old and has the ability to lead conductors in many countries, but his conductors are certainly good in tempo, timing, etc., he has a sense of unity, and he can hear very well.
However, it is also true that he did not follow his instructions. Strings generally lack emphasis, especially the cello, which beats the viola in playing the same pitch. As for the ability of Oke, I guess it's 2nd grade …。
Wear cool clothes in summer!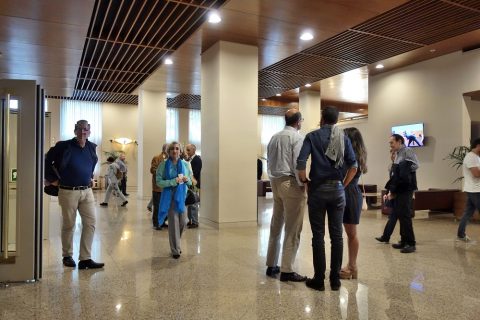 Last but not least, the number of people wearing jackets was small, probably because it was a summer performance. There were many people who wore relatively rough clothes.
When it comes to European concerts, wearing a jacket (Sometimes a tie.) is a must, but this time it was hot …。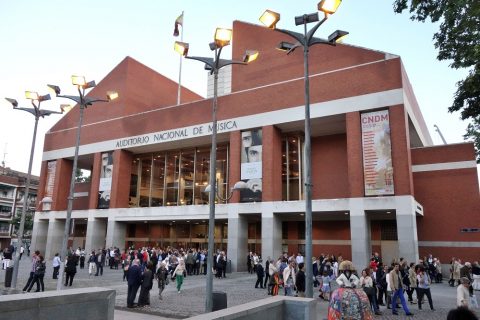 Here's a report from the Madrid Auditorio Nacional de Musica.
♪Click here for a List of articles on "Opera House & Concert Hall around the world"