I would like to report on what ANA's seats are like, used as first class on long-distance routes from Tokyo to New York and London, including comparison with JAL-Suite of JAL first class which I rode on this spring (Related → JAL first class boarding from Haneda to London).
※This article was written before the virus scandal. This will be updated.
Square box of ANA FIRST SQUARE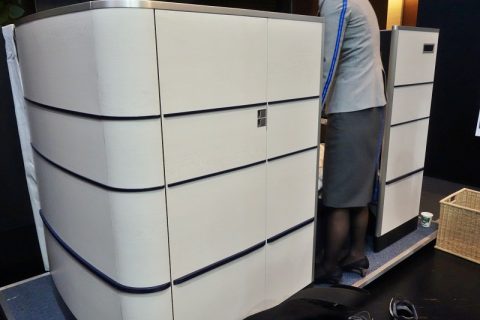 This is ANA first class seat "ANA FIRST SQUARE". The 4-sided partition is exactly "square".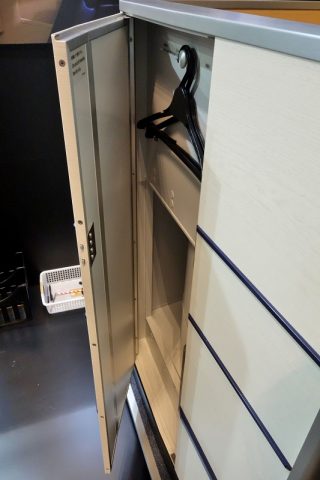 There is a closet with hangers on the outer wall. The height of this wall is used well. This is a specification that JAL doesn't have.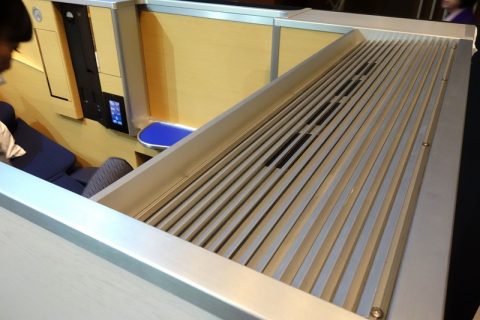 There is something like a vent in the upper front. It doesn't seem to be a space for luggage like JAL's Sky-Suite.
The fabric seat is comfortable to sit on!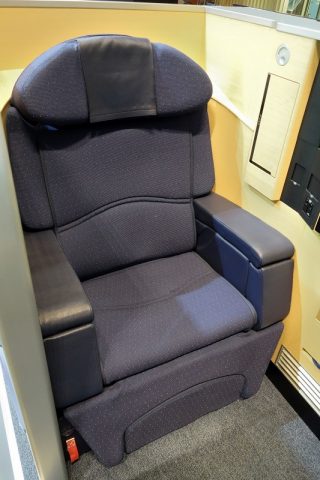 First, I will check the sitting comfort of the standard position. The armrest throne looks a little like JAL-Suite's.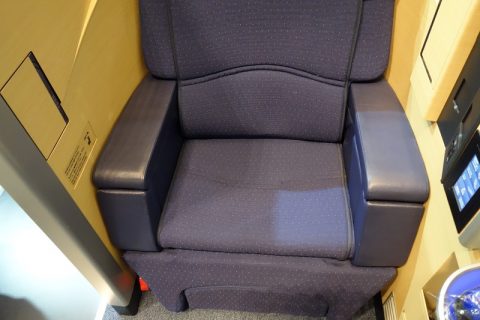 But the big difference is the material. JAL is made of genuine leather, but ANA is made of fabric. It holds better and is more comfortable than JAL genuine leather seats.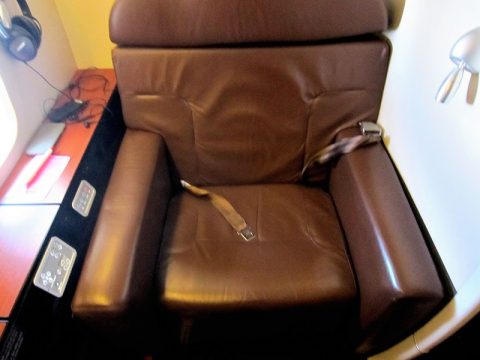 Because genuine leather is slippery and slippery, the waist is not fixed, and the "Blaze" is always generated by the shaking of the airplane, and you get tired easily. In fact, on the flight to London, I sat in the JAL-Suite for 4 ~ 5 hours doing PC work, and I got very tired from the shoulders to the waist. If the seat is just wide, it doesn't lead to good seating comfort.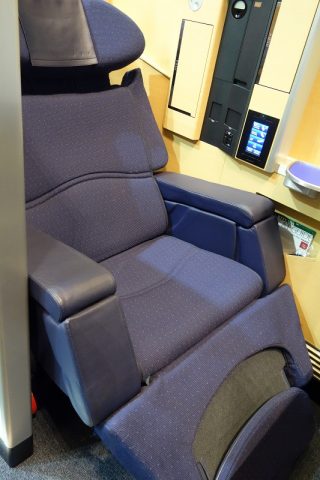 Then, the relaxed position. As mentioned above, the seat has a sense of holding, so even if you recline the backrest, the comfort does not change.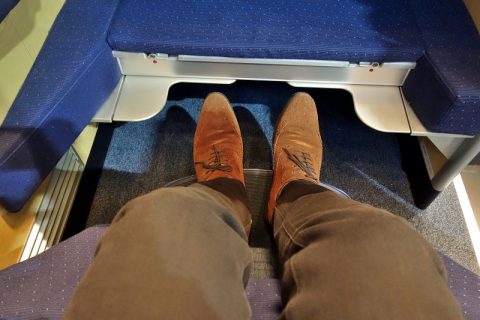 And this is the deciding factor! It has a footrest that JAL didn't have. In general, when you raise the leg rest, the toes tend to get tired because of the dangling from the ankles, but this relieves pressure on the calves and makes them more comfortable.
JAL-Suite did not have this and when I wanted to put my foot on it, I had to move the seat forward and extend it to Ottoman. When I think about it, I wonder why it doesn't have such basic functions.
There's a lot of storage here!?
Next, let's look at the storage around the seat. Like JAL-Suite, there are some storage spaces like "hiding place" on first class seats.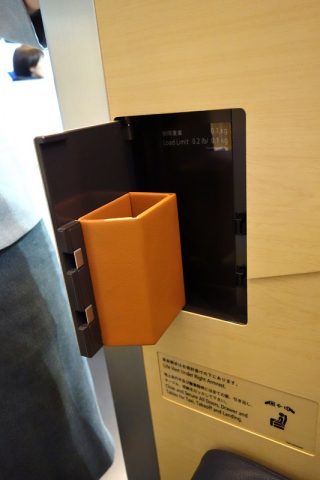 First, this is the eyeglass compartment on the right side of the seat. It seems to be useful at bedtime.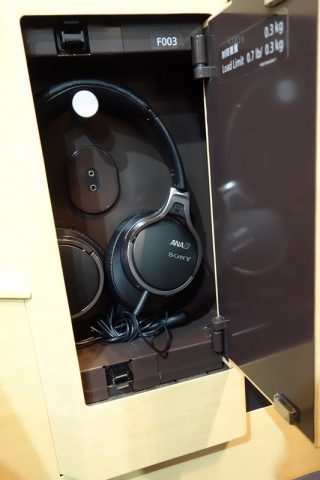 Then put in the headphones. According to the person in charge, this headphone case is often broken by putting in and taking out the headphones, maybe because the structure of the lid doesn't match the headphones. It doesn't have to have a lid like headphones, but …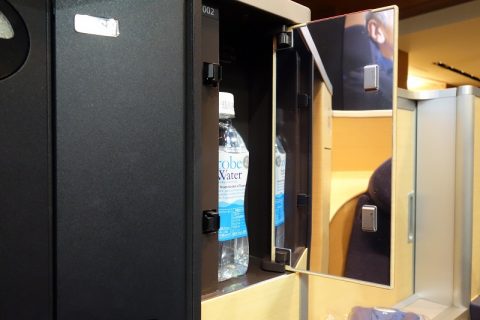 Here is a plastic bottle holder … do you need this? I think the fact that it has a mirror is useful for women, but you don't have to make it a half-size like this …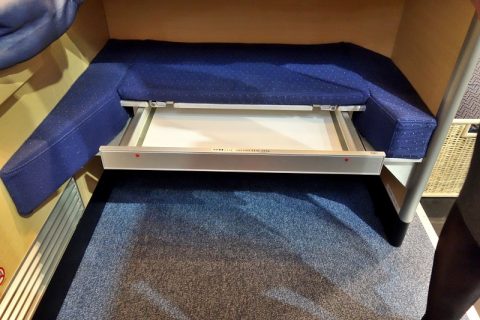 And this is the ultimate! What a document case. At first glance, it looks like a laser printer paper case! It would be terrible if you put important documents here and forget them. Is there anyone who can enter?
Backlash table and power supply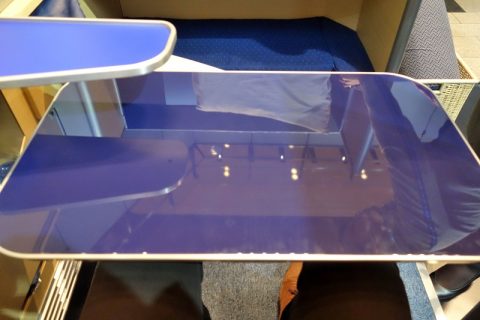 Next, I will put out the table. It's a mirror-like table that looks like it's lacquered, but it doesn't fix at all! Not at the level of "Fixed" or something like that, it shows no sign of stopping.
According to the lady in charge, "This is what it looks like on a real airplane.", is it true? If you pour wine at a table like this, it will spill easily. I won't know until I actually ride it.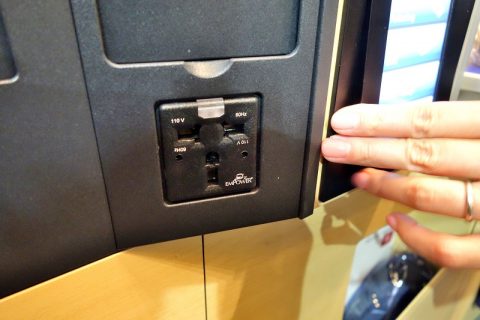 Other than that, the fact that the outlet is right next to the seat seems easy to use. JAL-Suite was on the side of the TV screen, so I couldn't get it with a short cord.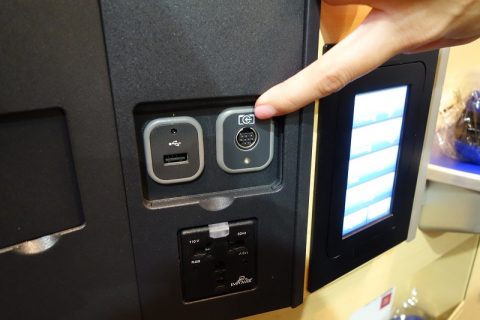 When you open the top part of the outlet, the USB power comes out.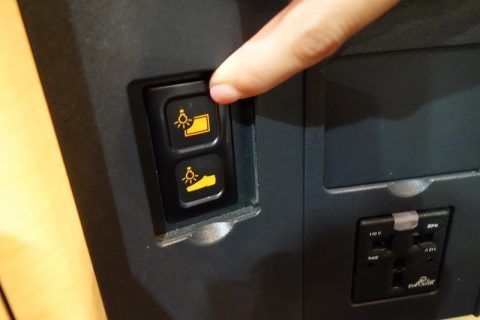 There are several lamps, and besides the reading lamp, there is something to light your feet, which is good! It seems to be useful when people around you are sleeping on a late-night flight.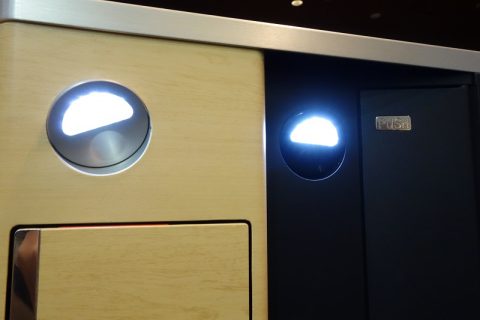 There's also an LED light on the side of the seat, which shines when you push it in and slowly turns off when you push it back in.
A feeling of pressure and a feeling of a private room that can be seen as a bed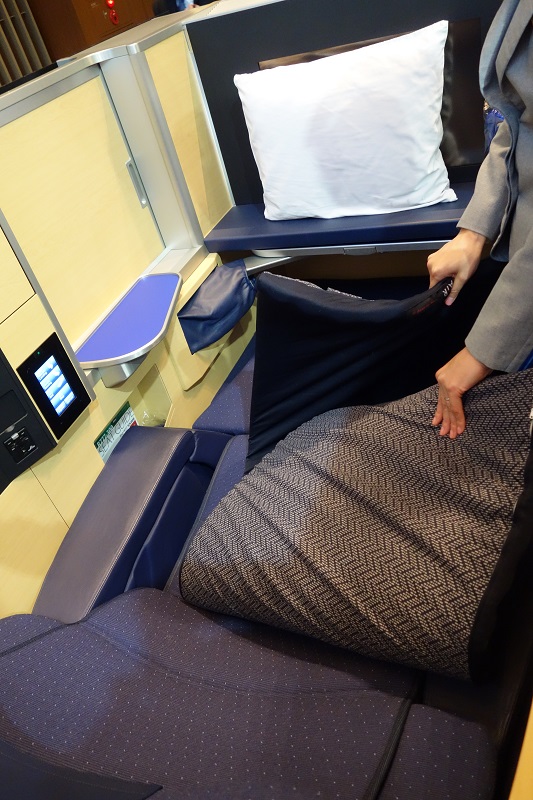 Finally, let's look at the bed position. Here, the lady in charge set it up just like the in-flight service. It took a little longer than JAL-Suite to change from a relaxed position to a bed position.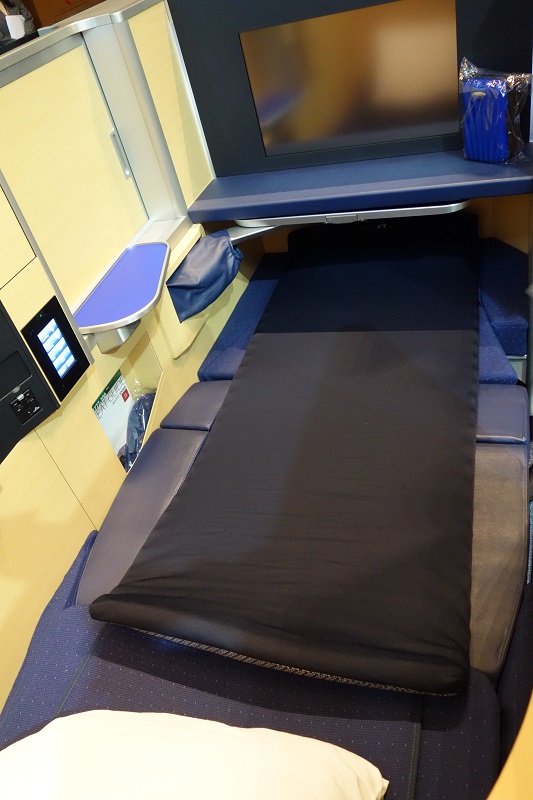 First, I put the mattress and pillow. It is the same as JAL that the mattress is much smaller than the bed width. It is the minimum size to touch the body.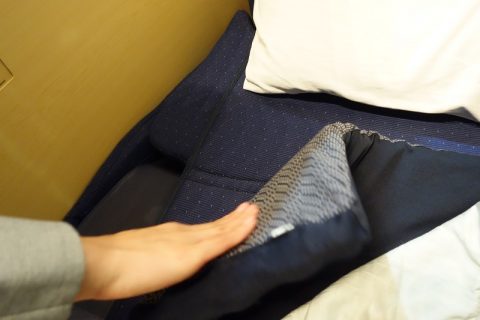 The mattress is called AIR in Nishikawa, Tokyo. It's not reversible like JAL's, but it's quite thick. The lining is non-slip and uneven when touched, but there is no discomfort even if you sleep on it. The hardness is closer to the Hard of Airweave, and I think it is Japanese taste.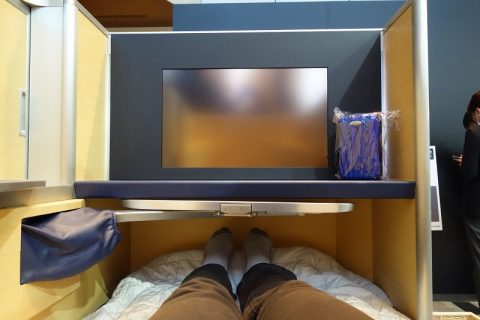 When I lie down, the partition around me feels even higher. I think the height itself is not so different from JAL-Suite, but ANA has a much better feeling of a private room. This will reduce the chances of your eyes getting in contact with the CA passing through the aisle, but some people may feel that it is oppressive.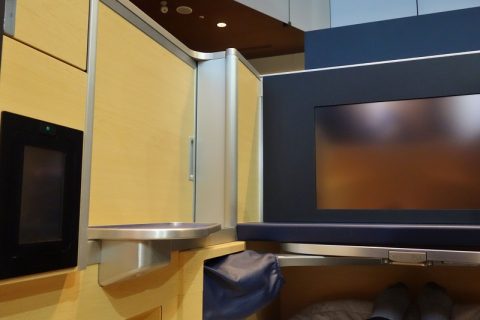 I mean, JAL-Suite has a side table including a storage box in the whole private room, and the space in each room is spacious, but ANA has limited space in each room. I felt that this was further promoting the oppressive feeling.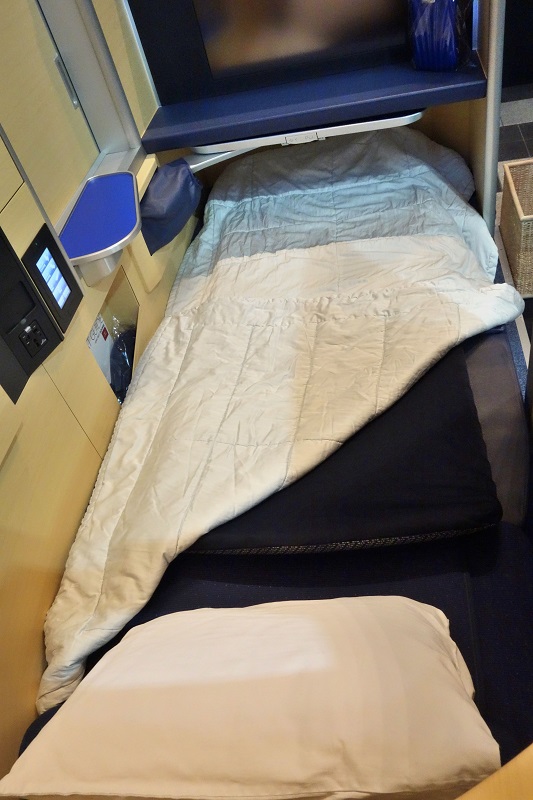 It's actually big enough to roll over, but it feels like the Sky Suite in JAL business class. Well, this is a place where there are different tastes.
ANA group or JAL group
I experienced an ANA first class seat "ANA FIRST SQUARE", but it didn't have any special luxury and gave me a heavy impression. Like that table that doesn't stop, I would like you to pay more attention to the texture. JAL-Suite is by no means a perfect seat, but I would rather follow JAL …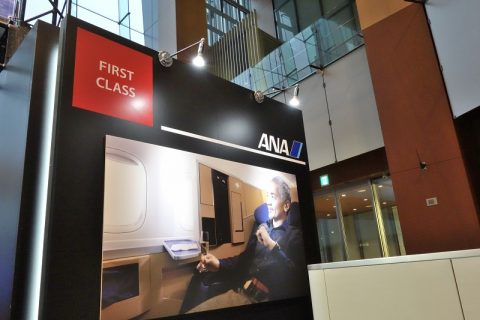 Even with all of this equipment, it's hard to tell how valuable it is on the ground. Unlike JAL, ANA has a discount fare called "first rate" and you can use it at half the price of JAL, so maybe it's not a dream to use it for a fee for an individual ・・・?
Next time, I will report the business class booth.
♪Click here for a List of articles on "First Class & Business Class Airlines worldwide (Seat, In-flight Meal, etc.)"