The first flight of my trip to Europe until the other day is to go to Singapore via ANA business class first!
This time we will be boarding an aircraft called B 787 -10, which has just been put into ANA, but the seat is the latest type that is also used in A 380. It was a very comfortable flight with a new shiny seat and a spacious seat area!
Very vacant flight to Singapore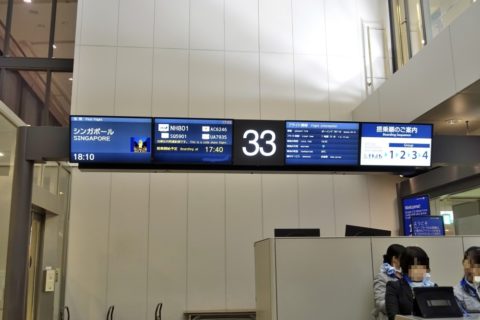 The flight this time is NH 801 bound for Singapore departing from Narita Airport at 18: 10. It departs from Gate 33 at Satellite 3. It takes 7 hours and 15 minutes to Singapore.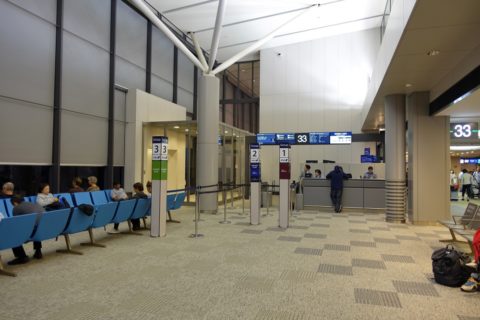 Why is it that almost no one is waiting in line despite the priority boarding announcement? I thought so, but the flight on this day was really empty! In particular, there were only 6 ~ 7 people in business class including me, and there were not many people who could enter by priority boarding …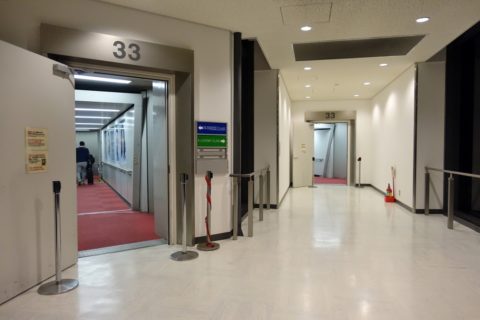 It's a business class that works well when it's full, but sometimes this kind of flight is also good (lol)! It's easy to take pictures when it's empty, so it's good for bloggers.
Business-Class seat for new equipment B787 -10

This time, the equipment is B787-10. This is a new type of aircraft that was launched by a Japanese airline in 2019.
The longest fuselage in the "Boeing 787" series has 294 seats in 3 classes and 38 seats in business class. As always, the premium economy is extremely rare, a characteristic of ANA.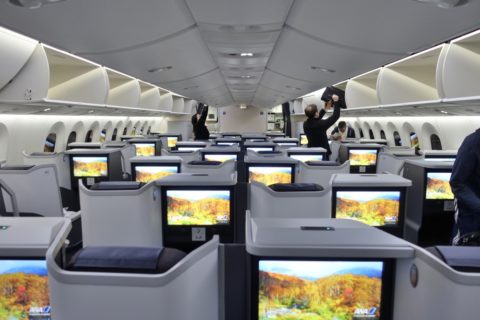 Business class is 1-2-1 array staggered. It is an all-aisle access type with the same side tables as B787-8 and B787-9, but this B787-10 is the same modern seat as A 380.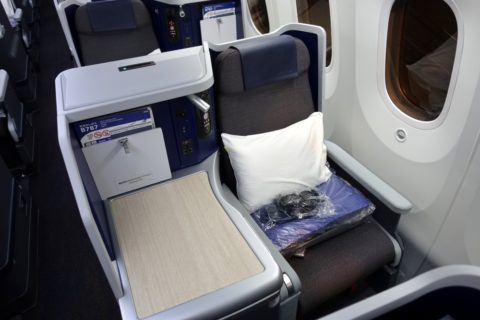 My seat is 3A. It is a type of window seats arranged alternately with side tables on the aisle side. The seat color which used to be blue has been changed to chic gray, so it looks closed.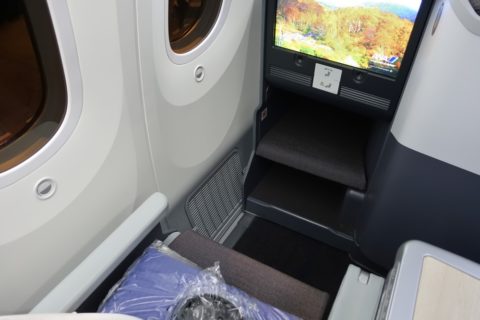 The specifications of the seat should be almost the same as the 787-9, but when I sit down, I feel it is wider than the previous equipment! Unlike Airbus, the windows are not slanted, and it has a sense of openness with vertical and large windows.
The armrest feels great, and the seat cushioning is also good! However, my back gets unusually hot when I sit down, and I can't help it, since it's the same with other airlines …?
Tables and Monitors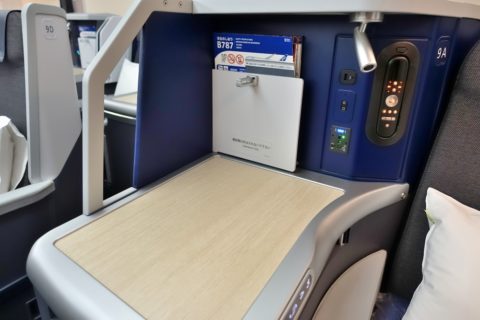 Regarding the equipment around the seat, the specifications are almost the same as the old model. The beautiful wood-grain side table is big enough, but it is a little inconvenient that there is no accessory case to put smartphones, etc. …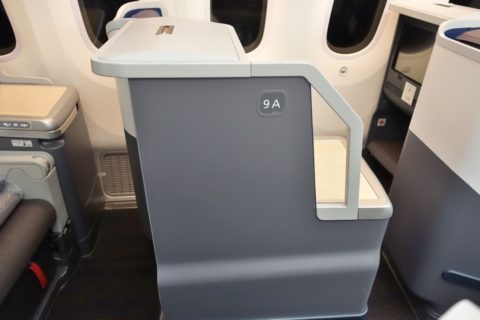 Also, the size of the partition is mediocre, so it doesn't feel like a private room. At least I want it to be stretched so that I can't see my face from the next seat.
The main table is stored so that it overlaps the side table. The stability is not bad.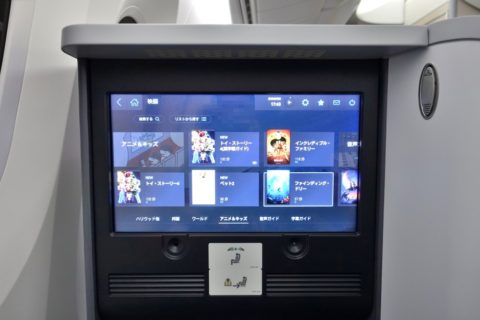 The 18 inch monitor has a touch panel. Flight maps can be operated in the same way as smartphones, and you can zoom in and out with your fingers. However, the distance to the monitor is far, so it is good to use the controller you have at hand.
Bed position and bedding
I put it in the bed position, and the armrest goes down to the height of the bed with the seat, so there is enough space for the width! It is the fate of a staggered to have a small space at the feet, but it doesn't bother me that much because it has a wide space.
Bedding is a 3-piece set of pillow, comforter and mattress. Even though it is not a late night flight, and it is not a long distance flight, it is good that there are mattresses.
However, the low rebound pillow is too high, and the comforter is not comfortable. Mattress may not be very comfortable to sleep on … (For details of this mattress, please refer to the previous boarding record → ANA Business Class boarding report! B787-9 seat and amenities) as the back gets hot easily.
Premium Economy and Economy Seats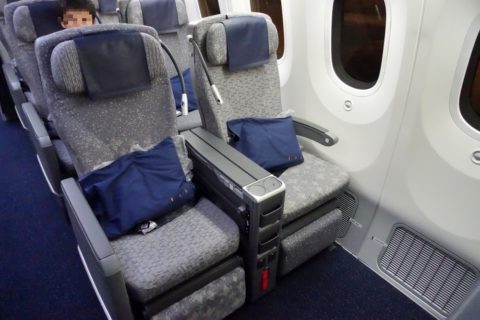 In addition, if you take a look at the premium economy class right behind the business class, this is also a new type of seat with a whitish gray base.
2-3-2 rows, and the crunchy seat with the thick back looks more luxurious than a business seat.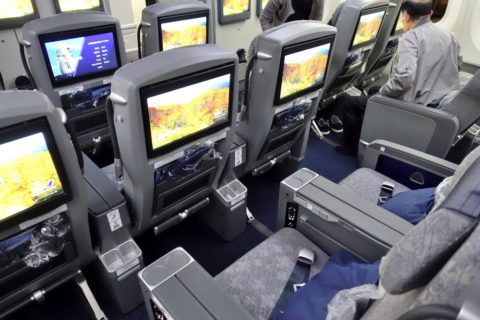 The armrests are crisp, and it's a far cry from the cheap seats we used a few years ago! (Reference → ANA [premium economy] around 2010 was so amazing!)
It would be perfect if there was a partition between the seats next to each other. …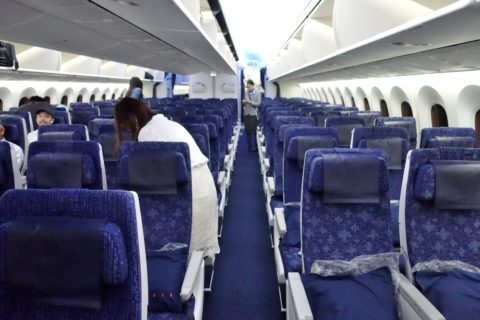 On the other hand, the rearmost economy class is a slave ship with 3-3-3 arrays. Even with the new model, this extremely narrow seat seems to be the same as before …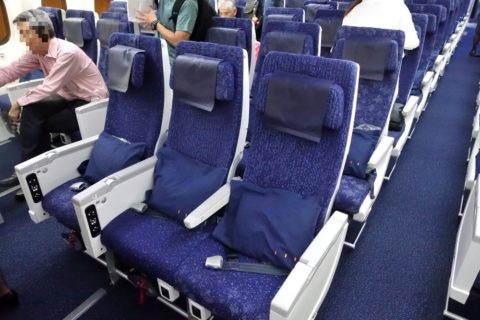 It looks like a long sheet (lol). It is probably a 43 cm type, but it is really hard to ride for 10 hours with this … For economy class seats, JAL's B787 which is 48 cm wide is overwhelmingly comfortable!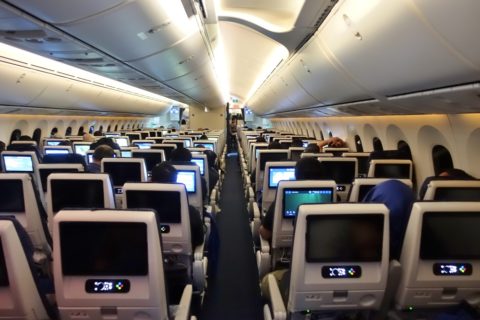 Economy class seats are available on this flight, with a boarding rate of about 40%. When I went to see it later, there were even people sleeping in economy flat!
I can't get the amenity pouch
By the way, a welcome drink will be served at the end of my shooting competition. I chose sparkling wine and orange juice, but I still can't have a plastic glass …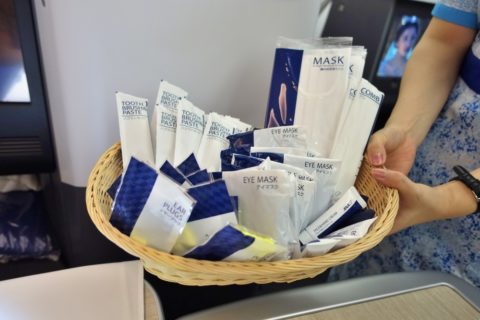 Also, it is a pouch for amenities that you can get on long distance routes, but on this Singapore route, there is no amenities that you can get individually, so it seems that you can choose what you need from a basket.
I don't mind using a drawstring bag like JAL, so I wanted at least a container that would be a souvenir …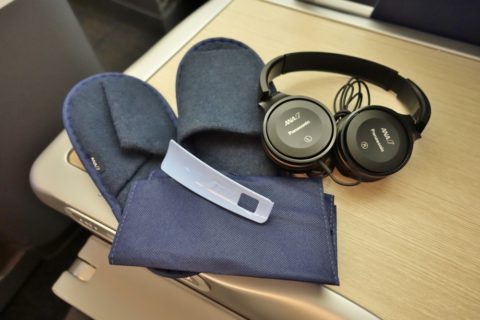 In addition, slippers with shoehorns and noise-canceling headphones are the same as on long-distance routes. These headphones are made by Panasonic, but the noise cancelling didn't work at all …
The cabin doesn't get dark during takeoff.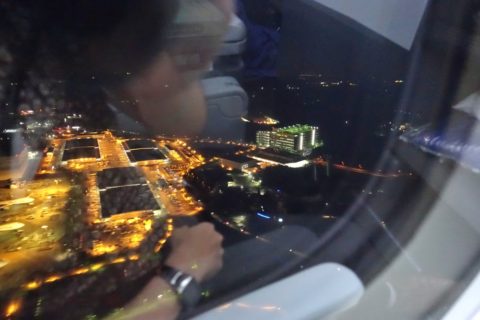 Meanwhile, the plane leaves almost on time and takes off smoothly! For some reason the cabin lights didn't dim after the night takeoff, but is this also a special feature of the B787-10 …?
I like it being bright, so it's okay, but the bad point is that it's hard to see the night view …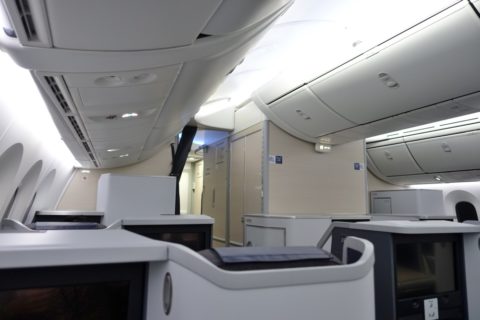 So, it became longer as usual, so please continue next time! While I was going to Singapore, I enjoyed the in-flight meal served on European and American routes! → You can select the menu of European and American routes on Asian routes! ANA In-flight Food [advance reservation] Report! NRT to SIN
♪Click here for a List of articles on "First Class & Business Class Airlines worldwide (Seat, In-flight Meal, etc.)"